The development of an oil depot on Batam by China-based Sinopec Group was recently halted due to a dispute between Indonesia-based PT Mas Capital Trust and Sinomart KTS Development Ltd (a subsidiary of Sinopec). The two companies formed a joint venture to build a fuel depot on the island in 2012. Recently, Sinopec representatives fell under suspicion of embezzling company money.
The dispute emerged because Sinomart appointed a general contractor for the project, but allegedly did not get consent from PT Mas Capital Trust. The contractor who was appointed was more expensive than others and was not procured transparently, according to PT Mas Capital Trust's attorney. This was seen as a violation of the agreement between the companies.
The importance of the project to Indonesia's economy has prompted the government to take action. Through a special economic policy task force controlled by the maritime ministry, the government asked Indonesian National Police headquarters to intervene and launch an investigation. The probe aims to discover whether China-based oil and gas company Sinopec is guilty of criminal wrongdoing on Batam.
"It's true that we asked police headquarters to take over the case from Kepri's Regional Police so that we can retrieve information more easily," explained task force official Purbaya Yudhi Sadewa, as quoted by BeritaSatu.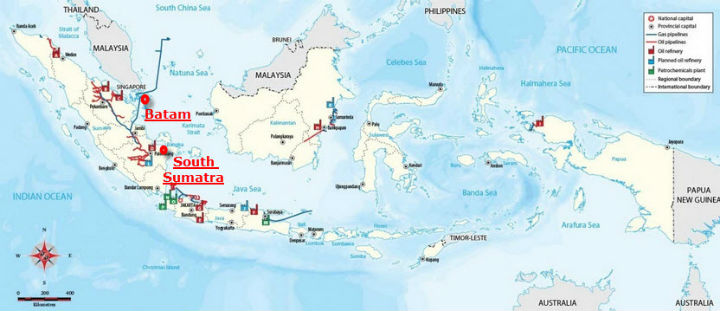 Sadewa stated that Sinomart's oil depot project worth US$850 million was halted due to criminal activity. Officials commented on the joint venture, saying the halted project caused Sinomart's local representatives to leave Indonesia, which in turn led to a halted investment.
By stepping out from Indonesia, Sinomart's representatives did not acquiesce to the regional police's push to investigate the case. Sadewa said WG IV is currently doing its best to optimize the search for solutions, as the investment remains important to the country's economic decision making.
With all this in mind, Sadewa claims the government would not intervene on an internal dispute between the two companies of the joint venture. Moreover, the case was already brought to the International Court of Arbitration by PT Mas Capital Trust's attorney.
Trisakti University's criminal law expert Abdul Fickar Hadjar said that WG IV must have a clear reason in recommending the Criminal Investigation Agency of Police Headquarters to take over cases normally handled by Kepri's Regional Police.
Previously, Kepri's Regional Police set two of PT West Point Terminal's directors and one of its commissioners as suspects.
Through PT West Point Terminal (the name of the joint venture), Sinopec Group said it wanted to build a fuel depot on Batam. The three representatives from the project who left Indonesia are accused of embezzling around US$1.5 million.
Image credits: 2B1st Consulting, 2B1st Consulting