Football is extremely popular in Indonesia. It's a sport that anyone can play no matter how rich or poor you are. I've seen people play barefooted, with goals made of bamboo, on a field with no grass, using a tennis ball. There's literally no barrier that prevents you from playing the game.
The Indonesian people are very much into the European and world football scene.
You are likely to see many neighborhood kids wearing European clubs' jerseys (original or fake, that's another question).
In the last couple of years, Indonesian football was at its lowest point ever. Despite all the nonsense that has gone on in those years, the FIFA ban was the first issue that had to be resolved. It has. Now that the league is up and running, there is optimism that despite the often-erratic standards off the pitch in terms of professionalism and vision, it will go from strength to strength.
This season, there are several big-name foreign signings like Essien (Chelsea, Real Madrid, AC Milan), Didier Zokora (Tottenham Hotspur, Sevilla), Peter Odemwingie (Lille, Lokmotiv Moscow, Stoke City), Carlton Cole (Chelsea, West Ham United, Celtic), Milos Krasic (CSKA Moscow, Juventus, Fenerbache) and Mohamed Sissoko (Valencia, Liverpool, Juventus, Paris Saint-Germain). These new imports may be of the veteran variety, but they give the league a bigger profile at home and overseas. As a result, these Indonesian stars – many of a mixed heritage and naturalized Indonesians – are coming 'back' to the Indonesian League.
One of these stars is national team player Stefano Lilipaly. Lilipaly was born in the Netherlands where he represented the Dutch national team at a youth level. With an Indonesian father, he joined the Indonesian national side in 2013.
After spells at Dutch teams FC Utrecht, Telstar, Cambuur Leeuwarden and Japan's Consadole Sapporo he has signed a contract with Bali United.
"I did spend my entire childhood in the Netherlands but my best memory of Indonesia was probably the AFF Cup (Asean Football Federation Cup), where I scored an important goal against Singapore," Lilipaly said.
From the moment Bali United approached Lilipaly, he was impressed and the talks confirmed his next step: playing in Indonesia.
"From the very first moment that I started talking with the people of Bali United there was a positive mutual feeling. I discussed with the people of the club my expectations and from what I see it all looks really professional, the club is growing and that is why I want to be part of it.
"The need to play in Indonesia was getting stronger during the AFF Cup in 2016. After Bali United made an official offer to my former club in Europe (Cambuur Leeuwarden), they didn't want me to leave. I explained to them my desire to play in Indonesia and to live there someday. It is nice to show my son how the Indonesian culture is and to give him the opportunity to see where his family came from," he said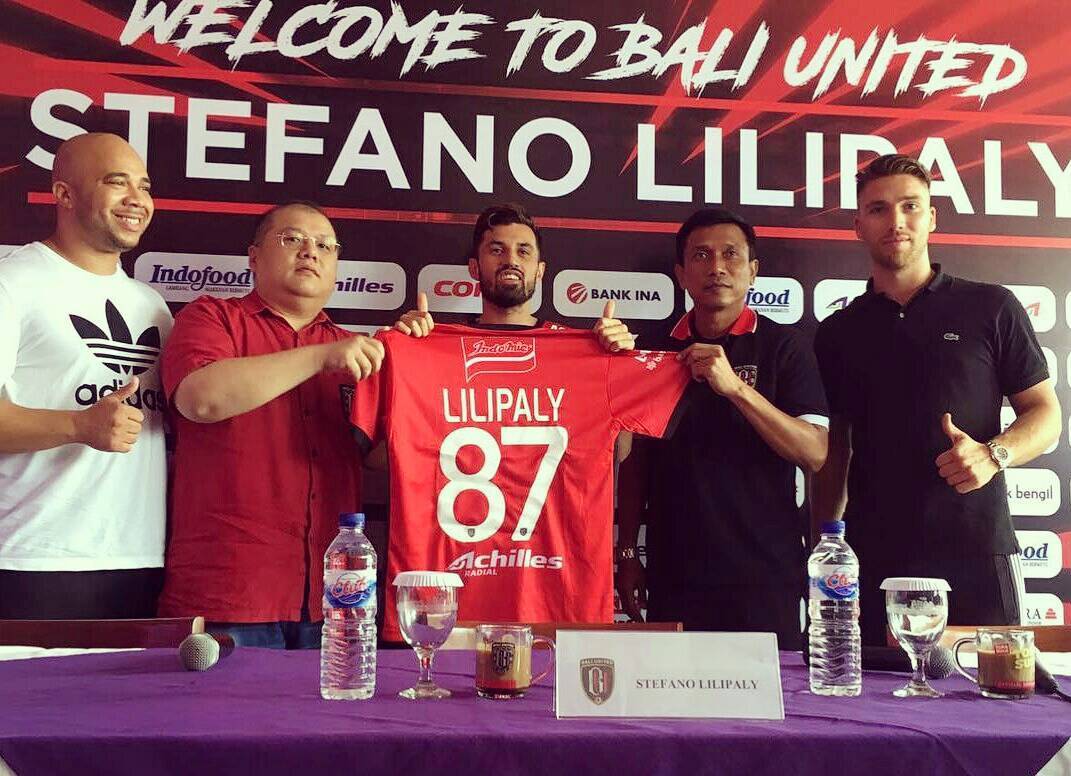 Gerald van den Belt, Technical Director at Cambuur Leeuwarden, told Dutch press: "We did everything we could to keep him here, but the desire to play and live in Indonesia was so strong for him and his family that we looked at the human aspect. That is why we cooperated and we are wishing Stefano and his family all the luck and success in Indonesia."
After the transfer was realized, he flew to Bali for an official presentation at the club. The very next day he was already playing his first minutes for Bali United.
"I was really tired, because after my flight I barely had the chance to rest. But, the atmosphere in the stadium was amazing. I started on the bench so I could see the fans and they were loud! It was not easy from a physical perspective, again I was really tired, but it felt good to be on the pitch and make my first minutes for Bali United and the most important thing is that we won 5-2," he said.
"Because the transfer happened pretty fast, I didn't have the chance to sort out certain things in the Netherlands and I am also looking for a house here in Bali to live in with my family."
Lilipaly will fly back to Europe for a couple of days to arrange things, see his wife, son and other loved ones and then a couple of days later he hops back on a plane to continue his football career here in Bali.
"The people that are in Bali, either they live here or are visiting Bali for the holidays, it is worth coming, see and experience the games of Bali United. We are doing well with the club; we are competing in the top of the league where everything is possible. At the moment we are in second place, so we will work hard to be the national champion."