Meet Patricia Bos, international fashion and accessory designer based in Bali.
Where are you from and what is your background?
I was born and raised in Amsterdam. As a young girl I went to the University of Art, then I lived in NYC on 58th street. I danced with Alvin Ailey dance troupe. I was a cheerleader with the NY Knicks. Paula Abdul was a cheerleader at that time with the LA Lakers so the NY Knicks wanted to do the same type of thing and they started a 'dance squad' which I was a member of. It was fun and a great experience. After that I was offered a role in Cats– the popular Broadway show for a year and a half in Amsterdam and a year's run in Zurich, and also some shows in Hamburg. I continued working with various media venues such as MTV doing music videos and soaps for television. I always found myself in the wardrobe department, fascinated by the costumes and eventually got into that aspect of entertainment and media projects.
What brought you to Bali?
I was working with Dutch TV shows doing documentaries on international nightlife and we came here to Bali to cover the millennium shows happening here for the new year of 2000. I met and worked with wonderful people, many of whom I still see a lot of. Then I fell in love and never left! I have lived here ever since and am constantly inspired and evolving in this creative community I am a part of in Bali.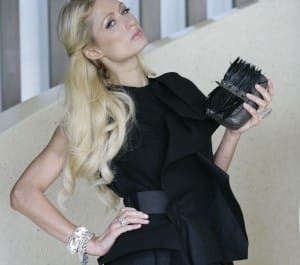 When did you start designing costumes, clothing and accessories?
I started when I was a stylist for video shoots in NYC and Europe. I found it hard to find the designs I needed for my celebrity clientele, so I started making the clothes people wanted; whether for a show or personal wear. With theatre roots I knew that clothes cannot just look good; they have to be top quality and a perfect fit. I make designs which promote confidence. I want the wearer to feel the clothes are an extension; a part of themselves. I want to empower people through their femininity, or masculinity, whatever it is they feel a desire to express. I think my designs boost one's confidence and self esteem.
When I came to Bali, I realized the potential for creating my designs was all here. I work in top quality leathers and suede, along with other unique natural fabrics. I make over 240 samples per year so that requires good, experienced staff. Some of my staff have been with me over a dozen years now, so they are very professional and understand the importance of quality and cut.
You are known for your fabulous fashion shows. Tell us more about these.
I like to describe my shows as fashion cabaret, where talent and fashion are in fusion. I have that theatrical background and it comes into play in my shows. I don't do shows just to show my designs. I love to wow and woo the audience and challenge the models to showcase extreme fashions and entertain the audience. I do unusual combinations; I love leather and corsets, overcoats and lingerie, subtle to extreme and totally wearable. I want my designs to reflect the wearer, to bring out their best nature.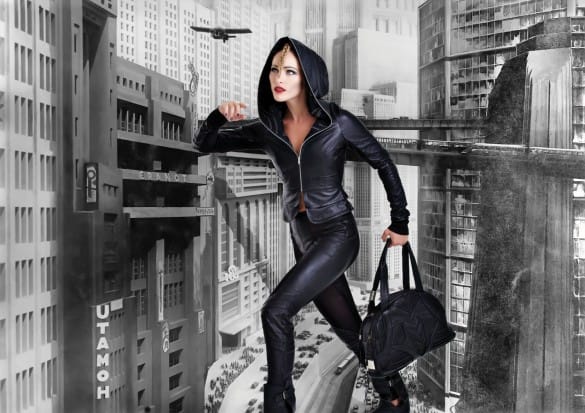 Where is the Patricia Bos label available?
The Sample Room on Jalan Mertinadi in Seminyak is literally a boutique atelier in the traditional sense of the word. We do custom tailoring and custom designs for clientele and create it right here. The label may also be found here in Bali at OASIA, Ku De Ta shop, and Limited Edition shops. We do our designs for shops which meet our criteria for retail outlets and I am currently open to expand more throughout Indonesia.
The Sample Room [thesampleroom.eu] online boutique is a way to access and buy our products. Besides the clothing line we do great accessories, bags, key chains and hats, etc. All hand made with perfect cut and craftsmanship. I do private label for some of the better quality shops here in Bali.
Tell me about your rock star son!
I am so lucky to have a great partner and kids! My son is ten years old and a natural born musician. He lives his music from when he wakes up until he sleeps. He was just in the Grease musical and already has his songs up on You Tube [Ziggy Durieux]. Eventually, he will have to go to the big city lights to really move forward in that field. I want him to follow his dreams, but right now Bali is a good place for my kids to grow and learn. My five year old diva is already a fashionista! She loves to take photos. I keep a fashion diary of what she wears to school every day.
You have a successful profession and a great family life. What is your greatest dream?
That my future is as good as each new day has been for me. I love my life!
Thank you, Patricia. For more information, please visit www.patriciabos.com