Meet Leonani and Nani Nahooikaika. The Hawaiian hula sisters living it up in Anyer.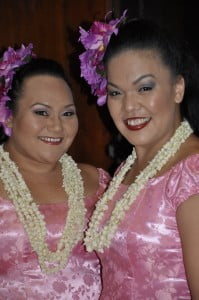 Where in Hawaii are you both from?
We're from Haleiwa, a small yet famous surfing town located on the island of Oahu in Hawaii.
What brought you to Indonesia?
Nani was offered a job teaching hula in Indonesia. However, she refused to move to another country alone, so she convinced me to move with her. Prior to moving to Indonesia, we were living in Hilo, on the Big Island of Hawaii.
I see you work in Anyer. What are you both doing there?
We both teach hula at Hawaii A Club Bali Resort in Anyer and are in charge of Hawaiian Activities at the Resort. We mainly teach hula to hotel staff and guests and are trying our best to bring the sprit of aloha from Hawaii to Indonesia.
What's life in Anyer like?
Life in Anyer is…different! Completely different from what life is like at home in Hawaii. Everything is very laid back. In fact, we go to Jakarta on our days off just to get a taste of the city life!  As for the people in the community, after we get past the initial gawking and staring, they are quite nice.
What do you think of our beloved capital?
Jakarta is such a BIG city!  I love that it's filled with so many things to do. The malls, restaurants, movie theatres and nail salons keep my sister and I well occupied.
Do many people want to learn Hula dancing?
We like to call ourselves the "trail blazers" for hula in Indonesia. Many people in Indonesia have never heard of hula, even those in the expat community. We've performed at several venues in Jakarta, which has helped tremendously in letting people know who we are, and what hula is. When people come to the resort in Anyer, they enjoy taking a short and simple hula lesson with friends and family.
Is it difficult to learn?
For some, hula can be difficult, especially if you have no rhythm. Like many other types of dances, hula can be technical. Every dancer must master basic feet motions. These feet motions are then accompanied by hand motions as well. When put together, it tells a story.
What are the benefits of learning with you and your sister?
Well, we are the only Hawaiians in Indonesia that are teaching hula! Hula classes with us are fun and yet educational. Our hula classes encompass other aspects of Hawaiian culture like language and crafts.
How do we get in touch with you if we want to learn?
You can contact us via email, or on our mobile phone – 082112711800.