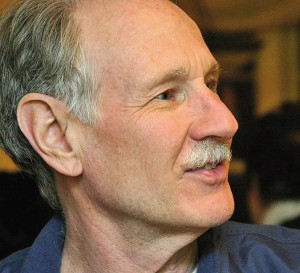 Meet Bill Dalton, the Travel Writer
Bill has spent much of his life travelling and writing. His saga took flight in 1971 as he embarked on an eight-year backpacking journey across 65 countries and set out to take the journey of a lifetime that would later result in his highly-acclaimed travel guidebooks. The London Sunday Times called Bill's Indonesia Handbook "One of the best practical guides ever written about any country".
When did you first arrive in Indonesia?
I first touched down on Indonesian soil in Medan, North Sumatra in 1972 and over the next four decades I visited hundreds of the archipelago's islands.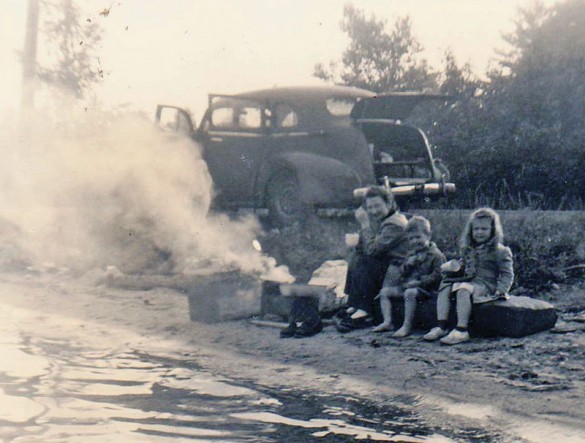 Why did you decide to settle in Indonesia?
I got a job offer as in-house Editor for Island Life magazine. It was an exciting time in Indonesia under the reformist Habibie government; tourism was on the rise after Soeharto stepped down, there were high hopes in the air, the salary and benefits were as good as what government ministers were receiving. Ah, those were the days. Oh, did I mention that I fell in love with a dangdut queen?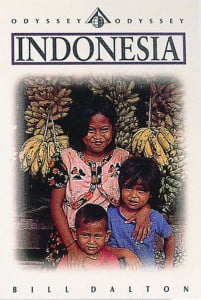 You could've been any kind of writer, why did you choose to be a travel writer?
Travel got into my blood very early. When I was six or seven years old, in Massachusetts, my dad used to come into my room in the middle of the night to wake me up and tell me to get ready. We would climb into the family car and head out to California, Florida, or God knows where else. These trips were the first time I ever experienced the ecstasy of the open road, and they never left me.
Tell us a little bit about your famous Indonesia Handbook.
Indonesia Handbook was the only real guidebook to the country from the mid-1970s to the early 1990s. It now has over six editions. The guide was also the genesis of Moon Publications, a publishing company that I owned and ran for 17 years. As an author and publisher, I did book tours all over the United States, giving travel talks and presenting slide shows about Indonesia.
How did Indonesia Handbook come to fruition?
One afternoon in 1973 in Australia, I was typing out some tips on travel through Indonesia. An old New Zealand journalist came up and said, "You shouldn't just give that information away. You should sell it!" I printed out 800 copies of my travel tips, titled it "A Traveller's Notes: Indonesia," stapled the three sheets together, and the next day got a ride on the back of a motorcycle down to Nimbin for a festival. On the first day of the festival, I set up shop on a blanket and sold my little booklet for 50 cents apiece. I made $150 the first day and sold out completely by the third day. I knew I was on to something. That modest typewritten publication eventually grew into a publishing organization with over 65 titles distributed in 32 countries around the world.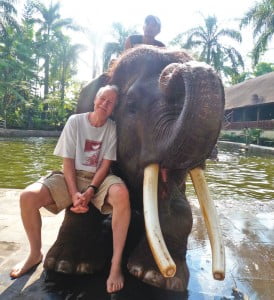 So, your handbook was received well by the public?
Well, I was once arrested and interrogated during the Soeharto regime as a trouble-making journalist. They didn't like me calling Suharto's wife "Madame Ten Percent."
What are some of the most memorable travel experiences?
The best trip was with my 14-year-old daughter, Ari, onboard a Makassar schooner roaming the Lesser Sunda Islands for a week. I remember happening upon a tiny island in the Savu Sea where all the friendly inhabitants had – inexplicably to this day – African features and the whole population saw us off on shore when we returned to ship.
Can a single writer still capture Indonesia?
By the early 1990s, with the country's infrastructure exploding, and competing guidebooks entering the market, it became impossible for just one writer to research all of Indonesia. Instead, teams of writers were assigned to all the main regions of Indonesia. Though travel guidebooks have since metamorphosed into smartphone apps, I still believe that disciplined objective professionals give the best obtainable version of the truth.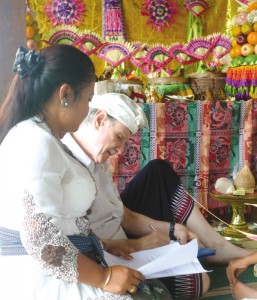 How do you travel now?
I seldom use guidebooks. I glean fresh information from other travellers I meet along the way or from novels, which give more of a feel for the subtleties of the culture and the character of the people. If writers lavish too much praise on a hotel, beach or locale, I hit the other direction to avoid places that have been sabotaged by their own success. It beats the hell out of throwing a dart at a map on a wall.
What complications have you run into in your writing process?
Since I cannot possibly visit every place I write about, I have to use other means of obtaining information. I interview other travellers, hotel and restaurant owners, Indonesian tourism officials, as well as gather information from reader's emails, guidebooks, reference books, travel videos, brochures, timetables. Like an insatiable vacuum cleaner, I just grab everything that's not nailed down. It's a never-ending job. And, obviously, what has been difficult in travelling so much is maintaining the stamina and resourcefulness to persevere on the ground for months at a time, researching a new edition.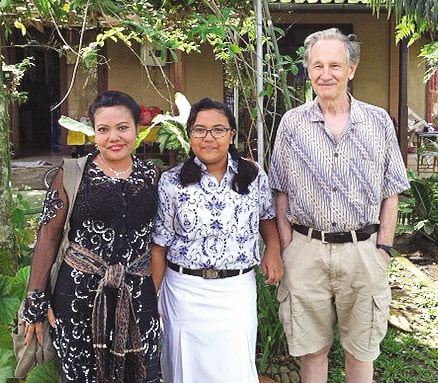 Are there authors that have influenced you and your work?
There are two books that had a deep and lasting impact on me. The main character Philip Carey in Somerset Maugham's The Razor's Edge I held up as a model of the ideal traveller. Another obscure book called A Surgeon's Log by James Abraham, describing a pre-war sea journey around the world, first instilled in me a love of exotic places. Much later on in the early 1970s, when we were both starting up our guidebook publishing companies, Tony Wheeler of Lonely Planet sent me a copy of Fussel's Abroad, one of the most beautifully timed and well-intentioned gifts I've ever received.
As a prolific writer, do you have any advice for budding travel writers?
For expository travel writing, the finest of which emulates great literature, just go for it because if you're a natural born writer you will never rest until you have at least made the attempt.
Bill may be contacted via his email [email protected]