Meet Paul Beale. CEO and founder of GMS Global Management Services, a firm believer of buying only what you need, not what you want.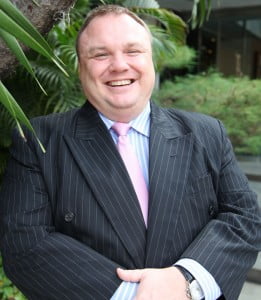 Paul, tell me how you began your career in the financial services industry?
I began as a general lines insurance broker and then trained as a financial advisor on a commission only basis with Royal Life, then the only UK FTSE100 listed insurance company – excellent technical knowledge and training. I was surrounded by knowledge and experience, which I fast learnt. I remember my parents kept telling me to get a proper job with a salary. Now they look back and think, "Actually, he hasn't done bad for himself."
You certainly haven't! Why did you come to Asia in the first place?
My former UK sales manager Paul MacBeth and I were recruited to establish the first financial services company in Dubai for Overseas Financial Services. After almost three years I moved to Asia to help set up another financial services company in Thailand. I landed in Thailand, and had a major culture shock. In Dubai we had really nice offices, work permits and ownership of nice cars; where upon arriving in Thailand discovered I would be working from a house, had to use mobile phones because no land lines were available, ownership of a car was not possible because we had no work visas and had to travel on the back of a motorcycle or take a taxi from meeting to meeting. After ten days I decided working in Thailand was not for me. My boss at the time, asked me as an alternative to come to Jakarta and set up operations for him here in 1995 and I said, "Yes, but where is it?" I worked with Neil Robbirt in Jakarta for a year and after that decided it was time for my own firm and haven't looked back.
What made you want to start your own business with GMS?
I wanted to control the cash flow and have control over who I hired, who I fired, where the office was, etc. I didn't want to do things on the cheap; I wanted to do things the right way and most important wanted to ensure that the products offered were the absolute best available for our clients and that they were given the best after service care and attention.
What year did GMS start operating?
I married my wife in July 1998 and she became pregnant in 1999; and I remember during the crisis it was time to get serious and make a decision to stay or leave Jakarta – we were about to have our first child and business had to be a success.  During 1997 to 1999 the only services expatriates wanted was a container to ship their goods home and a new job!  There was no interest in investments; savings plans or other products; so I decided to stop selling and take a year out to write a comprehensive business plan, which I believe was the best investment I've ever made.
When you started, did you always have it in mind to target expats?
Financial services industry is predominately for an expatriate market. During the crisis to generate income I was promoting health insurance to the Indonesian market place. We were out there promoting health insurance to companies at corporate level who were buying health insurance for tens of thousands of employees. It was in August 2001 that a major change happened and business picked up and it was decided we would exit the domestic corporate healthcare market and refocus on our expatriate market place.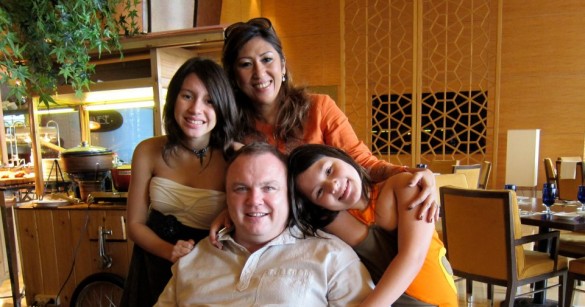 Your family have lived in Indonesia their whole lives – why have they decided to move back to the UK?
My wife and children moved back to the UK this summer for a combination of reasons. We wanted them to experience living in England because they've never truly lived there; they were born here. I figured that going back to England would be a nice challenge for them so I plan to commute. They can do the things we did as children that you can't do here. My wife is still adjusting; learning to cook, washing and ironing their clothes, even putting petrol in the car is all new because she'd never really done it! Living in Jakarta has so many benefits we take for granted and now my family are experiencing the true meaning of living; but it's all good.
Do you have plans to return and live in the UK as well?
There are a lot of expatriates who leave their home country to escape, but I will go back to live in the UK one day. I don't have plans to stay here forever. I can't leave Indonesia because my business is here and I don't have anyone yet who can run it the way I want to. I have great staff whom have the necessary qualifications and the aspirations; but not yet the hands on experience needed – at least another 5 – 6 years on the job experience before I would consider a handover of such responsibility; coincidently at a time I will be approaching my 50th birthday and a target date for my semi retirement.
Why do you think you're so successful?
I have always been focused on getting my career on track and making the most out of what's available. I have been very selective in my clientele and the people whom I employ and work with. It's not just about achieving the sales targets; clients must benefit from the product they buy and the service we provide must offer good value.
Everyday at work is about managing my time and visiting my clients and meeting their needs, building relationships, extending my client base and receiving all those important phone calls and replying to all those emails. All clients regardless of their value deserve to be treated equal and this I have instilled in all my staff – there are no exceptions.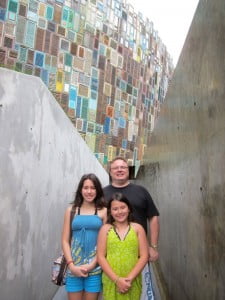 What advice can you give for wealth accumulation?
Identify the difference between need and want. There are a lot of expats who squander their money. Spend less and save more of what you earn, it's that simple.  I have learnt to live on less and invest more from my income, buy the correct level of life assurance; make sure you have the best affordable health insurance and plan for a financial emergency to protect your family, remain debt free.
What would you like to do once you return to the UK?
I want to do what Jamie Oliver does at schools but in a financial aspect. I believe schools should teach financial planning; the benefits and pitfalls that await you.  Children today are simply not taught how to manage their money unless they study it at college or university.
Children need to know their new responsibilities. They need to be saving 20-30% of their salary for a rainy day; perhaps for a deposit on their first home; not just to buy a car; they need to understand that buying life and health insurance at an early age can save thousands in future premiums; and that by not using credit cards, overdrafts and pay day finance to purchase things; learn to live within their financial means; they can live without the fear of debt.
Thanks Paul! To get in touch, please email [email protected].