French Photographer, Director, Music Producer and Adventure Travel Guide Dominic Clarisse tells us of his life in Indonesia.
When did you develop your passion for photography?
I come from Northern France near the Belgium border. My grandfather began photographing in the 1920s and continued doing so throughout his life. When he passed on in the 1990s, we found archives of his work which spanned the two World Wars and depicted a great deal of history. He definitely was an influence on my choice of profession. I got my first camera at the age of 12 and my passion grew from there. I always knew photography was what I wanted to pursue. I studied photography at a school in Brussels in the early 90s.
When did you first come to Indonesia?
A year after my studies I met a man who wanted a photographer to accompany him in his travels to Indonesia. He was a professor at a university in Belgium. I was 25 years old and I will always remember the culture shock I had upon first landing in Jakarta; the smell of kretek, the misty, humid air and the beauty of the women, of all ages. We continued to Irian Jaya, where I made my very first photo report. The people were very responsive to me as a photojournalist, taking me to remote areas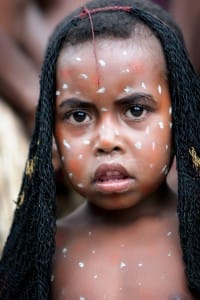 and isolated tribes. We then went to Sulawesi and Jogjakarta because at that time, Bali had a bad image. We took a train to Jakarta, stopping over in Bandung where we were robbed of everything. A nice, smiling guide led us to a hotel and then took us to a restaurant. I left my possessions in the hotel and when I got up the next morning everything was gone! I lost my passport, films (slides), cameras; all I had! I told my friend to go ahead; I was not leaving until I recovered at least my films.
How did you get your work back?
I went to the French consulate in Jakarta and got my passport and finally some funds so I could go back to Bandung to investigate. On the train I met a young woman, Mira, who took me home to her family with her uncle, who was there to meet the train. The day after, they brought me to the police, who helped me (for a small fee). After going to the hotel, the thief was identified as being from another town. After many incidents which tried my patience; my passport, flight ticket and films were finally returned after being recovered by the police from the hotel. I lost my Leica camera and everything else, but was satisfied with at least getting my work back. This family is close to me to this day! These photos, noticed and distributed by the famous Parisian press agency Gamma started my career in Paris as a photo-reporter. After this, Indonesia became a part of my life. I settled in Jogjakarta four years later.
What did you do in Jogjakarta when you returned to live there?
I returned to Jogjakarta in 1996 and am still based there. I had gone to travel agencies in Paris with my photographs and suggested opening up new destinations here in Indonesia, such as Papua and Sulawesi. I am good at writing itineraries as well as copy for brochures, and I learned to be a tour leader. Adventure tourism was just beginning and it took skills local guides could not provide. I worked for tour operators and it was here in Jogjakarta that I met my first wife and had a son. In 1999 I opened my own business, Azimuth Adventure Travel Ltd. 
Tell me about your adventure tours and the agency you opened in Sanur, Bali recently.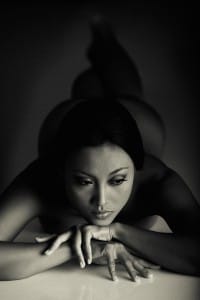 We specialize in walking and volcano-climbing tours across Indonesia. We mainly cater to French-speaking travellers, as we've been collaborating with French adventure operators such as Terres d'Aventure. Based in Jogjakarta, we indeed decided to open a branch office in Sanur last year, in order to welcome our customers better.
You produced Cannonball's debut EP in 2007 and wrote their hit Why He, Why Me? What are some other artists you have produced?
I really liked the music of Cannonball and wrote that song for them. It was a love story at that time. Indonesia had huge potential for musicians and in 2006, the business was more open. Now it is more about the money and who one knows; not so much the talent. I went on to produce Nikky, Windy (Saraswati), Ron Kingston and Nuevo. Nuevo is a band by Peter Godwin (famous in the '80s with hit singles like Images of Heaven and Baby's in the Mountains) and Johnson Somerset, a famous British music producer. I met with Peter in 2010, bringing along a storyboard for the video of one of Nuevo's tracks, Chocolate, and, as he seemed to love it, we then decided I'd produce and direct the video a few months later in Java.
What are you currently working on?
Two years ago I met a French drummer and producer at an Ultravox reunion concert in Paris. We then decided to pay tribute to its charismatic drummer, Warren Cann, by producing a track and a video in the pure '80s New Wave/New Romantics mood. We've had some celebrities such as Rusty Egan (ex-Visage) and Zaine Griff helping us out, and we expect an EP to be released in Europe by the end of the year with distribution agreements.
Besides these musical projects, I'm also about to set up a TV/cinema production company in Jakarta, together with a French-Indonesian friend of mine, which will specialize in nature/adventure/sport documentaries, as well as movies, as we'd love to enhance the cinematographic potential of Indonesia. 
You have many interests. What remains your greatest passion?
Without question my greatest passion is still photography. After doing anthropological photographs all over the archipelago, I have turned to the women of Indonesia as my most loved subject. It is time now to get my work out there; I have a large collection plus ongoing work focusing on women of all ages in a natural, sensual style. I'm actually seeking some venues willing to display my work. I work with my current wife, Stefanie and we try to capture the unique beauty and innocence inherent in the beautiful women of Indonesia.
Thank you, Dominic! Contact: [email protected]