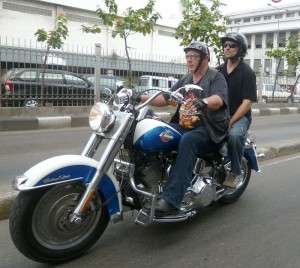 A compassionate heart beats under the leathers of a Harley-Davidson rider.
When you ask guys who own Harley-Davidson motorcycles how long they've been riding, most of them give the same answer: "I always had somethin'." The Big Wheel they turned donuts with in the driveway at five years old was the only legal option before they inevitably could own a Dyna custom bike. Rob Jagodzinski was no different. Big Rob, as he's known, didn't come by his name for being puny, and explained bike passions as he feasted on crawfish, pulling their heads off and building a pile of beady-eyed red carcasses on a tin plate. The smaller Harleys are more useful in Jakarta, but he would prefer something bigger. Big Rob is a HOG—a member of Harley Owners Group Indonesian Chapter. The 120-member international group takes Sunday rides to Puncak and weekend trips to Pelabuhan Ratu.
"We like to kick back, ride and relax," he said, "to see and enjoy things that are unique outside of Jakarta." And when they stop for the night, there's that bottle of Jack Daniels in the saddlebag.
Marv Isaacson, who shared a table with Big Rob, is a fellow HOG. The American with a black 'stache beneath his black cowboy hat, wore a Harley-branded shirt and jeans. Yep, there were boots. Marv has been in Indonesia for 31 years, and he drolly relayed stories of motorcycle madness. All in good fun, mind you. Once he was forced, at 60 km/h, to slither between two trucks going in the same direction or go over a cliff. And there was the time on a steep set of switchbacks when one guy pushed the uphill grade in the wrong gear, stalled his bike and fell over, knocking the rest of the bikers down like dominoes. Sometimes, the journey was more perilous. "You might have to take a Harley across a river on a plank. You fall, you're gone," Marv said.
There are several organisations for bikers, and the chiefly expat HOGs join up with local-member groups, like the Brotherhood, Silverhawks or Harley-Davidson Club Indonesia, for trips. The clubs include practiced riders as well as newbies, and safety courses are offered. Before a ride, security and conditions of the trip are reviewed. Bikers ride in groups for protection, and veterans pair up with lesser experienced riders. Often, there is a police escort, and traffic is stopped in towns as the trail of riders, with sirens blaring, passes. The Road Gods, as the wisecracking HOGs called themselves, may ride from sunrise to sunset, only stopping to fill their tanks and raise a beer. On a trip to Bali, members rented bikes, but Big Rob advises that you need to have skills as a rider. On that trip, the guys cruised to a volcano and stayed in a resort. Yeah, they may be rough riders, but they like a soft bed.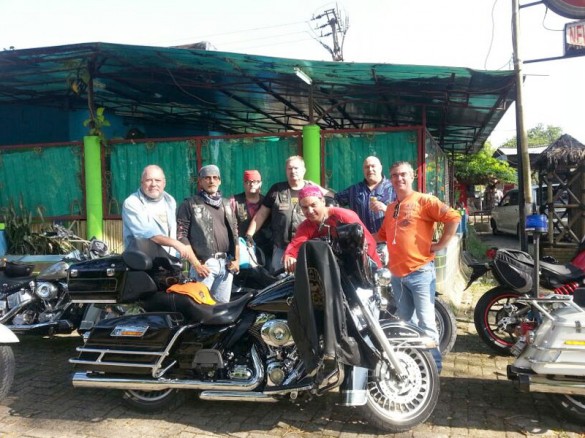 In addition to coordinated rides, biker groups have meet-ups and gatherings. An annual event in Bandung is a scaled-back Sturgis – the American Motorcycle Rally, now in its 74th year. The Bandung weekend draws 200,000 bikers for concerts, food and fun.
Frank Musgrove gave up his big bike when his kids were born. Twenty years later, after meeting a HOG for a night of beers and cheers, he mounted a Harley. On his first trip, he was nervous and laughed to see guys holding a beer at a 7 am rest stop. By the end of the day, he said, "I was a full-fledged member of the gang, stopping on the roadside to drink a beer, wave at cops, honk greetings and gratuitously leaving our cans in a little pile for someone to gather and cash in."
While biker gang reputations tend to be scary, the HOGs are a yayasan, inclined to fun as well as philanthropy. Ten men founded the organisation in 1987. All were motivated to bring Harley-Davidson to a wider audience, and importantly, to improve the lives of children of impoverished families. Principal fundraising is accomplished through HOGFest, and 97-percent of monies raised are used to change the lives of outcast children in impoverished circumstances, who suffer from harelip or cleft palate. The plastic surgeries are performed by Gentur Cleft Foundation, who has helped 2,100 children to date. Yayasan HOG covers the hospital and associated expenses, such as transportation, post-operative care and medicines. HOGFest's annual party, held at Manggala Wanabakti in Senayan on May 10, is a major celebration of bands, traditional dances, and children's activities, plus an auction for Harley-Davidson goods. Three pigs will be roasted and served by the HOGs.
The HOGs do ride powerful bikes with pipes—Softails, a Dyna Fat Bob and even a WL-model from WWII nicknamed the Liberator—and they do like to put the hammer down and tear up the road. Still, compassionate hearts beat beneath their leathers. "Some groups give Harley guys a bad name, but most riders respect others," said Big Rob, "and they respect us."
Nope, these guys are not Hell's Angels; they're real guys helping to transform lives. Or as HOGs president Ralph Duckworth said, "We're charity givers with a biking problem."
For more info or to donate, visit www.yayasanhog.com