Executive Chef Andrew Zarzosa of the Fairmont Hotel Jakarta is one of the city's most well-regarded and nicest expat chefs. Here is some insight into the mastermind of one of the most creative and delicious dining experiences in the capital.
What is your philosophy when it comes to cooking and being an executive in the hotel and restaurant business?
It can sound a bit pretentious, sometimes, when people read about a philosophy on cooking and food. However, I do think it is important to have one, and mine has always been simple: cook with the best products available, support local and sustainable vendors, and treat the ingredients well by cooking them with respect and integrity.
Being in the hospitality industry means you're in the business of making people happy, and if you are in that business, it means you should be in the business of making your team happy, too. Some people are quick to say, "But we still need to make money." They are right, but if that's their priority, then they're in the wrong business.
What cuisine do you enjoy cooking the most and why?
It's a bit hard to single out a cuisine type, mostly because this question could easily be answered with, "Mexican or Spanish because that's what my heritage is," but to be honest, I enjoy cooking "my food," which I suppose may be a very modern, minimalistic kind of cuisine with a great deal of thought and technique behind it – that's most satisfying to me.
Tell us a little about your typical day.
When I arrive at the hotel, I will walk the kitchens; I make it a point to shake everyone's hand and greet them all warmly. I will then go to Spectrum, which is our buffet restaurant, and check on breakfast since that will be where all the action is happening at that time of day. Afterwards, I go to the daily morning briefing for the hotel where we go over all the happenings of the day. There are usually little side meetings later, other departments will have a quick question or share a concern, and more. Then I will head back to the kitchens where deliveries are being made, and I will give the products a quick look over.
At 10:30am, we have a chef's meeting, where we will exchange details with each other. Later, I check my emails and usually approve any orders or documents. Lunch preparation is almost done at this point and I will walk the rounds again, check the set ups of any catering or banquets we may be hosting. I will be present in different parts of the hotel depending on where the bulk of the business is, in particular VIP guests or special groups.
I run home to spend my lunch break with my wife and son, as I believe it's important to have a healthy life-work balance. After lunch, more meetings. It is a rare occasion when there isn't a meeting in the afternoon. I like to catch up on any office work after that, which leads straight into preparation for dinner service. I head up to View to "taste the line," which means I will taste all the sauces, purees, dressings, condiments, garnishes, and others for that evening's service. I will go to the other restaurants and check bookings and ask about VIP's. I usually end up in View, cooking.
What do you think about the local restaurant scene?
I think Jakarta has a love affair with trendy looking restaurants; the market is obsessed with diners taking selfies and pictures of their food or the interior design. It almost seems taste, quality and great service doesn't matter. I know that's a controversial thing to say, but I see huge potential for Jakarta to develop its food scene. In order to do that, you need to educate the market. Hotels and restaurants are the only ones that can do that, but until you bring something different to the table and show people it can be delicious or show people that a memorable dining experience doesn't only entail white gloves and chandeliers, the mentality remains.
What is your favourite restaurant right now in Jakarta, and why?
I've had great meals at Benedict – Chef Fernando cooks honest, delicious and creative food. I don't think people even realize the emphasis he places on local products either; what he's doing there is great.
Tell us a little about View, your latest concept at the Fairmont Hotel.
View is very much my approach to cooking. It's utilizing the best of what I can source locally: fish, vegetables, herbs, spices, chocolate, and more. We apply a very globally influenced style of cookery, as there are Japanese influences, Latin American, and Spanish. Modern, fun, delicious – and it must look beautiful. Visual appeal never takes precedence over taste; I have, however, always been fortunate to make food look pretty.
What sets the View apart from other upscale restaurants?
I think people who come in are always surprised that we aren't white stuffy; if anything, we are very warm and relaxed. Then the food comes out and it takes everyone by surprise. They don't expect it to be unique and tasty. I think that is what really sets us apart from the rest. We aren't trying to imitate anyone else.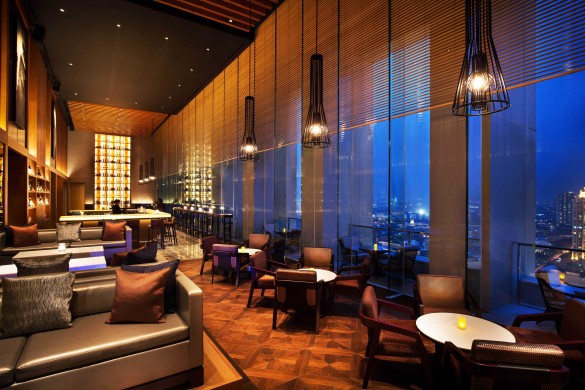 If it were my first time dining at the View, what should I order and pair with my food?
We have a tasting menu called the POV Menu. There are options for five courses and seven courses also with wines to pair with each course.
If you want to go ala carte, make sure and order our Vegetables Various Ways. It has quickly become a crowd favourite and for sure is my favourite dish, as it changes every day.
To drink, I'd encourage everyone to start with something from our cocktail menu. We have some delicious, hand-crafted drinks which follow the same philosophy as the food. Let us cook for you and you will leave happy.
What is the most difficult part of managing a hotel or restaurant?
The many moving parts, and making sure your time is equally spread out, giving everything your attention – that is challenging.
What do you enjoy the most in the hospitality industry?
Creating that memorable and lasting experience, where people will be talking about it ten years down the road and say, "Remember that dinner we had? It was incredible!" or, "That dish brought me back to my childhood." Those are the moments that make all of it worthwhile.
What is your advice to people who want to become a chef or restaurateur?
Don't do it! And if you're crazy enough to still want it, then put in the work, dedicate yourself to the craft, learn it and know it. Understand that you will work a tremendous amount of hours and your social life will be non-existent. It will pay off, but not with money (in case that's what you want). It will pay off with good, old-fashioned self-satisfaction. I feel it's a big part of my responsibility to mentor and encourage young cooks in their careers. I always advise them to know what kind of chef they want to be early on: pastry, savoury, restaurant or hotel.
If you want to open your own casual bakery one day, you need to go find the best bakery with the longest lines outside its doors and learn from that baker. There is no need for you to work at a Michelin starred restaurant then. If you want to work in the hotels, work for the best of them and don't compromise. Be persistent, because you will build a reputation based on your work history. As for aspiring restaurateurs, it is no surprise that the restaurant business is cutthroat and will leave you broke if you don't know what you're doing. Really know and understand this business well before entering it, as it's not all glamour and high-society; it's something to which you should dedicate yourself.