Halo Cuny Schuurmans! The Dutch lady from The Hague who can look after all your travel needs.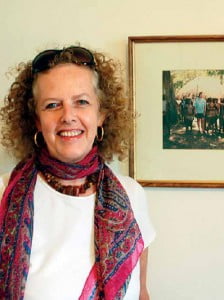 How long have you been living in Indonesia?
15 years now. We came in 1987 for a holiday and we loved it so much so we decided, also due to family ties, to move here permanently.
And how long has Mentari Travel been running?
Also 15 years. We recently moved from Sudirman to Jl. Benda because traffic in Sudirman was getting too much. I used to spend three hours a day in the car and now I only spend about an hour and a half in total, which makes a huge difference.
What does your travel agency offer?
We offer everything, from ticketing and hotels to tours around Indonesia, Myanmar, Indo China and even Australia. We have serious worldwide suppliers so we can book trips for you to anywhere you'd like.
Where are your customers mainly from?
Our clients are mostly foreigners, expats, both individuals and for companies. We also get many embassies booking through us.
Have you been influenced by the online booking market?
I'd say a little bit, but not much. Quite often people come and ask us to do everything from them because they don't want the hassle of booking things themselves. Also foreigners have a problem with making credit card transactions online, so we solve that for them. I still see a bright future in this business for sure.
What's the most popular travel destination?
It is still Bali, although nowadays more people travel to Lombok and even further eastwards to Flores, which is still unspoiled and very beautiful.
Living in Indonesia for 15 years you must have done a fair bit of travelling?
Myself and my husband have done a lot of travelling, but we haven't yet visited Kalimantan. Once we took a 7-day trip by boat to Irian Jaya and spent a week there which was a great experience. You spend the first few days getting accustomed to how sparsely dressed everyone is!
I bet! What were the people there like?
Very friendly and curious. When we went there in the 80s, people had never seen a white person so they were so intrigued by us. Everyone would ask you for tobacco, not money. The women smoke and work and the men don't seem to do much at all!
And you speak the language now?
Yes, I think it's necessary. We learned from friends, by doing and making mistakes. Once my husband was trying to say, "I want to hang something" and instead said, "I want to hang myself." It's easy to make mistakes and the melody of the language is quite difficult to learn.
What changes have you noticed over the time you've lived here?
The traffic has gotten progressively worse, but you get used to it. Back in Holland nothing seems to change, but here there is always something new. It's changing very fast.
Will you ever move back to Holland?
We don't know, although we don't really feel at home in Holland anymore. We've lost touch. We definitely feel that home is here.
To get in touch with Cuny or to ask for travel advice, email her at [email protected]