Indonesia Expat was lucky to have met William MacKenzie back in 2012.
He was a character well-known in and around Sanur. We documented his interesting and diverse life and republish it here in celebration of his passing.
William was found dead in his room in Sanur, Bali, and the police have confirmed he died from old age and illness".   RIP William.  (18-8-2020)
Meet William Mackenzie. A Scotsman, a wrestler, a hairdresser and now a bar owner in Sanur.
William, how did you end up in Bali?
I had a bistro in Glasgow and I just wanted a complete change. I love the culture here, I know I can grow old here and be looked after. I came about three and a half years ago and I'm not going back to the UK. My mother was 89 when she came over here, she came over four times and she died here when she was 90 and even she wanted to live here. I had her cremated here and spread her ashes on the beach.
That's a touching story. Are you originally Glaswegian?
I was brought up in Lanarkshire and I spent half my life there and half my life in Glasgow.
That's a big change to Sanur!
It is a big change. But a good change – an educational change because it makes you very aware.
We're sitting here in your pub, Bali Pub – how old is it?
Well, it was Bali Pub before but we've had it for two years now.
What made you take it over?
Boredom. I was always busy, always active. I don't actually do very much myself, but I can shout plenty and the best advantage I have is to sit here speaking to people, organizing everything and that's all I need to do. That's what life's about.
I'm sure you've met some interesting characters here over the last couple of years?
I've met some very interesting people here. We've done some nice things too. We had a high tea for the royal wedding, celebrations for the Diamond Jubilee, we had a special lunch for that. I do a Burns supper, which is Haggis and that's always busy. I'm very much a loyalist.
I can tell! So where are the bulk of your clientele from?
Mixed, from all over. First when I started I thought that the tourists would be my bread and butter and the bules would be my cream but actually the bules are my bread and butter and the tourists are my cream.
Do you find there are a lot of expats living in Sanur?
Yes, oh yes. Some live in Jakarta with their families living in Sanur so they travel back and forth on the weekends. Some work in Singapore. Sanur is very safe. I mean if you go to Kuta, people there call this Snoreville, but you could walk about at 2am with a good drink and the banjar here are so good you would be 100% safe.
Bali's been quiet after the shootings of the terrorists, but there's only one good terrorist and that's a dead one. I feel much safer here than I do in Glasgow. People have got to realize that here they don't stand any nonsense. If you follow the rules, they like you.
Do you think the Banjar in Sanur are more stringent and that's why it's so safe?
They're more diligent and they try to help. I had a conversation in January with the banjar and they were telling me how many people walk into Kuta and walk straight back out into Sanur because it's loud and noisy there. Here it's safe and has a nice feel about it.  The danger is that it may be getting too big, but saying that, every place has got to grow and become better.
So let's go over your eclectic past. You were a WWF wrestler and had black belt in judo – what's this photograph of you with all these trophies?
That was a year's collection of trophies from when I was a wrestler. Some of these trophies are now in museums. That was many, many years ago. Look how young I was!
What was your signature move?
It was a leg lock. I would gladly demonstrate that for you later. It was WWF American stuff, all for entertainment.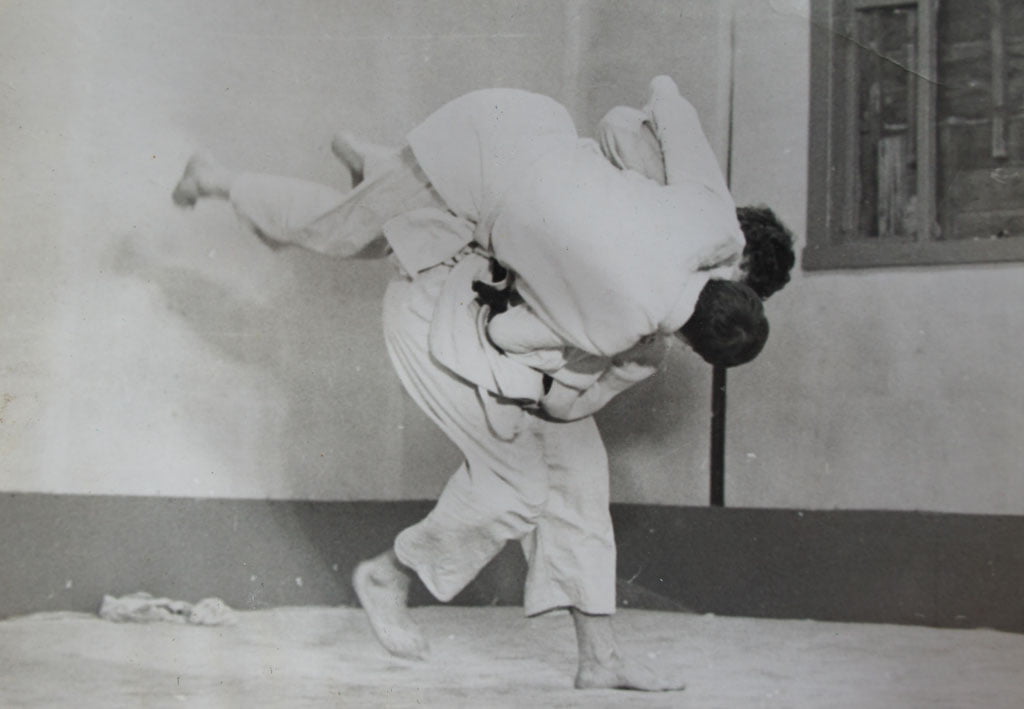 So, to someone who doesn't understand, what is judo?
Judo is the art of self-defence. Purely self-defence. I got my first black belt in 1971.
And have you always had a moustache?
Oh yes. I used to have a shorter one, but I looked a bit like Saddam Hussein.
When you were a hairdresser, what other things did you do?
I used to write in quite a few magazines giving write-ups about the latest hair trends and readers would send in their questions for me to answer. Like an agony aunt for hair! I did that for about five or six years. I also judged all kinds of international styling competitions. I've represented Britain in the Style Olympics and I was the main judge. I have a bronze medal for doing all the major championships – I was the person that was ruthless, disqualifying countries and teams and stuff. It's a very, very hard job to do.
Who's the most famous person you've styled?
You probably have never heard of him, but I did Lloyd Anderson's hair. He was a famous opera singer who lived in the Isle of Man and he used to fly me out to do his hair. Another famous person I know is Marti Pellow, the singer from Wet Wet Wet who I used to have a drink with. I lived in the west end of Glasgow that time and he lived around the corner from me so I used to have a drink with him every Thursday afternoon. He was the nicest person in the world with the nicest eyes you've ever seen.
Do you have plans of changing nationality?
Well, my passport is from the UK but this is my home country now as far as I'm concerned and I love it here. People phone me up and ask, "You sure you've done the right thing?" and I always pinch myself and say, "Yes."
Thank you William. To get in touch, come to Bali Pub in Sanur and say hi!