Known as the Island of the Gods for its sacred temples and ceremonial traditions, Bali offers more than just serenity, peace and tranquillity.
Its unique charm, enchanting beauty and rich culture fused with a dose of luxury and indulgence spell an exhilarating honeymoon experience.
There's an endless list of activities to suit every couple's taste and preference, but we've rounded up five must-do items that newlyweds should not miss out on for a mix of relaxation, enjoyment and romance during a honeymoon in Bali.
Wine and dine
Nothing beats the romantic experience of having an intimate dinner with your new spouse. Add to that a stunning view of Bali's natural landscapes and Mother Earth's picture-perfect backdrop of beautiful sunsets. The town of Ubud is situated at a higher and cooler elevation than most other places on the island. It also offers a variety of great dining options. For world-renowned fine dining in Bali, check out Locavore. For a more scenic drinks and dinner experience, head to CasCades Restaurant at Viceroy Bali.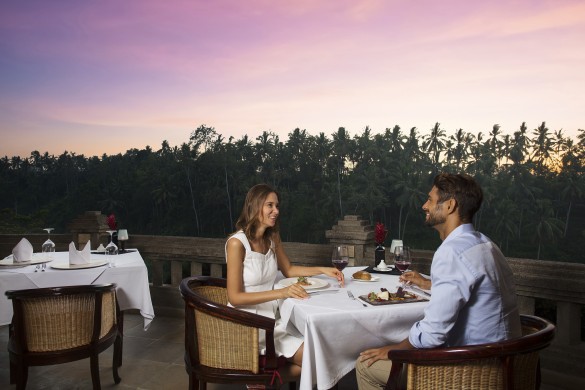 You can also choose to wine and dine at the beach, peppered with soft candlelight, or have a table surrounded by flower petals on the edge of a cliff with a view of the Indian Ocean below. Experience a four-course discovery menu and eat at a secluded pavilion right in the middle of a rice field, or get a reservation on a private beach. 
Go on an adventure
Locals say that you haven't really experienced Bali if you don't climb Mt. Batur, the sacred active volcano where the summit sits above the clouds. Couples can also turn their honeymoon adventure up a notch with other adrenaline-pumped outdoor activities such as canyoning, white water rafting or waterfall hunting throughout the island.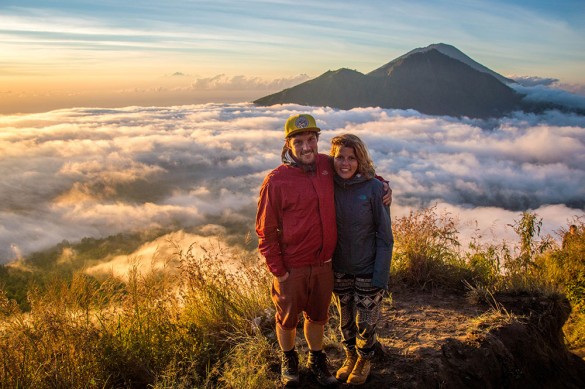 Meanwhile, for a unique perspective on what the island has to offer, a downhill bicycling tour is ideal for couples who want a more relaxed adventure.
Learn something new
If you're the type of couple who loves making things with your hands, make your honeymoon in Bali more special by joining a jewelry-making class. Friendly locals and small businesses are ready to help you with DIY projects that could be your wearable keepsakes from a trip you'll remember for the rest of your lives. 
You may also choose to book a private cooking class with your lover for a chance to experience and learn more about Balinese cuisine. Some honeymoon packages provide open-kitchen cooking experiences in the countryside where couples are able to use local produce including freshly picked vegetables.
Soak the day away
Swim right on top of a green canyon or relax on an elegant infinity pool right in the middle of a stunning rainforest retreat or choose from 25 luxurious private pool villas at resorts like the Viceroy Bali.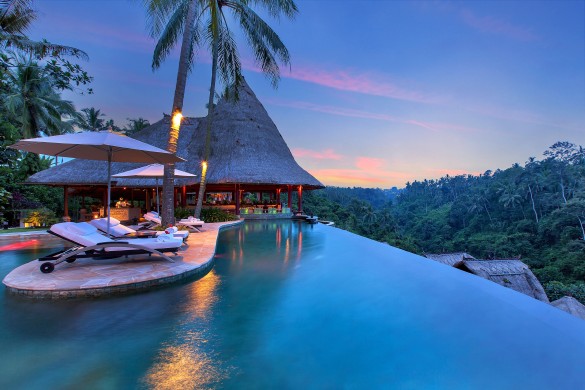 You may also choose to enjoy a comfortable soak in on of the island's 'beach jacuzzis', which are essentially little holes on the shores filled with fresh seawater from the ocean. Another interesting option is to seek out Bali's world-class hot springs.
Take a cruise
Surely, you would agree that no Bali honeymoon would be complete without spending a day on the ocean, exploring the sister islands of Nusa Ceningan,  Nusa Lembongan and Nusa Penida. These catamaran cruise packages normally include snorkeling, sunset cocktails and access to a private beach club or white sand bay.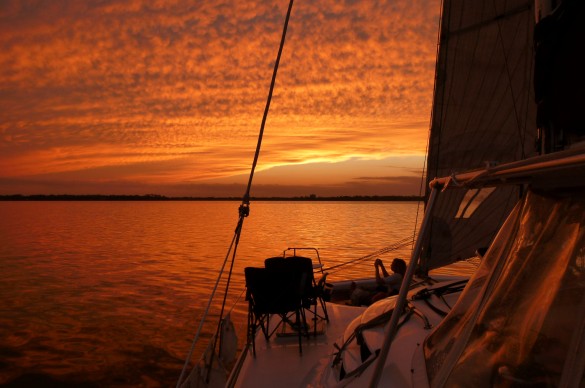 This post was brought to you by Viceroy Bali, a boutique resort, owned and managed by an Australian family, featuring 25 luxurious private pool villas. A sanctuary in Ubud's tropical foothills, the resort offers absolute privacy and unparalleled views perched atop the Valley of the Kings, whilst only being located ten minutes from the centre of Ubud. The villas are complemented by five-star facilities that include a spa, fine dining restaurant and private helipad. Recently, this hotel was awarded 'Best Boutique Hotel in Asia' and 'Best Boutique Honeymoon Hotel in the World' by the Boutique Hotel Awards.