"There's too much culture. How can you sift through it all?"
– Dan Quinn of this parish
That statement begs the question of what 'culture' is and because the word is the 24th most popular on Merriam-Webster.com it would seem that no-one is quite sure, although some academics have tried.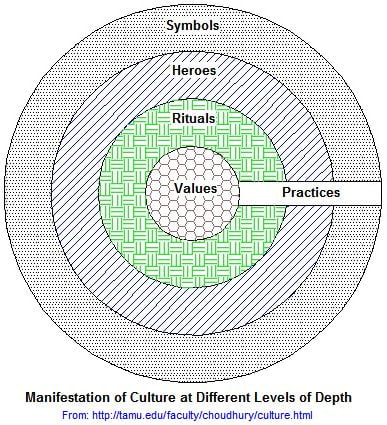 Taking a more simplistic view, I would suggest that there are two acceptable definitions.
Firstly, most folk have a deep-rooted desire to 'belong', to be seen as socially acceptable. They therefore subscribe to the characteristics of particular groups of people, defined by everything from language, religion, cuisine, social habits, music, the arts, to the buying of branded goods. This group could be termed 'culture vultures'.
Excluding hermits and ascetics who deliberately opt out of societal pleasures, there is a group which I feel is of much greater interest because their cultural values lie outside the mainstream, apart from the herd. What they do is highly individualistic, is undertaken outside the boundaries of social mores and going where few bold folk have been before. These folk are often labelled as eccentrics or, more likely, anti-social, but I prefer to call them pioneers.
They have something in common with another form of 'culture': organic growth which is found in a laboratory's petri dish left overnight, such as penicillin, or on a mouldy loaf. The mainstream eventually discovers that some seemingly anarchic activities have a political or entertainment value and adopt them.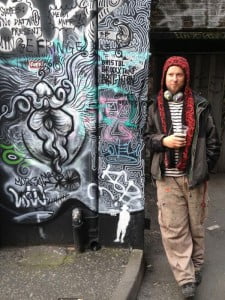 "Graffiti is one of the few tools you have if you have almost nothing. And even if you don't come up with a picture to cure world poverty you can make someone smile while they're having a piss."
– Banksy, the anonymous street artist who now commands outrageous prices for his art.
I first became interested in street art in the late sixties when on my way to work I passed a corner house in north London. On the wall which ran beside the garden was a single word painted neatly in metre-high letters.
It was a pleasant word to greet the day.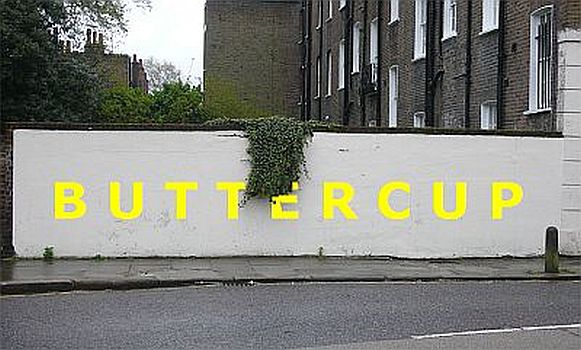 From the mouth-blown spray-painted cave paintings of some 40,000 years ago…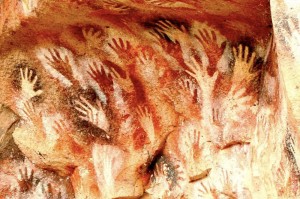 … to the many-pencilled Kilroy of World War II …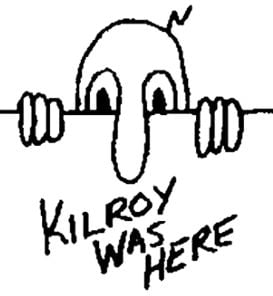 … and to the spray cans of today, graffiti has been about leaving a personal mark.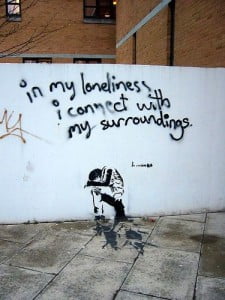 Some have used blank walls to take community action …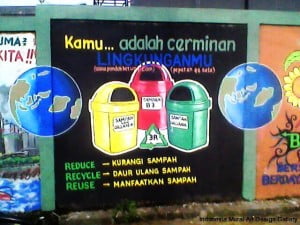 … others to protest overtly…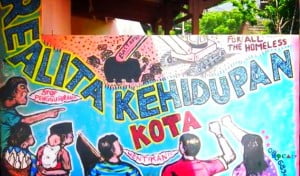 … or with satire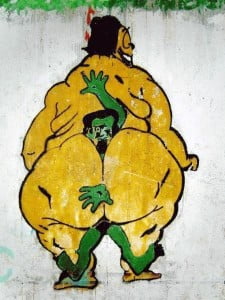 This image is found in the Dili suburb of Vila Verde. It dates back to early 2000. More humorous than other images produced at that time, this picture serves as a metaphorical description of Indonesia's occupation, with East Timor assuming the role of the squashed figure inside the bottom of the hulking yellow individual who could possibly be the Javanese wayang character Semar. (fr. Inside Indonesia)
Others make us blink and look again…
… so keep your eyes and mind open.
Indonesian Street Art links
– Inside Indonesia: http://www.insideindonesia.org/feature-editions/graphic-resistance/all-pages
– Tembok Bomber http://www.tembokbomber.com/ is a street art community website.
– Jakarta Street Art http://jakartastreetart.blogspot.com/, a short-lived blog.
– Guggenheim article http://blogs.guggenheim.org/map/street-art-in-indonesian-social-and-political-life/ with comments
"An emphasis on change is consistent with Indonesian street art's origins, but even after a period of reform, the scene continues to expand."
– Art in Jakarta's Streets: http://www.youtube.com/watch?v=r-pp1m7mp3k (video)
– Gallery of Indonesian Murals http://www.indonesiamural.com/en
– Indonesia Mural-art Design Gallery http://www.indonesiamural.com/en
Culture is something you don't have to do.
– Eno