Finna Golf & Country Club Resort boasts an 18-hole championship course located 500m above sea level in the foothills of three majestic mountains: Mt. Welirang, Mt. Arjuna and Mt. Penanggungan. Golf course architects Peter Thomson, Michael Wolveridge and Ross Perrett have crafted a par-72 mountain resort course amongst Pasuruan's rolling slopes, tropical fauna and rice terraces, creating a golfing experience amid spellbinding natural beauty and fresh air.
The course is by no means long, playing at a modest 6,345m from the back tees, but golf in a Garden of Eden should not require power but craft and care. On more than one occasion, the golfer may be forced to stop and pause and appreciate the level of beauty surrounding them.
Finna Golf and Country Club Resort celebrated their 21st anniversary last year, and the mountain resort offers golfers and visitors a sanctuary from their busy professional lives. The course is located in Pasuruan, just over an hour's drive from Surabaya's Juanda International airport and just over half an hour from Malang airport, where direct flights connect to Jakarta through several local air carriers. The resort offers pick-up services, and after a one-hour flight from Jakarta and car journey from Surabaya or Malang, its relaxing environment is where one can unwind, and the complete facilities on offer will accommodate golfers and non-golfers equally.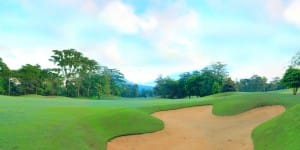 The resort boasts several very unique features that one will struggle to find elsewhere in Indonesia. Located near the VIP villa one can find a 115m-long and 2m-wide swimming pool, visible from Google Earth – one must see it to believe it. The resort also has a grass tennis court, adding extra kudos to an already-ample mountain resort package.
The three restaurants at the resort will cater for all your dietary needs, and one would be advised to sample the local specialties unique to East Java. For those who prefer Western food, there is a complete array of options. I recommend the Finna Burger, made with top quality Australian beef – very tasty indeed.
The Course
The course provides two distinctive "nines" starting and finishing at the clubhouse. The architects, Peter Thomson, Michael Wolveridge and Ross Perrett, whose famous works include the New Course, St. Andrews, Scotland; The Royal Hong Kong Golf Club, Hong Kong; and the Bali Handara Country Club, Bali, have skilfully incorporated Finna's grounds and natural features into their design to create a golf experience to rival the best in the world.
It is no surprise that Peter Thompson was a British Open Champion, as the distinctive pot bunkers strategically placed around the course and rolling mounds amid fairways portray a distinctive links-style course, albeit at 500m altitude in East Java.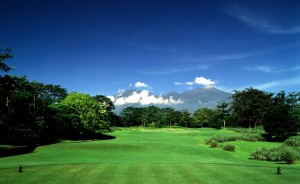 The Par 3, Hole #5 was our signature hole of the front nine. We played 156m from the white tees, teeing off from an elevated box over rice terraces towards a cove-like green, enclosed by large tropical trees and in the shadow of the looming Mt. Penanggungan. Holes like this encapsulate the playing conditions here at Finna Golf, surrounded by sheer natural beauty.
The Par 3, Hole #12 was our favourite hole of the back nine. Golfers once again navigate their tee shot through a thin opening, between rice terraces to the left and towering trees to the right, as a deep pot bunker waits patiently at the front of the green and again towards the rear. Although a modest 127m from the white tees, the tee-off requires deft focus and accuracy to land safely on the green in regulation.
Golf and leisure at Finna Golf and Country Club Resort is a breath of fresh air, offering a round of golf amongst genuine natural beauty, backed by warm East Javanese hospitality and fantastic mountain resort facilities. Stay-and-play packages are advised, as I am sure you will not want to leave after only one day at this mountain resort.
—
Course Information
SOCIETIES
Societies welcome, contact the clubhouse for arrangements.
RESERVATIONS
To book and enquire about tee times, please contact the clubhouse management office.
Reservation open daily from 05.00 am – 18.00pm
Phone: + 62 21 5460120
GREEN FEES:
WEEKEND
– Member's guest: 18 holes Rp.1,000,000, 9 Holes Rp.550,000
– Visitors: 18 holes Rp.1,400,000, 9 Holes Rp.895,000
– Ladies/Seniors: 18 holes Rp.725,000
WEEKDAY
– Member's guest: 18 holes Rp.600,000, 9 Holes Rp.375,000
– Visitors: 18 holes Rp.795,000, 9 Holes Rp.435,000
– Ladies/Seniors: 18 holes Rp.500,000
All prices include green fee, cart fee, caddy fee, tax and insurance.
STAY & PLAY PACKAGES: Contact reservations for details
FACILITIES
Spike Bar Terrace, Candi Jawi Restaurant, Lotus Restaurant, Pool Cafe, Locker Room, Sauna, Jacuzzi, Massage, Pro Shop, Driving Range, Putting Green, Meeting Rooms, Ballroom
Resort facilities: 30 cottages, 2 VIP cottages, Jacuzzi in all cottages, private pool in VIP cottages, 12 villas, Kids corner, Swimming Pool, Gym, Jogging Track, Grass Tennis Court, Indoor sports centre.
LOCATION
Finna Golf & Country Club Resort
Jl. Raya Barsari, Prigen, Pasuruan, East Java 67157, Indonesia
CONTACT INFORMATION
Phone: (+62 343) 634888
Fax: (+62 343) 634071, 632156
Email: [email protected]
Website: www.finnagolf.com