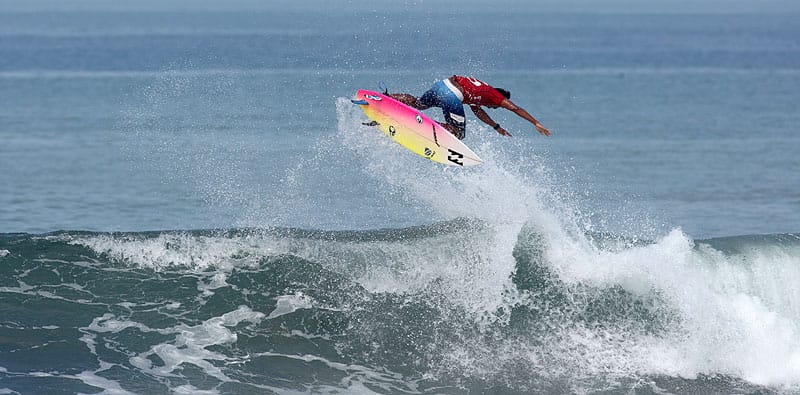 Sitting in his family's restaurant called Goku tucked just back from Kuta Beach on Jalan Benesari, the soft spoken Made Raditya Rondi starts telling me about his year. Just a month prior at a contest in Thailand, Raditya had been crowned the Southeast Asian champion of the Asian Surfing Championship tour for the second year in a row. This was a huge feat but now the biggest goal was being crowned champion of the Indonesian Surfing Championship tour where he had finished second last year and third the year before. Always humble and never saying more than is needed you couldn't tell if he was ecstatic or indifferent about reaching his goal of being crowned Indonesia's surfing champion surfer less than a week ago.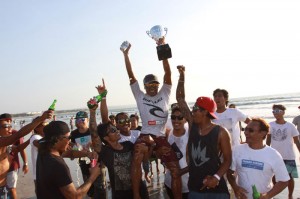 Raditya was definitely excited as we checked the latest photos of his year surfing Indonesia's choice dream waves: Mentawai, Padang Padang, Lombok and beyond. With all these waves that surfers are willing to pay several thousand dollars to reach in remote locations, and Raditya has been to most of them, I ask him where his favourite wave is. Without skipping a beat he answers in confidence, "Kuta. Kuta has brought me so much happiness and so many things. It is where I learned to surf and where I won my first surfing contest when I was fourteen. Kuta is also where my family is from."
Not only is Kuta where Raditya's Balinese family is from, but it is also where all of Indonesian surfing started. The first hotel on Kuta Beach was built by an American surfer in the late 1930s. In the 70s and 80s Kuta was the main surfer-traveller hang out and where the first generation of real serious Indonesian surfers surfed and lived. Today it is the epicentre of Indonesian tourism and surfing industry and also the proving grounds for all surfers on the island. Whether a beginner learning how to stand or an advanced surfer learning how to land a 360 aerial, Kuta is where everyone surfs. Kuta's safe sandy bottom and consistent wave shape are perfect for testing one's moves before paddling out to the bigger, badder, shallower and sharper reef waves on Bali.
Growing up just a block away from the sands of Kuta Beach made it a given that Raditya would like the beach. His Balinese family, many of which are pro surfers, would also see to it that Rondi would surf. Four of his older cousins are pro surfers as well and his uncle Ganti is one of the legend surfers of Bali. At 23 Rondi is the youngest of his Balinese Kuta family to surf but he was also the one to gain important knowledge and training passed down from his surfing family of which he said, "My cousins are all older and famous surfers in Bali and I wanted to follow their steps. They are very kind to show me the way on surf trips and how to surf contests."
Natural surfing talent was also his blessing and surfing was a destiny he embraced when he caught his first wave at age eight. "I don't remember much of my first wave but it was my uncle Ganti that pushed me in on a boogeyboard and I rode the wave all the way to the sand. The next day I already changed to a surfboard." Being a fast learner saw Raditya develop a love for aerials, the most difficult and technical of tricks when the surfer does a jump on his board over the breaking wave, lands on his board and keeps riding down the wave. To put it in more perspective Raditya was doing the most difficult manoeuvres way younger, was learning how to master the most challenging waves, and was being coached how to win a surf contest barely after learning to stand up on a surfboard.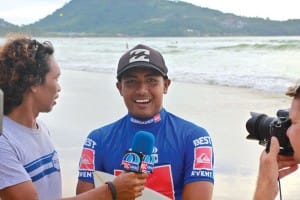 Making a career out of mastering the quality Indonesian surf and being crowned the champion surfer of Indonesia and Southeast Asia was something Raditya had been primed to do but was up to him to take to those elite levels. But it's not all just a job. The Coca-Cola Indonesian Surfing Championship (ISC) tour that Raditya just won travels to the best Indonesian waves and waits for them to get good. Winning your round and surfing again in perfect waves with only one other surfer out is a bonus, and the cash prizes for a win are the icing on the cake. Talking about winning contests, Raditya laughs, "It looks cool if you win a contest, make the podium and win some money. But most of all I like surfing with no crowds at the best waves."
This year's ISC win was nowhere close to a sure thing. Under pressure barely describes the situation. Coming down to the last ISC contest of the year at Kuta Beach, Raditya Rondi had to win the event in order to be crowned 2012 Indonesian champion. Anything less than first place and the title was out of his hands. And as his family and supporters held their breath round after round, winning is exactly what Raditya did in the tightest of title races and final point spreads ever to win at Kuta Beach and finish 2012 as both the Indonesian and Southeast Asian champion of surfing.
Kuta Beach had again smiled on Raditya. Last year he won this same contest but finished second on the ISC tour. This year was another tight squeeze but the points from the win were just enough to boost him to first place. With the Coca-Cola ISC champion's prize of Rp. 100 million going into his bank account and the wet season and surfing off-season ahead what could be next for Raditya? "Well next week I am going to Sumbawa for a surf trip with my cousins. And after that, well travel and win more contests next year!"
A special thanks to Raditya's sponsors for making this happen: Billabong, Nixon, Dragon, and Acaba Surfboards
For more info go to: www.isctour.com