Olá Vasco Canto Moniz! The professional show jumper from Portugal who spends his free time surfing, travelling and hitting a few rounds of golf.
I was born in Oporto, Portugal, but spent all my life in Sintra, 20km away from Lisbon on a beautiful mountain facing the Atlantic Ocean.
You're quite new to Jakarta, how are you enjoying life here so far?
I've arrived on the 6th of January and I'm loving it so far! Despite all the traffic and pollution, I find Indonesian people kind and friendly and the landscapes throughout the country are breathtaking!
Where were you living before, and how did you end up moving to Jakarta?
I was living in Sintra. Me and Carla, my wife, ended up moving here because this is her first posting as a diplomat in the Portuguese Embassy in Jakarta, so hopefully we'll be here between 3 to 4 years.
How do you usually like to spend your free time?
My free time is spent either playing golf (not much time for that since my horse arrived from Europe), traveling around Indonesia and surfing in Bali or West Java. My wife loves going out shopping in antique furniture shops, and there's a lot of good ones in Jakarta!
So you're a professional show jumper, how did you get involved in the sport?
It's a very popular sport in Europe and my father passed on to me the love for this animal, the horse, and I ended up loving to jump, then the sponsors started to invest in me and I could achieve a higher level in this sport. I'm also a trainer and I have already a good number of students who take lessons from me, both expats and Indonesians who also compete.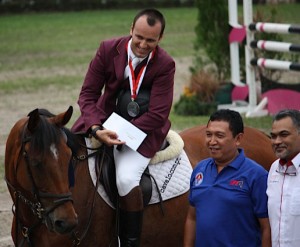 To be honest, I haven't heard much about show jumping here in Indonesia, is it a popular sport?
During last year, with the SEA Games, people started investing in this sport in Indonesia and a lot of sponsors showed up to improve show jumping, dressage and eventing, the 3 olympic equestrian disciplines. Indonesia won a lot of medals in these games and hopefully will do well next year in the Asian Games. It's an expensive sport which can only grow with sponsors to support it. I was amazed with the development of this sport in Indonesia when I first arrived, I never thought it would be at this level, and I'm happy that they take my know how from so many years in Europe to improve it even more.
You recently competed in a show jumping competition here, could you tell us a little about it?
On the weekend of the 9th and 10th of June at Arthayasa Stables, the Menpora Cup (Ministry of Sports Cup) was held which included a Qualifyier for the World Cup 2013. In that competition I was placed second, only 0.70 seconds behind the winner of the class. My horse, Tontin, had just flown in from Europe where he had to go through a big quarantine and I didn't want to push him too much. In September, after the Ramadan, the season will restart and I hope to win many shows!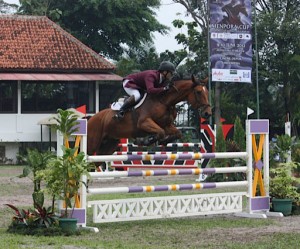 The best of luck to you and Tontin. So how many competitions have you entered in your career?
In Europe I was mainly competing in the Portuguese and Spanish league, and you have shows every weekend, starting on Thursdays till Sunday, and if I was not competing I'd be traveling to Holland, Ireland, France, Belgium or Germany to buy new horses to compete with. So you can say that in 52 weeks I'd be competing or traveling 48 weeks per year.
That's a lot of work! What is the most challenging aspect of show jumping?
The most challenging aspect of this sport is to deal with another being with his own mind, his mood, his character, and that he cannot tell you when he's sick, tired, and so on. So you have to think for two and be able to manage that relationship. And in my case, show jumping, is being able to go through a course of 12 jumps in the best time possible and with no faults!
And if you weren't a show jumper, what would you be?
If I was not a show jumper, I'd love to be able to practice business management which was what I studied for in University!