Watch out Indonesia – our expert epicure is on the move, recently roaming the archipelago incognito to bring you the truth about the nation's dining scene. No spoon is left unturned in the quest for honest, balanced reviews, from long-established favourites to the hottest new tables in town. 
This month, fishy fare at Sardine.
Ah, Bali. Few places on the planet – let alone the archipelago – stir as much passion and conflict within these bones. Spiritual, cultural, ancient; a trip here restores the very soul. But at the same time, Bali is increasingly damaged, chi-chi and sometimes a little world-weary. It is, therefore, a joyful pursuit of mine to seek out and savour what is still magical about this mystical island. Can this be found in Indonesia's highest concentration of see-and-be-seen, Seminyak? We set out to sea, to see.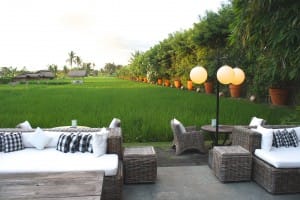 Straight off Sardine impresses. It is a simple structure, but really makes the most of its surroundings. Peeling off Jl. Petitenget, you are suddenly in the midst of a rice paddy. In rainy season it would be stunning – emerald-green extending directly out of the back of the open-air dining room. As it was, happy little ducks roamed the fields as a beautiful breeze swayed through the bale. White-washed and distressed wood furniture is accented by classic Balinese black-and-white check. It is one of the more restrained, comfortable spaces I've seen – neither too stuffy nor too swanky.
The gracious hostess came swiftly over – a rare, welcome touch these days – to advise on the menu and ask if we had any questions. We were off to a promising start with some great complimentary focaccia bread and olive oil – I always find this is the harbinger of a kitchen that cares. Whilst deliberating we tried some arak cocktails. They were refreshing and it's certainly novel, but arak doesn't quite have enough inherent taste to stand out in a Caipirinha or Daiquiri.
Instead, turn your attention to the wine list – and thoroughly ravish it. Choc-a-bloc with extremely well-priced bottles, you'll have no problem selecting the perfect partner to your marine meal from this selection. A delightfully dry, pale pink Whispering Angel rosé (at a reasonable Rp.800,000) suited us nicely.
The Clandestine Critic understands that Sardine's chef is Californian. This explains a lot about the menu. Healthiness reigns supreme at this Seminyak eatery – and why not; this is where the young and beautiful of Bali flock, after all. But does he sacrifice taste? Here and there.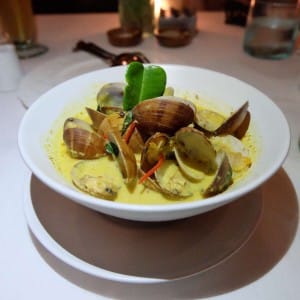 The Smoked Kingfish Salad starter (Rp.90,000) was good: meaty, chunky, home-smoked pieces of fish were lifted by a lime-ginger dressing. Taking things in a more local direction, Manis Clams ('sweet', Rp.100,00) were delicious: plentiful plump little darlings in a turmeric and coconut curry sauce. Finally (and yes, I had two companions for this repast instead of the usual one – I do have some friends) a Duck Terrine (Rp.90,000) – chosen for a break from the aquatic – was delicious enough to make us forget our guilt over eating the relatives of the little chaps running around the rice paddy. So far, so flavoursome.
It was at this point we noticed and appreciated two very important things about this restaurant. First, the fish is as fresh as I've had in Indonesia. They buy whatever is on offer from Jimbaran fish market that morning and make the menu up accordingly – as it should be. This is key and they will surely keep it up. Secondly and possibly due to this, it is extremely good value for money. The three mains were just Rp.150,000 each. For a fish-starved Jakarta-dweller, this is nigh on heaven.
So far, Sardine was firing on all cylinders. Could this be too good to be true? Potentially yes, for at that moment my old foe, the salt police, decided to show up. Each of the portions for main course – hamachi, sea bass, and mahi mahi – were big, fresh, generous fillets. This is good (although it would be nice to see more whole fish on the bone here) and it's part of the battle, but to win the war, Sardine needs to cook with more guts.
The mahi mahi had a lovely citrus salad on the side, but the fish itself was a little bland. The seabass was well-cooked, and of course bass can take a meatier accompaniment, which this had in the form of beurre rouge and pureed potato. But again, it was exceedingly simple – no skin or anything. The hamachi was the best-tasting, with that mercury flavour you get in swordfish and fresh tuna. It was with a sweetcorn-kernal-studded salad, which worked. Yet somehow all three suffered from some kind of inferiority complex. They knew they were good cuts of fish really, on the inside. But they just weren't achieving their full potential. I quite sympathise.
They needed salt, pepper, seasoning, shaking up a bit. Don't get me wrong. I, of all people, appreciate simplicity, especially in fish cooking – it's important to allow the ingredients to sing. These did – and there was no mistaking their quality. But the kitchen just needs to loosen up on the naughty bits in life that make things taste good: butter, oil, salt. Amping up their flavours with a few of these would do them no harm, and with their well-thought-out and executed accompaniments, they can still claim the 'healthy' tag.
Rounding things off, we took their 'mini' dessert sampler plate, which boasted chocolate tart, mango and raspberry parfait with pandan cake, and a little exotic panna cotta. There's nothing overly remarkable here; all was perfectly fine. The ice creams and sorbets on the side were the stand-outs.
Sardine does almost everything right. It's a wonderful option for a light, summery lunch in a gorgeous environment. A small tweak here and there and it would be close to the best option for good-value, fresh seafood anywhere in Indonesia.
*** ½ Bigger fish to fry
Cheque please!
Food: Rp.825,000
Drinks: Rp.990,000
Service: 8%
Total: Rp.2,156,220 (inc. taxes) for three
Sardine
Jl. Petitenget 21, Kerobokan, Bali 80361
+62 (0) 811 3978 333 www.sardinebali.com