Having a sweet tooth doesn't stop at dessert. Not when you're relishing in Indonesian cuisine. So, for all sweet tooths out there, Jakarta has an irresistible treat for you.
Thanks to my mother's side of being a full-bread Javanese, I have a major sweet tooth. The Javanese love their sweets – poultry, red meats, vegetables, you name it; are infused in sweet soy sauce, brown sugar, and other sweetening agents. And even if "sambal" is served, it's never pinching the tongue. 
"Sugeng rawuh" (welcome in Javanese) to my candied haven: Harum Manis Restaurant in Central Jakarta. This fine dining restaurant fetes me with a sweetness galore based on an array of authentic Indonesian cuisine derived from Sabang to Merauke, primarily focusing on delicacies from Central Java, as well as West Java, Bali, Banjarmasin and other Indonesian regions. I keep on considering "Harum Manis" as a "sweet scent" when translated into English, but I discovered it's actually a crispy cotton candy native to Indonesia, popular amongst children.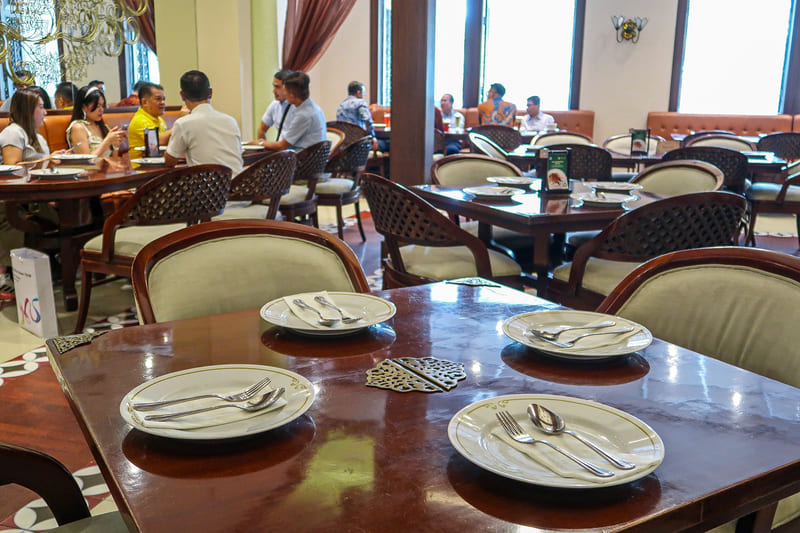 Imagine yourself as a Javanese "ningrat", or nobility in the highest social class in pre-modern society, who just arrived home whenever you're at Harum Manis. Upon entering the ginormous wooden door, reminiscing Keraton Ngayogyakarta Hadiningrat, strong Javanese elements protrude full of personalities in every inch of this restaurant – starting with the elegant lobby, Pringitan, gliding me into a heartful welcome. 
Harum Manis inherits the classic Javanese interior and architectural influences, which maintain the typically dark and bold Javanese characteristics transformed into a light and contemporary twist from the whites and cremes contrasting the dimming lights. A touch of blue is also added to shield the environment from harmful facets. 
As I make my way to the dining area adorned with Kaung flowers made of bronze and fluorescent lights along the walkway, following the Soko Guru concept found in traditional Javanese houses to support the roof and represent social hierarchy, the Pendopo greets me. I choose a table by the mirrors accentuated in lustrous brass constructions of the Tree of Life, known to bring guidance and balance to a home.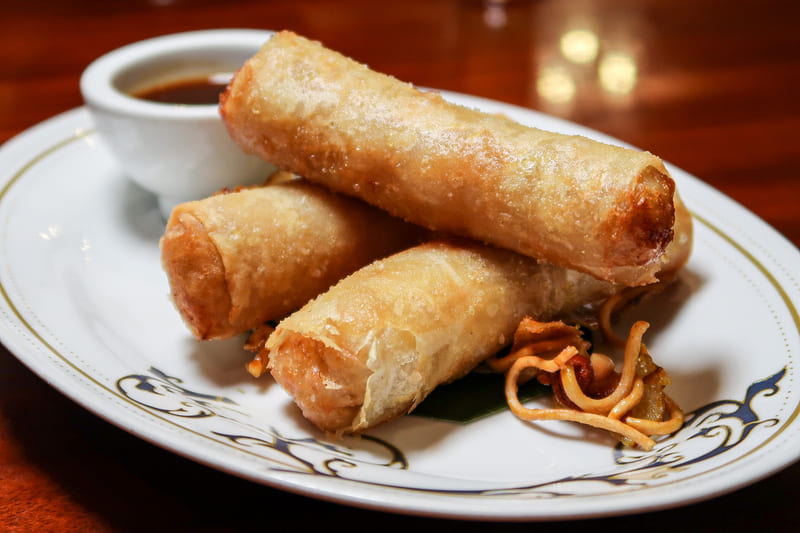 At least a maximum of 120-130 people can feel at home and savour Indonesia's flavours full of spices here. From the selections of starters, appetisers, soups, skewers, in-house specialities, poultry, kinds of seafood, red meats, rice, noodles, vegetables and desserts, I cave into seven dishes. Regardless of your dietary restriction, there is something for you to dine like a "ningrat".
Start with the crispy yet melting golden Loempia Warisan Turun Menurun. This Betawi spring roll has yam, sliced onion, and minced chicken with a palm sugar sauce on the side. Grab the basketful of addicting rice ranging from white, yellow, red and green to accompany the upcoming delicacies.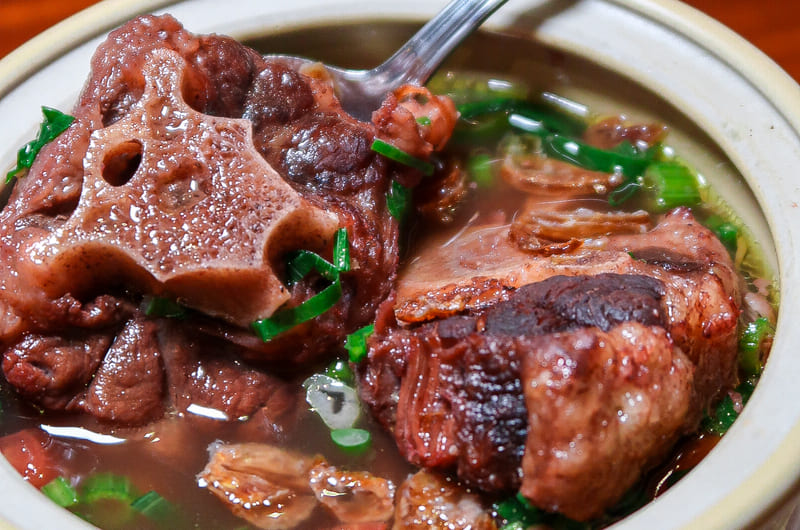 Wash down with the wholesome Sop Buntut Kutho Gede of Yogyakarta. Although a famous national dish, Harum Manis takes it up a notch using a braised centre-cut oxtail cooked in a clear vegetable broth infused with nutmeg and cloves, garnished with fried shallots, sliced lime, melinjo crackers and chilli sauce. 
Harum Manis' star is the One-metre Satay, an assortment of skewers grilled over coconut charcoal entailing flavourful sauces of Pekalongan, Jakarta, Madura, Purwakarta, Gianyar, Solo, Jimbaran, Ponorogo and Yogyakarta all well-complemented by a creamy, sweet peanut sauce. This one-and-only signature dish is meant to be shared, thus, satiating up to six pax. Plataran, where the satay and beverage bars are, fumes in the glorious Indonesian satay scent I pass by on the streets. The satay bar will ring a small gong hanging atop and chant "sate satu meter" every time a table orders it. If that's too much to feast on, consider ordering the Sate Nusantara coming in half the portion. Two words: scrumptiously fulfilling!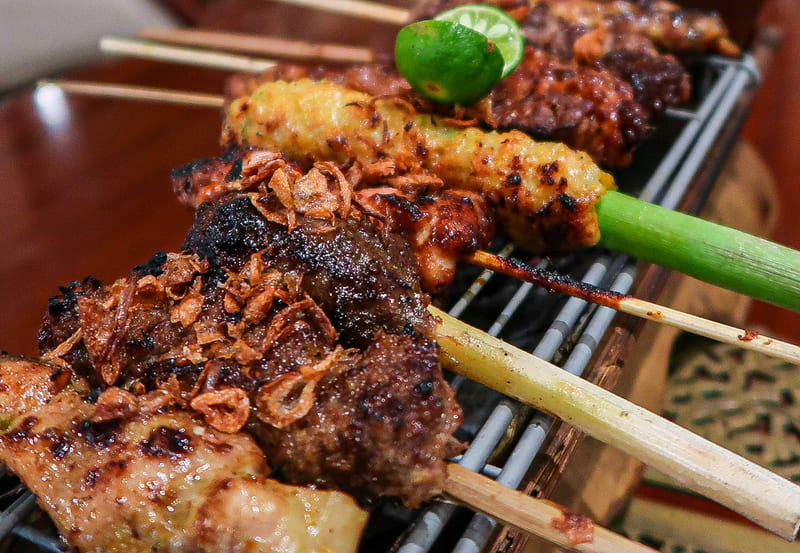 Assemble your plate with another in-house speciality like the succulent and sweet Udang Bakar Banjarmasin. A tiger prawn from East Kalimantan is chargrilled in a homemade special sweet soy sauce that puts each bite in a tranquil state. If you're a lamb lover like me, there's the sweet, tender and exuberant Kambing Bakar Bengawan Solo. An Australian lamb shank is marinated and chargrilled in a Central Java style accentuated with lots of sweet potato crisps and striking colo-colo sauce. An honourable mention is the euphoric Ayam Bakar Bangsawan of Yogyakarta. A whole, range-free chicken is slowly braised and chargrilled accompanied by fresh cut-out vegetables and a special paradise sauce.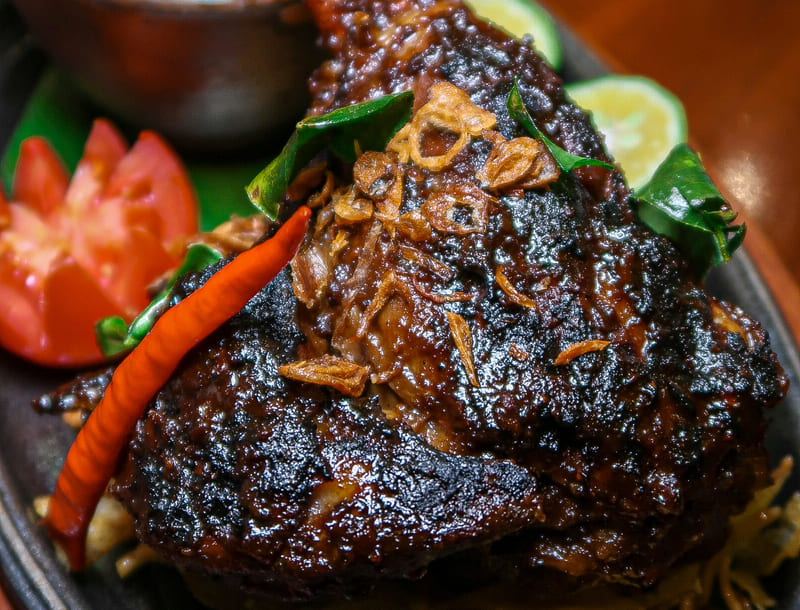 All that heaviness deserves some green nourishment. Indonesians are famed for eating whatever nature has provided. In this case, the people of Madiun include winged beans in their diet. The Tumis Kecipir Cindelaras is a stir-fried way to eat baby winged beans in a traditional paste, sliced red chilli, and crispy anchovies. I am in disbelief that something foreign in my palate is entitled to a high rank of satisfaction as I devoured this. 
If that isn't foreign enough for you, try out the Durian Brulle of Jakarta for dessert. The creamy, exoticness of a durian transforms into a classic custard with a generous caramelised sugar crust. Divine!
Harum Manis is the perfect place for events revolving around business, familial and social matters because it has a vast, open area that offers Indonesian comfort food. It exudes a romantic and intimate sensation here. Simply choose any private room.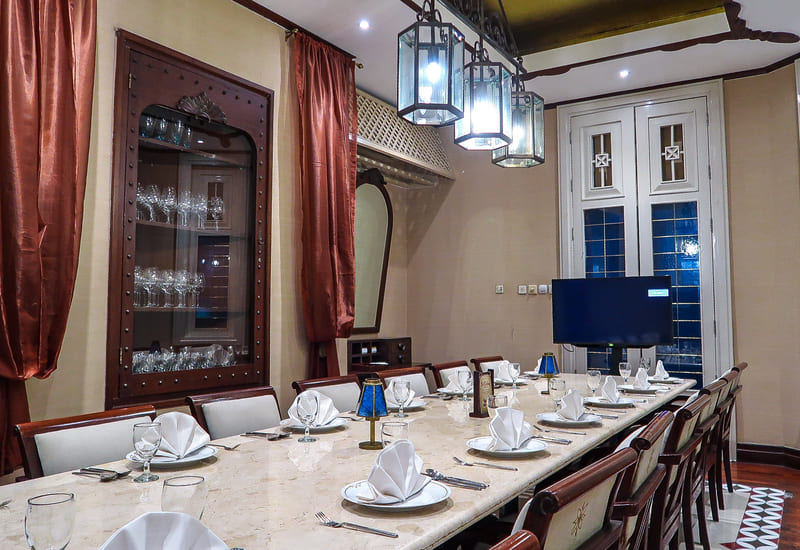 The Javanese royal family back in the day was hosted in a grandeur room called Senthong Kanan. At Harum Manis, this could be your engagement or wedding venue – that is, you have 40 people on your guest list. Moreover, the Senthong Kiri, a study room in a Javanese home, is equipped with a bookcase and two workstations. You can wine and dine more privately here with up to 16 people. A more personal setting is definitely the Gandhok. Harum Manis adds a dash of glamour to this common batik or furniture storage of a Javanese pavilion with brilliant chairs extending the room.
On weekdays, mostly corporate individuals from surrounding offices squeeze in a business meeting or colleague's birthday over lunch, whereas on the weekends, families succumb to quality time. Prepare to revel in this sweet haven starting from Rp150,000 – and that's without the concern of scorching heat on your tongue. Will you give dining ala Javanese "ningrat" a chance?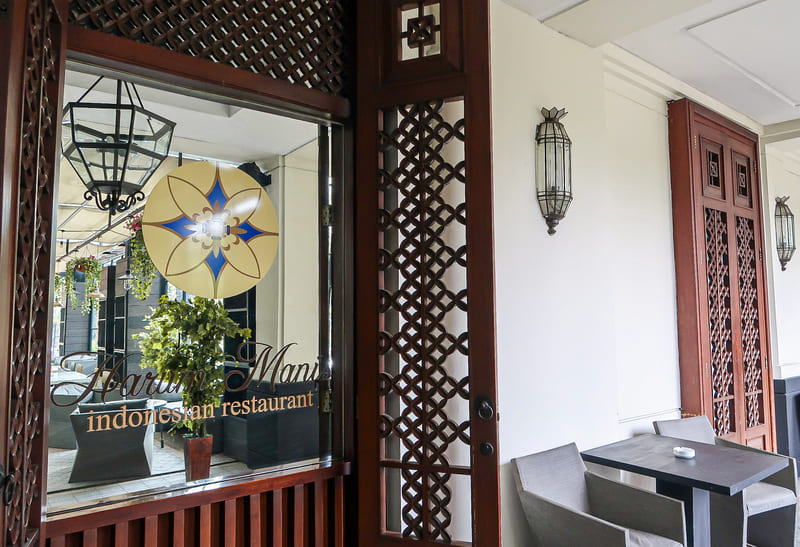 Harum Manis Restaurant
Address: Apartemen Pavilion, Retail Arcade, Jl. K.H. Mas Mansyur No.Kav 24, Karet Tengsin, Jakarta.

Operational Hours: 11am-9pm

Tel: (021) 57941727

Instagram: @harummanisjkt