The former Jane Gillespie of Australia met Prince Tjorkoda Raka Kerthyasa of the Ubud Royal Family while on holiday in Bali in the late seventies.
The couple were wed and Jane became Princess Jero Asri Kerthyasa. We meet up with her at her café Biku in Seminyak to find out about her experiences of immersion into Balinese royal life in the '70s.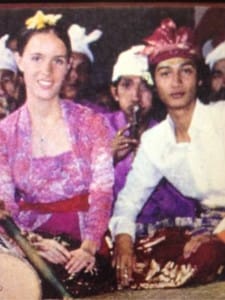 How did you meet Prince Tjorkoda Raka Kerthyasa?
I came here on holiday with my mother in 1977. It was my second trip to Bali – the first was in 1972 with friends. I met the prince in Ubud and we were married a year later in 1978.
What was the reaction of the royal family to your marriage?
Some of the family members weren't too keen on the idea, but in general, they were quite accepting of me.
Do you have an amusing wedding story?
Yes! We had tonnes of gifts, of course. I had a good friend who brought me some very precious gifts from Australia. It is the custom here that the family takes all the gifts, which I did not know. So, when my gifts from Australia went missing I was so upset! My husband retrieved them back for me so it all ended well, but looking back that was a funny event!
Did your new Balinese family choose your name? What does it mean?
Jero is a title given to people who marry into a higher caste. They chose Asri, which usually means perfect, but also because to them it sounded like Australia (AS) and Republik Indonesia (RI)!
What were some of the initial challenges you faced upon becoming a part of the royal household?
"It was a radical change in lifestyle and a whole new culture for me to embrace"
There was only one way to do things: the Balinese way! I experienced a huge change in every aspect of my day-to-day life. Ubud was a tiny village then and there were very few westerners. It was 1978, so even the palace had no amenities such as electricity or proper facilities. The residence was beautiful but everyday life was very primitive; kerosene lamps lit the palace and there was no running water. There were also no telephones, thus no communication with the outside world.
Was it difficult to learn high Balinese?
No, it's not that difficult when you are totally immersed in it as I was. My life was in the palace, so I learned the language very quickly.
What were your duties as a princess?
I had to learn royal protocols, of course. The duties normally consist of being present at temple ceremonies, community and royal events, and traditional ceremonies.
How many children do you have?
I first gave birth to a son, Tjok Gede. My second son is Tjok Bagus and my daughter is Tjok Maya, so I have two sons, a daughter, and three grandchildren.
Do they all have royal duties?
Yes, they have duties to attend to, now more than ever! Weddings, cremations, baby ceremonies – it is more full-on now than before! My husband has the most duties and is always active in the community and with the government.
When did you open Biku? Tell us about this popular cafe in Seminyak.
I opened Biku seven years ago with my son Tjok Bagus (Max), who is a tea master. We opened as a restaurant, lounge, and teahouse. In the beginning, we never envisioned it to grow into such a big enterprise. It is always full now. We serve a proper English tea and have a large selection of scones and cakes. It is best to reserve for lunch or dinner. People like to come here to relax, have their Tarot cards read, and just enjoy the ambience. I am here every day. This is where I see my friends and where I feel comfortable.
What makes Bali unique in the world?
I truly believe that all the ceremonies and offerings have an impact on Bali. Every prayer offered has power. There still remains a feeling of magic here and it is because of all the energy that is created by the Balinese people and their daily rituals.
What is your future vision for Bali?
I don't really know at this point. I want to be optimistic, but I see the Balinese culture being diminished. Bali is being populated by so many people from other islands and other cultures. Huge projects are being built which do not benefit the Balinese people in any way. I worry about what will happen when they have sold their lands and have nothing left. What will the next generation do? Also, we do have the problem of infrastructure and the huge impact of tourism. Even if the water shortages and power shortages are addressed, what will become of the culture and traditions which make Bali what it is? We can only hope for the best and support this beautiful culture that is Bali.
Thank you, Jero Asri!
To find out more about Biku, visit: www.bikubali.com