THE FALL
Is it the real death of the music industry?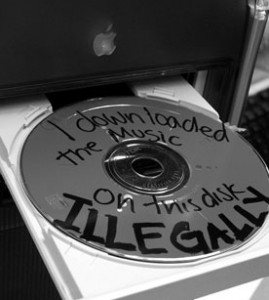 How many songs do you have on your iTunes? Have you ever checked? How many of them are ripped from the original CDs and how many of them are legally downloaded?
On my desk right now, I have a stack of CDs, original not pirated. It's like self-evidence that I still appreciate musicians. But I know for sure that I do illegally download, too. I don't have to give you the reason why I do that; you must be smiling at yourself now also.
The music industry, or I should say the recorded music industry is shrinking after years. People these days are paying less for music. For sure the Internet has truly transformed music distribution. In other words, downloading illegally is flaring up.
CD sales are suffering. It is one of the longest death rattles in consumer product history, and it is becoming painfully clear that digital downloads are no knight in shining armour in the music business. Even though one of the biggest telecommunication companies in Indonesia are targeting revenues of USD 120 to 140 million from digital services alone in 2011, one website of free sharing alone can cause USD 90 million loss in a month, assuming that one song is priced at 99 cents.
It's sad, really. People will continue to file share and steal music. They've been doing it for over ten years and they're not stopping now. Steve Jobs who is raking in 30% of everything being sell on iTunes doesn't help the situation either. Piracy remains a worldwide problem.
SELLING TOURS
"In the past, people would tour to promote theirs albums. Today, they put albums to promote their tours. The pendulum has swung." (Guy Oseary, Madonna's Manager)
It's actually like the "chicken or the egg" quandary. Do musicians tour to sell albums or sell albums to do tours? As a matter of fact, the industry is not dead. It's just that people have stopped buying albums. By giving us the option of not buying whole albums, just to get at two or three songs, the digital distribution of music smashed down the old power structure.
This has disturbed the major labels around the world. We are now seeing major labels signing full services with artists including the artist management because concerts or touring are now making more money than selling CDs. And this gives labels a cut of virtually every revenue stream artists can tap into – fan sites, concerts, merchandise, endorsement deals, and everything else.
INDONESIAN MUSIC INDUSTRY
Is it here to stay?
When I spoke to Adib Hidayat, the Editor In Chief of Rolling Stone Indonesia, it creeped me out. He stated that lots of people say there's no music industry in Indonesia. There is only the entertainment and the stars business. Plenty of musicians or bands are taking advantage of one-hit-wonders. While their songs are heavily played on the radio or television, they will maximise the income that they can get. In the end, it's all universal selections; the one who survives is the one who will appreciate the process of being a real musician. The same thing was also alleged by Erdian Aji, former vocalist of a band, DRIVE. He said, "If you see the music industry from the entertainment side, Indonesia has a very good industry. But if you talk about numbers, it doesn't sound sexy to my ears."
The piracy that happens around the world also happens in Indonesia. Pirated CDs are everywhere; everybody does file sharing. According to Heal Our Music, a non-governmental organisation for saving Indonesian music, in total there has been 104 million free music downloads from 15 Indonesian sites in April 2011 and unfortunately, 51% of the downloaders are not aware that it is illegal.
Indonesian musicians are also trying to survive by doing tours. They sometimes only release singles to prove their existence in the industry. Adib believes, "Pop is still the king in the market. But it's no guarantee either, sometimes it's luck and momentum." Aji also added, "Music is not something concrete. Each genre has its own listeners. Sometimes, you cannot describe which sells or not."
To sum up, the music industry really looks glamorous from the outside, but the truth is, it's poor inside. Do musicians nowadays make a lot of money? I don't think so. Making music will be a lot like painting pictures – something that takes a long time and even for the best people it doesn't pay as well as a job at a restaurant. Anyhow, music is here to stay and the industry simply has to evolve with the changes. Some companies will fold, some will adapt, and new players will emerge. Whatever happens, the need to create and entertain will always be a part of human culture.
Popy Tobing