Bonjour Jean-Baptiste Mounier. The trigger-happy Frenchman based in Kemang.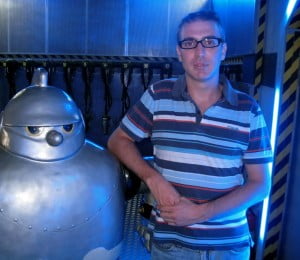 Where are you from?
I am come from France, Grenoble, near the Alps.
Lovely, and how did you wind up in Jakarta?
I started in the overseas army by working at the Economic Service of the French Embassy, in charge of the ITC market. For many years I was an IT Consultant working for different companies or organisations, having also my IT Company in France. I am mainly involved in Web IT projects and more recently, we created Laser Game Indonesia!
Laser Game is quite an unusual business to have. Where did the idea come from and were you one of the founders?
Yes, I am "part of the game" together with my few friends who also enjoy this game. The idea came a long time ago because I like games and I was looking for this kind of entertainment not long after I arrived in Jakarta. Of course, Jakarta needs entertainment, needs some playground, not much green space either. So, we started to share the idea, gathering the details with friends, talking,  then here we are! We believe that there are not enough indoor active games for the youngsters. What's out there are outdoor games and Indonesians are not too crazy on outdoor activities.
Just in case any of our readers don't know, what is Laser Game?
Laser Game is a friendly indoor gun game using the available high technology, such as infra red, sensors and computerised software. We are friendly because it is not painful, not messy, and definitely no sun. It's indoor, with music and you play the game within a spaceship or Tron design oriented. All glow in the dark. Very fun! Play "solo" or by teams!

Is Laser Game more popular amongst children, or can young-hearted adults play also?
Our customers range from children (minimum 8 years old) to active adults, boys and girls, men and women. It's a very welcome venue for a birthday or corporate events. The staff and the boss can shoot each other! We have also VIP facilities.
Kemang seems to have it all, with restaurants, bars, shops, galleries and now you've introduced Laser Game. How is business in this area for you?
We searched around Jakarta Selatan for the right place to open up Laser Game. We are happy that we actually did it in Kemang. Kemang is a trendy place for lifestyle business.
How do you see the area of Kemang developing in the future?
I hope it stays trendy. Of course it has to do with the local government to make the traffic not as bad.
Do you plan on expanding? I hear Bali has yet to open anything similar…
Of course. We are actually planning the second centre in Jakarta and more…
If you could do anything on the weekend in the city, what would it be?
I'd say come to Laser Game and now… Laser Golf! It is very relaxing and is the first indoor Mini Golf in Indonesia that glows in the dark and is accompanied with hip music (on 2nd floor). There is a private room that you can rent if you are in a group and have your own beverages and snacks. You can even do karaoke in it. It is very fun… you can check the design on our website www.lasergameindonesia.com.
To get in touch with Jean-Baptiste, email him at [email protected]