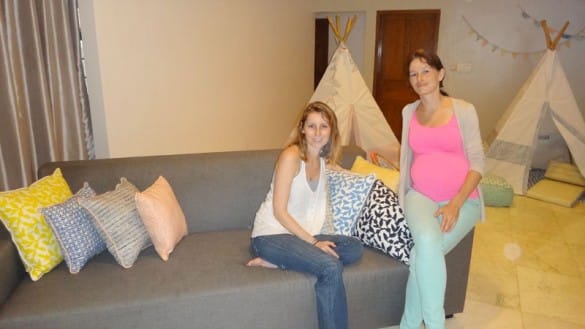 As they rode on a train to Cirebon from Jakarta, two Dutch ladies by the names of Naomi Pescheux and Judith tried to decide on a name; a name later used for their blossoming enterprise. They landed on DUDUK as the name and brand of interior design they are proud to home-make. DUDUK wasn't just about the entrepreneurship of two creative and independent ladies; it was a coming out of a new genre of colourful, comfortable range that has the potential to brighten up any home.
What started with a simple idea of creating furniture items for children flourished into a whole line of batik-inspired brand of home furnishing appliances for kids that are very practical for daily use. DUDUK (or 'sit' in Indonesian) started with some designs with the intention to create something children can sit in or on. I sat down with these ladies to hear about their journey.
Tell us about the birth of DUDUK. Why did you decide to go into this business?
We were just two soon-to-be first-time mums from Holland. We were new to Jakarta and we looked around for baby things like cribs, a playpen, pillows and all that to get our baby rooms ready. Some things were still missing at the time, like a baby sleeping bag, which was available here, but can be quite expensive.
Around the time when we weren't as busy with the babies anymore, as they grew and we gained more independence and free time to go back to work, we were very keen to get into something creative yet flexible enough that we can work from home. We journeyed back to our pregnancy days and reminisced about the need for affordable and stylish baby products in Jakarta. It took a lot of courage, but we finally went for it and started looking for sample materials in Cirebon, sewed and completed our first finished product, and the DUDUK line was born. We saw a growing number of home-based entrepreneurships in Jakarta too; we were motivated to establish one for ourselves. Jakarta's a good place for a start-up business like this, we think, because you're in a luxurious position where you have help with the kids and the support of at least one salary, that you have the freedom to explore your creative side.
What was the first item you made?
We were toying around with the idea of making a tipi tent as a play area for kids. So initially, there were three things that we agreed to start out with when DUDUK was first set up; the triangle pillows, the tipi tents, and the baby sleeping bags.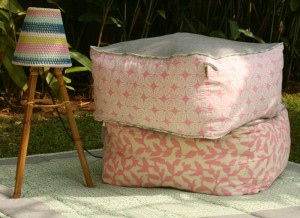 Is one of you savvier on the business side and the other on the creative side? How do you divide the labour?
Naomi: There's not really any division of tasks. I guess Judith is better with a sewing machine than I am.
Judith: But Naomi is better at experimenting.
Naomi: I come from a family of entrepreneurs, so when the ball started rolling on DUDUK I realised I had it in me, too, to make this work. But we both do the creative designing and the business stuff together.
How did you sell the very first finished product to the public?
We were invited to a friend's open house so we displayed and sold DUDUK products there. It was just the kick we needed to gear into a faster mode to get everything ready. From that event we saw that this could really work.
How has DUDUK progressed since then?
It has grown very organically since we launched DUDUK. Once we started, we've gotten so many more ideas, now it's hard to stop them rolling in. There are so many things to work with around here, too, like rattan which is used to make the chairs we carry, bamboo which we used in building our tipi tents, etc. We created a lot of fun things to put around the house and they are received well by local costumers and even by tourists and expats who would like to bring something from Indonesia back to their countries.
Our products started with things that kids can sit in or on, hence 'DUDUK', but we are expanding from there a little bit. We now have batik purses, lamps, etc. Some customers have asked us for adult-sized items when they shop for their kids; so we're venturing into the adult's section now as well, like matching mother-daughter purses.
What's the trademark style of DUDUK?
People have begun to recognize our signature modern batik motif now. The colour combinations we chose are very vibrant; it's suitable for a kid's setting. One of our customers called our style "Indo chic".
What items do you have in stock right now? Which item is your best seller?
The best seller would probably be the tipi tents. We sell them for Rp.1,200,000. They're great and dads love to read bedtime stories in the tipi on top of the carpet that we sell separately. But our pillows are also a big hit; people keep coming back to buy more of them. The pillows range from Rp.150,000 to Rp.420,000. The little chairs also sell very well. We also have the poofs (ranging from Rp.420,000 to Rp.540,000) and the baby sleeping bags are great baby shower gifts.
Where are your products sold?
Our first retail spot will be in Alun-Alun in Grand Indonesia Mall on 7-21 February 2014. This will be a trial show, and if we do well, we'll have DUDUK's products in the permanent collection, most likely to be sold in Grand Indonesia, Lippo Mall Kemang and in Bali. We're also hoping to have a booth at the IFEX Trade Expo in March. Hopefully then, we'll have larger orders and have a bigger presence in Jakarta and Bali's kid shops. We're excited and hopeful because we've had a good response thus far.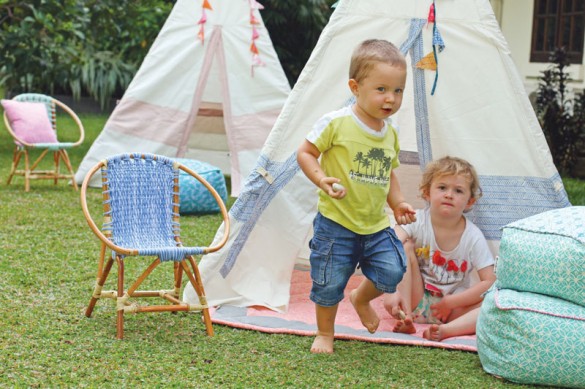 What future plans do you have for DUDUK?
Big plans. We would love to see the business growing, then we'll start to think about exporting; that's the next big step. We will also start designing our own batik fabrics and that will be a turning point for DUDUK in order to become more 'green'. Initially, all the fabrics came from Cirebon, but now we have someone to make the batik materials; that allows us to have more control over the production. The batik industry is actually one that produces much pollutant. We want to reduce this negative impact as much as we can. We're now in talks with someone from the Clean Batik Initiative – the EcoBatik line – to help make this possible. We are also looking for organic cotton suppliers. That's one of our ambitions; that the bigger we grow the less we impact negatively on the environment. That's how we want to progress in the future.
Catch DUDUK's exhibition:
7-21 February 2014
Alun-Alun Indonesia
Grand Indonesia West Building
Jl. MH Thamrin Kav. 28-30
Central Jakarta
Visit www.facebook.com/dudukshop for more detail on DUDUK's collection.