Gail Collins discovers the best cooking classes in Jakarta, which create skills and appreciation for food.
On a Saturday evening, couples dressed for a night out instead are in the kitchen, positioned around work stations at Almond Zucchini. Kitted out with prepped ingredients, pans and utensils, they donned their aprons. Let's get cooking! Mature men asked for and received more help from their wives and the instructing chef. Younger males confessed that they often cook with their partners. All were keen for some fun and a flavourful meal to follow.
Almond Zucchini
This new venue is a private home in a garden setting with a streamlined space. The gleaming stainless and commercial kitchen offers a central post for the resident chef and contiguous work stations for practicing ones. With flexible aims, the site is suited for team building, events, cooking parties, pop-up restaurants or catering for hire. The chef is sought to fill the bill.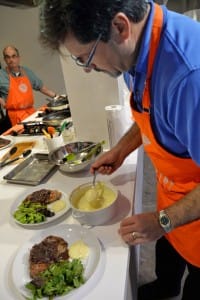 Whether budding cooks want to learn Mexican dishes, yeast breads, or cooking the perfect steak – fillet mignon with shallots and red wine sauce on our night – there is space at the hob. Guests can be hands-on or simply watch, learn and dine.
The classes play up unique focuses, such as leadership for team building. Teens and up are preferred with a minimum of 12 students and a maximum of 30 per class, utilizing fool-proof recipes. Aprons, utensils and ingredients are included, and a large space invites guests to sup or rehash the acquired skills afterward.
Pantry Magic
While Pantry Magic has been the 'Purveyor of Fine Cooking Tools' since 1968, with stores in Bali and Jakarta, and offering a complete range of tools, cookbooks, expertise, advice and events; seven years ago, they also started teaching clients how to wield their wares. A five-burner stove and oven, positioned centre stage in the store, creates an ideal class size of 10. This lends itself more to demonstrations, but a diverse range of skills, such as cake decorating and fondant figurines, or cuisine can be covered, including Turkish, Italian, French, pastry and raw foods. Specialty products, like oils, caviars or molecular items are available for sale and incorporation into menus. All ages are welcome, including youngsters. The shop networks with chefs for recipes, preparation and how-to to keep it lively and fun.
Epilogue
Epilogue operates within a Javanese joglo house, filled with French fusion that knocks on the doors of Thailand, Korea, and, of course, Indonesia. Everything about the arrangement is juxtaposition and just getting started. Chef Sandra Djohan utilizes fresh ingredients and ideas to let her bistro's chefs shine.
With culinary training at Le Cordon Bleu and 7,000 cookbooks on the premises, Djohn also has written five of her own, beginning with From my Kitchen to Yours up to her latest Pan-Asian volume. Still, even she has limits. "I don't eat durian, and I'm afraid of a live chicken," Djohan admitted with a grin.
Her classes are schedule-driven and dependent on the requests of guests to avoid repetition. Clientele are emailed to engage in classes, and 10 to 20 students are best for a demonstration. Costs run Rp.250-450,000, varying with the ingredients. Importantly, Djohan stressed, "There are no secrets left out. It is fun and informative – we learn about and enjoy many tastes."
Turkuaz
Proprietor chef Sezai Zorlu comes from a farmer's family on the Turkish Mediterranean coast, where he learned basic kitchen skills and authentic recipes, such as chilli paste and pomegranate sauce, while storing the earth's bounty in preparation for winter. The joyful feasts of his mother and grandmother infused a love of cooking in him. This culture is reflected in the food and furnishings at Turkuaz.
Demonstration classes with 15 or less guests create an interactive conversation with the chef, and they begin with a welcoming tea or coffee. The meal consists of an appetizer, main course with rice and dessert costing Rp.550,000. Menu examples range from hummus to kofti, kebab and baklava. Following the class, participants celebrate their lunch together. "Preparation of food unites people, whether it is tomatoes and eggplant or milk to make yogurt," said co-owner Yanti Zorlu. Adventurous fare awaits.
Molina Hazuria
Ibu Molina Hazuria's cooking classes began three decades ago, as interested groups of friends gathered to learn. They encouraged Hazuria to spread her knowledge of Indonesian cooking, which started with research on spices for authentic flavours. Approached by Unilever Australia, she started preparing recipes as a food consultant of ready packets for soups and pastas with local adaptions. Years of teaching and cooking in her personal kitchen launched Taste of India, supplying ready-to-eat meals to Jakarta shops. Still, hands-on cooking with guests wins hands-down and is especially effective with Jakarta and British International School students, though larger groups fare better as demonstrations.
She prefers 10 to fifteen people maximum and noted everyone likes rolling out naan. The cost runs Rp.300-350,000 with classes on Indian, Lebanese and Indonesian cuisine with a wider variety of catering. "The recipes are simple – tried and true – and they work," Hazuria said. "I have an appreciation for the food and the task."
As a foodie, I've taken classes in many countries, including Florence, Italy, where our son decided on the culinary arts as a career. Cooking is chemistry and physics in action with a vested interest in the results. Scratch-made meals require chopping, measuring, sautéing, stirring, blending and baking—plenty of tasks to go around—even if it is the lowly, vital chore of dishwashing. There is a pride in preparation, appreciation for the process and skill building for the next recipe. Of course, in all the classes listed, the tantalizing tastes that lingered on the tongue can be recreated with recipes to take home. As Julia Child said, "…try new recipes, learn from your mistakes, be fearless, and above all, have fun."