Chef Alvin Leung of Bo Innovation is set to collaborate with OKU to present a unique flavour for an unforgettable culinary journey at OKU.
From 7th to 12th March 2023, guests can enjoy a special set menu in collaboration with Chef Alvin Leung and Chef Kuni from OKU which will be available for dinner.
"We continue to innovate a different dining experience by presenting famous guest chefs," said Aulianty Fellina, Director of Marketing Communications of Hotel Indonesia Kempinski Jakarta, "And opening this year we invited Chef Alvin from Bo Innovation Hongkong for an unforgettable dining experience" she added.
With his trademark colour-streaked hair and sunglasses, Chef Alvin Leung has blazed a trail of his own in the culinary arts. The charismatic Leung's humorous wit and personality have established him as a global celebrity chef. The self-proclaimed "Demon Chef" – the Chinese characters for which are tattooed on his arm – is one of only two rare self-taught chefs to achieve 3-Michelin star status for his establishment.
As the chef-patron of Bo Innovation – The Hong Kong Story, his unique "X-treme Chinese" cuisine reinvents centuries-old ingredients and traditional recipes with modern techniques and flavours, delivering novel dishes in tune with contemporary palates.
Be ready to explore the eight-course dinner set menu starting from Shima-Aji which is made of trout roe and fresh Sichuan pepper, Hokkaido Scallop, Mountain Yam, and Chicken wing which are made from bird's nest, handmade noodles with clams sauce, and Botan Ebi and Wagyu Beef served with abalone and topped with truffles. To close the dinner, Chef Alvin prepared Mango pudding made from grapefruit and coconut as well as Hong Kong Milk Gelato ice cream with Hong Kong egg tart.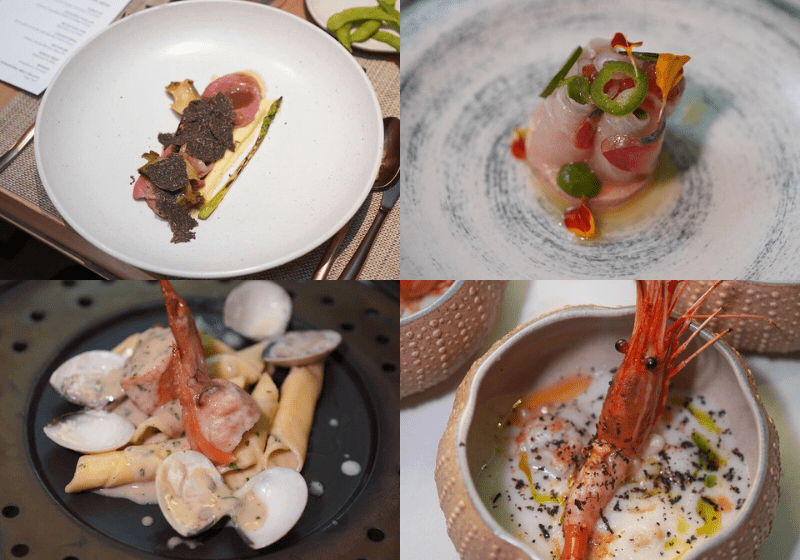 This special collaboration between Chef Alvin Leung and OKU is available from 7th to 12th March 2023. Enjoy the special eight-course set menu with the price of IDR 1800,000++/pax or IDR 2,500,000++/pax with wine pairing. For reservations, please call at 021 2358 3800 or WhatsApp 0817 0070 059.