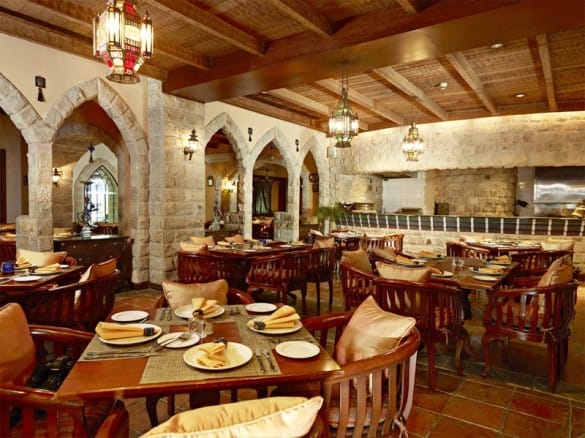 Amidst the craze on new and trending Asian and European restaurants typically found in the Senopati or Sudirman area, one should consider going off the beaten track and discover a treasure such as Al Nafoura. Nestled comfortably in the Le Meridien hotel in Jakarta, Al Nafoura is not the archetypal hotel restaurant; it boasts a fine-dining Lebanese cuisine – with added surprises.
Al Nafoura was established in 1998 when the Lebanese expatriate community in Jakarta started to grow. Since its opening, more and more people have grown fond of Al Nafoura's cuisine; even local Indonesians in between many regular expatriate patrons. Executive Chef Hussein Sleiman, having previously worked in Lebanon and Dubai, added great contribution to the taste and work ethics to Al Nafoura.
Al Nafoura (meaning 'fountain' in Arabic) has beautiful Lebanese interior designs. As you enter its premises, you'll be greeted by charming fountains. Arabic-influenced décor presents a romantic and warm environment, even in the daytime. At night, Al Nafoura appears more intimate with its strategically placed dimmed lights and stone walls to create an exotic atmosphere. The music also contributes to creating a traditional Lebanese ambience.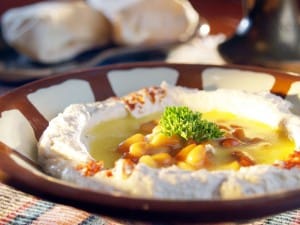 The menu displays options of authentic Lebanese food, and some from neighbouring regions such as Moroccan and Egyptian cuisines. I was delightfully surprised that the set of choices features a myriad of vegetarian options amongst an array of grilled meat and kebabs. We were advised to try the mezza for starters, which is a combination of small platters of appetizers, similar to that of Spain's tapas and Italy's antipasto. Our mezza comprised of platters with tabouleh (Rp.49,000), hummus (Rp.49,000), babaganoush (Rp.46,000), samboussek (Rp.45,000) and more. The hummus was infused with Tahini, which is imported from Lebanon. It was one of the best traditional hummus I've had; the fusion of savoury chickpea, Tahini, olive oil and a bit of lemon makes for a tasty dip. Another 'best' is the tabouleh, a parsley salad with tomatoes, onion, garlic, etc. The best thing about this tabouleh is the use of just the right amount of cinnamon (yes, cinnamon) and lemon juice; such a refreshing and palate-exciting appetizer. Naturally, piping hot pita bread was part of this mezza as well; it was a very delicious first course that we enjoyed even alongside our main course.
A special theme is introduced every month at Al Nafoura; this month is all about Middle Eastern seafood. The Samakhara Ma Farika (Rp.178,000), a special grilled salmon entrée was a delightful hearty dish with hara sauce. Sprinkles of peanuts were added to the tangy yet savoury hara sauce, making it all the more interesting. A note-worthy addition to this dish is the steamed green cracked wheat as a nice substitute for rice. My partner chose the mix grill (Rp.185,000) for main course, which consists of lamb kebab, grilled chicken and beef, complemented with oriental rice. The grilled chicken was marinated in yoghurt and traditional Lebanese spices before it was grilled, which resulted in a supremely tender and flavourful white meat. Alongside the mix grill was an extraordinary garlic sauce, made of potato, garlic, lemon juice, etc. The Haruf Ouzi is another popular choice for an entrée; it is grilled lamb, marinated overnight in spices and vegetables.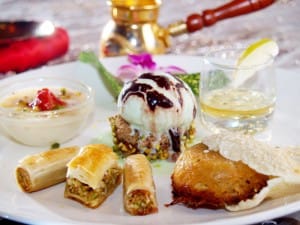 For dessert, the baklawa (Rp.60,000) is a must-try; although reduced in sweetness to accommodate our palates (traditionally, baklawas are known to be very sweet), I appreciate the genuineness of the nutty pistachio paste. Another dessert served was Om-Ali (Rp.45,000), a comforting bread pudding with milk and puff pastry. The consistency is not unlike oatmeal inside the puff, and raisins were present to liven up the flavour. We washed it down with some Moroccan mint tea, although, when available, it is recommended that one tries the Lebanese coffee – rumour has it, if you're lucky, Chef Hussein would do a tasseograph reading of coffee grounds once you are done with the drink. The coffee is strong and is usually enjoyed together with sweet desserts, such as the baklawa.
Chef Hussein is a visionary who created the perfect balance between authenticity of taste with the right amount of consideration to local palates. None of the food on the menu is that spicy – Lebanese food is not typically spicy – but guests are welcome to request for special condiments or potency of spices if they'd like, and Chef Hussein will adjust wisely and accordingly. In fact, one of Al Nafoura's regular guests – who feels the need for some more spiciness in one of the dishes – requested for specially-made chilli that was henceforth known as sambal Mahmoud.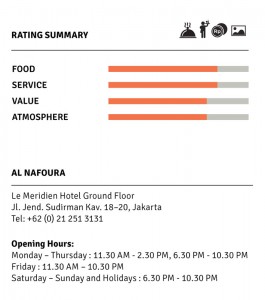 When asked about her thoughts on the philosophy of the food at Al Nafoura, Arie Ardianti, Marketing Communications Manager said, "We are proud to serve healthy Middle Eastern food. We use olive oil instead of regular cooking oil, we serve vegetables as guests await their food and almost none of the items on the menu are fried or use excessive dairy products." Although the portions are quite large, I find the food not greasy and the ingredients used are fresh and invigorating – lemon juice is widely utilized in most dishes.
It is best to come to Al Nafoura at night time, where the ambience is more relaxed. As the restaurant overlooks the Le Meridien's swimming pool, a refreshing surrounding is found as you dine outside on the patio area. This is the only smoking area of the restaurant, and inside – adhering to the hotel's non-smoking policy – is strictly a non-smoking area. You can even enjoy shisha smoking on this terrace area upon request.
If you come on the weekends (Friday and Saturday nights), you are in for a treat; a free belly dancing show is available for guests. You can also take advantage of the Saturday buffet at Al Nafoura for your weekend brunch.
Come with a hungry stomach and be prepared to relish in exotic seasonings as you fully appreciate Al Nafoura.