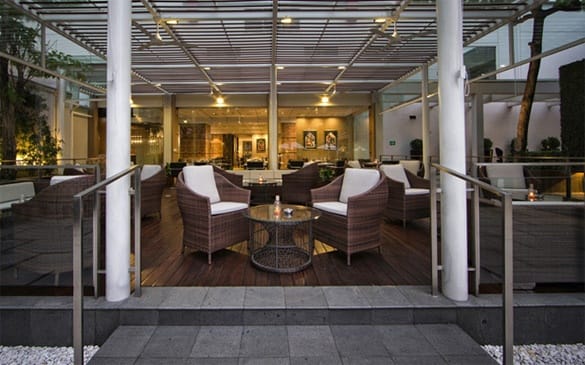 Jakarta, with its endless surplus of restaurants, is not without a nostalgic element; many people keep coming back to restaurants they are familiar with. Regardless of an abundance of fresh, new ones, long-running restaurants have their ways of still enchanting restaurant-goers. One such restaurant is housed within the premises of the Park Lane Hotel in Jakarta. With its newly completed renovation, this place doesn't merely serve as a hub for nostalgic diners, it's a sanctuary for new converts like myself.
Riva at the Park Lane Hotel is a name with much resonance; it has echoed through different generations of Jakarta's residents. An image of French luxury is associated when Jakartans think of Riva. Opening its doors in 1998, Riva went under renovation almost a year ago and emerged a different organism altogether, transforming its French fine dining brand into a modern dining joint with the tagline 'Grill Bar and Terrace'; the grill is the new principle benchmark, with still a hint of its ancestry French taste.
Riva expanded its size and now boasts a large seating area where guests can dine comfortably at the dining area, the high tables, the lounge section, the terraces, the private dining room and even at the now larger bar. Riva's full bar is complete with the rare and sought-after Kilkenny beer on draft. There are two terraces with views overlooking the Casablanca road and the hotel's swimming pool and pool bar. The grill, the bar and the terraces are the cornerstones of Riva, hence the new tagline.
Sunlight comes in abundance as Riva is surrounded by windows, creating a spacious atmosphere with a touch of a laid back brunch feel. At night, Riva is an elegant – even romantic – dinner restaurant; quite an oasis in the middle of the city.
The open kitchen concept was new in Jakarta around the 1990s and Riva was the first to incorporate it into the dining experience. Walking into the open kitchen now, guests can see renowned chef Deden Gumilar taking care of the cooking process and quality. Chef Deden, with years of experience under his belt, has created mouth-watering European cuisines in different categories of the menu; from the farm, the sea and the garden.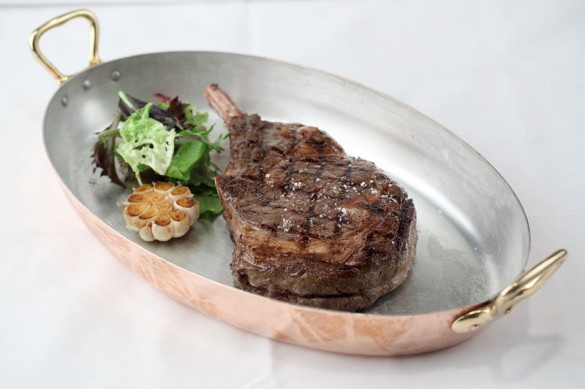 One of the most in-demand items is Riva's Cote de Beouf (for two), a juicy and succulent 1kg Australian Wagyu beef rib with roasted jus (Rp.1,245K), quite a large portion, even for two people. Most people opt for the smaller but delightfully tender Sher Wagyu tenderloin (Rp.510K). All items from the grill come with a choice of sauce, like Maitre d'Hotel, Bordelaise, black pepper, etc. The Maitre d'Hotel, a compound butter with parsley, lemon and pepper, is also served with Riva's homemade potato bread while diners wait for their main course.
I decided to go for an unorthodox approach and tried Riva's seafood menu. I was pleasantly surprised; Riva's versatility was manifested in their meticulous and detailed approach to the salmon medallion (Rp.190K) I tried. The perfectly round salmon fillet was grilled to a savoury crisp at the top but tender below. It took precision and patience to produce such a dish. The salmon was coupled with buttery hollandaise sauce, some greens on the side with a dash of squeezed lemon, and – here's an addition that sets it apart – pumpkin purée, which is a great counterpart to the savoury salmon, adding a hint of sweetness. It's very easy to love this dish.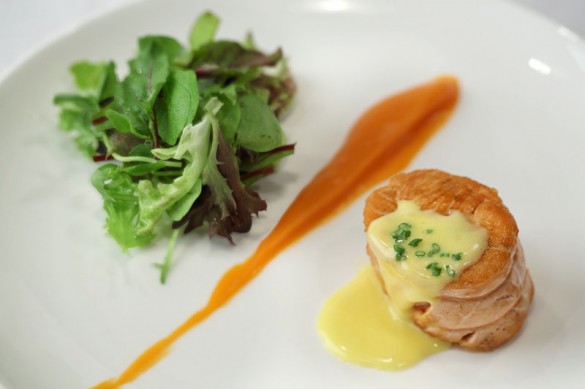 The pan-seared barramundi (Rp.150K) is another dish worth trying. Also crisp at the top and tender below, this one is accompanied with sautéed asparagus and olives with truffle sauce. One worthy note for this dish is the preparation of the vegetables, resulting in just the right texture, not mushy or too hard.
It was indeed seafood galore. We also tried the ultimate Riva pizza with seafood, surprisingly only for Rp.95K. Riva uses a beautiful wood oven to grill the pizza, resulting in a crispy, very Italian-like and quite a nice option for a light lunch. The grilled Mediterranean seafood was excellent! I could detect a hint of spiciness along with an aroma of garlic; a rather inviting appetizer full of herbs and spices. Lunch was certainly a success. Hats off to the chef!
For dessert, the flourless chocolate cake (Rp.75K) was delicious and light – unlike other flourless chocolate cakes that end up being more brownie-like. The secret, I think is in the almond powder. With some tart berry compote and vanilla ice cream on the side, this is a popular dish to end meals with at Riva.
The bartender was no slouch either. I was sceptical with the mint crème brûlée cocktail (Rp.120K) at first but found it to be quite interesting. A Kahlua-infused drink, the mint crème brûlée even looks like the actual dessert, with caramelized torched sugar on top mixed with vodka and peppermint syrup, and poured into an unusual cone-shaped glass with a chiller on the bottom; such a sweet treat! I also gave the dirty kiwi iced tea (Rp.50K) and orange sensation (Rp.55K) a try, the latter being a concoction of lychee, orange and milk – who would have thought that lychee and orange could be a great pair!
A steak dinner at Riva would set you back around Rp.400K++ per person (unless you dine on the Cote de Boufe), whereas a non-steak dinner would be around Rp.200K++ per person. Your dinner at Riva is accompanied by live music with an acoustic band every Wednesdays, which also includes a ladies' night promotion on that same day from 8pm onwards (buy one get one cocktail). Riva offers deals and promotions every day of the week. Make sure to ask for the day's deal when you visit.
Another 'must try' at Riva is their wine. Their large and prestigious wine collection is even on the 'Wine Spectator' list as one of the world's best restaurants!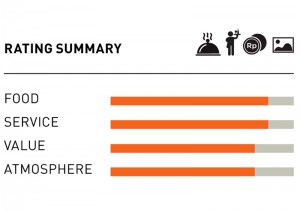 Riva is also a nice place to hang out with a few cocktails. Its terraces are designed to have diners relax in a more alfresco setting. The pool-view terrace is recommended for a more casual weekend lunch with the family; there's even a big screen by the terrace to watch movies or sports games while sipping on some cold ones. The once French joint has adjusted its prices as they employ the new 'Grill, Bar & Terrace' trademark to accommodate casual diners. There's no adjustment on quality, however, as Chef Deden Gumilar outdid himself with the new menu. Riva's still got it!
Riva Grill Bar and Terrace
Park Lane Hotel Ground Floor
Jl. Casablanca Kav. 18
Phone: (021) 828-2000
Email: [email protected]
Hours: 10am – 1am