In a new monthly column, our expert epicure launches an undercover operation to bring you the truth about Jakarta's eateries. No spoon is left unturned in our quest to bring you honest, balanced reviews, from long-established favourites to the hottest new tables in town. 
First up: popular powerhouse the Union Group's flagship, Loewy.
We need to talk about Loewy. Do you know why you go there? Have a think. Is it because you're meeting your mate who works up in Menteng, plus your other mate whose office is on Sudirman; you're in Kuningan and you just need somewhere nearby that serves decent drinks quickly (and maybe something to mop them up with), because it's Friday and you have had it up to here with this week? Yep, sounds about right.
Loewy, stalwart hangout of the Jakarterati (yes, I just coined that) since its 2008 opening, is apparently still so popular it doesn't need to be contactable. I kid you not, I tried to call them fifteen times to make a reservation and their phone line was dead; their website submission form went 404 on me, and they didn't reply to my email. I lucked out when a desultory voice finally picked the phone up at 9:30am on the day I wanted to go; a Thursday. They could squeeze me in at 8pm, and they'd hold the table until 8.30pm at the latest.
It was already jammed when we got there, and as the night wore on, the bar area livened up further whilst the tables thinned out slightly, leaving office workers nursing cigarettes and working on tomorrow's hangover. Loewy is huge, it looks to be around 150 covers, and service is speedy. There doesn't seem to be a fixed rule on second sittings but the staff certainly attempt to get you to make fast decisions (never a clever strategy for me).
Front-of-house seemed a bit bored and tired, however Idham, our waiter, was friendly and efficient. Their style of service is probably trying to match their clientele: mostly young, hip and relaxed. We moved to a table on the terrace when one came available in the hopes of avoiding at least some of the cancerous fog inside (backwards as that seems). Drinks came quick; an aged Negroni was well-made, and a cold glass of Kiwi Sauvingnon Blanc hit the spot – especially at a reasonable Rp.110,000.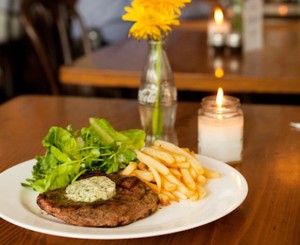 To start, grilled jumbo prawns were indeed jumbo, well-flavoured, not overcooked and with a spicy aioli. But, they were tepid and there were only three of them. Swings and roundabouts. Less successful was the Specials' appetiser of lamb kofkas, which just managed to taste of unloved, underdone red meat, rather than of spices. The beetroot 'hummus'—a good idea—was unfortunately somewhat bereft of flavour, but the pittas and yoghurt dip were decent.
For mains we sampled a range of pricepoints whilst staying true to their brasserie vibe: Wagyu rib-eye steak-frites, and the Loewy Fish & Chips, thinking they'd churn out bistro classics reliably well. As it was Wagyu, the flavour of the rib-eye was good, but it came medium-well instead of medium-rare. The frites should have been salted – in fact, I bet the mixed side salad accidentally got their share, as it was distinctly brackish. The mushroom sauce we chose was, regrettably, nostalgically reminiscent of Campbell's tinned soup, and we were glad it was served on the side. The fish was dory, which is not ideal for this kind of treatment as it is so soft. It was also breaded instead of battered (as advertised), which created too tough a crust on such delicate flesh. Also disappointing was that served alongside the fish and the frites (not chips), was no accompaniment apart from a thoughtfully muslin-wrapped lemon half – I think they could at least add some peas? With our mains, a glass of Chablis for Rp.130,000 was even better than the Sauv Blanc, but the winner was Robert Mondavi's Cabernet Sauvignon for Rp.140,000 – delicious and reasonable.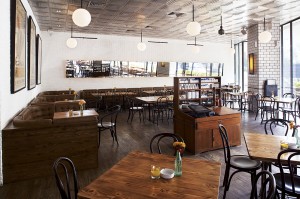 For dessert, we had the Specials' caramelised pears, which shouldn't have been slathered in chocolate sauce, as they had a lovely delicate clove flavour that went with the vanilla ice cream. The dark chocolate tart was too big for one, and the ganache was very gooey—almost not set—but it did taste good. Belgian chef Benoit Claerys of Koi Kemang also oversees this kitchen and you can see his blueprint in the desserts more than anywhere else: Liège waffles and mille feuille, we were told, are two popular choices.
It's a bugbear of mine when restaurants attempt to please everyone by sticking a hodge-podge of international nosh on their menus. From kwetiau to truffle mac'n'cheese (both proffered at Loewy), such a proliferation of techniques and palates can't all be achieved consistently by the same kitchen. I get that they're catering to a developing, culturally diverse dining scene, and that this is part-bar, part-hangout and part-brasserie. But the dichotomy is this: even within the European bistro selection, which should be their bread and butter, they haven't quite got it right at either end of the price spectrum, as evidenced by our main courses, Wagyu at Rp.410,000, or fish and chips at a mere Rp.90,000 (which really is very affordable for dinner in a trendy, city-centre joint).
So, it's OK. You're still allowed to go here – I will (and from the looks of the place on a Thursday night, they have no reason to worry that every man and his dog won't continue to do so).
Just let's all agree it's not because they do the best steak-frites in town. Be honest – it's because the cocktails are good, it is relatively reasonably priced (for Jakarta), and you like the see-and-be-seen vibe. That's OK! I just hope management don't rest on their laurels and lose sight of the importance of consistency and quality in the kitchen, by relying on their popularity rather than the standard of their output.
__
Loewy
Jl. Lingkar Mega Kuningan E 42 No 1, Oakwood Premier Cozmo Lt. Lobby
Jakarta, +62 (0) 21 2554 2378