If you're starved of somewhere to have a decent cup of coffee, look no further. Anomali prides itself for having the best local coffee from around Indonesia, with their fresh beans coming in from Bali, Java, Toraja, Flores, Papua, Aceh and Mandailing. We took a trip into their latest branch in Kemang to discover some coffee truths and untruths…
Anomali believe they are special because they are 100% Asli Indonesia (originally from Indonesia) and green beans that are picked by local farmers for Anomali are checked first before being manually sorted, manually being the operative word. Once these beans arrive on the premises, they are freshly roasted in a giant modern-looking machine that welcomes you at the entrance of this cafe. Every morning at around 7.30am you can witness this event, followed by the quick cooling, degassing and packing in an airtight bag to guaranty freshness. Customers can then purchase these magic beans and request that they be grounded or left as they are. A bonus for customers at Anomali is a complimentary black coffee with every bag o' beans purchased.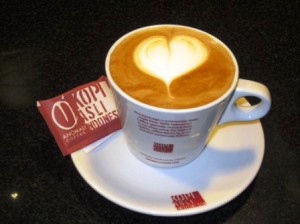 As I browsed their coffee menu written with chalk on blackboard, I discover their Single Origins are Aceh Gayo Organic, medium acidity with rich earthy undertones, Sumatera Mandailing, classic earthy with full body, Java Estate, nutty and chocolaty and medium body, Bali Kintamani, light and fruity, Toraja Kalosi, caramel and sweet, Flores Bajawa, medium body, low acidity with a hint of cirtus and Papua Wamena, fruity, clean flavour with great body.
"Omocino" caught my eye. A smooth blend of orange, mocha and coffee and comes in the form of a cappucinno, frothy and with a heart on top. If you enjoy your coffee sweet, this is a must try along with their Crème Brulee latte. Anomali's Cappuccino is very strong and their Espresso comes without the bitter taste, which I love. The interior concept for Anomali is similar to that of a trendy coffee shop abroad, minimalist and rustic; exposed red brick, black ceilings with air-conditioning vents painted black with lots and lots of wood furniture. It doesn't feel generic and is a breath of fresh air.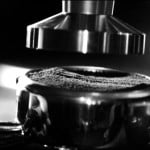 The question of 'Kopi Luwak' arose as we sipped our coffees. How is it possible that so many places claim to have real civet cat coffee all of a sudden? "It's not," was the answer from Pak Abdul Azis, the Assistant Operations Manager. He could however, 100% guarantee that Anomali's luwak are free-range wild and happy ones, the way they should be. A cup of this special coffee will set you back Rp.100,000.
Talking to their coffee baristas, it was clear these people really love their beans. Did you know that the temperature at which beans are roasted depends on the specific type of bean? If you want to learn more about coffee, Anomali provides Barista training, which in this context doesn't refer to a bartender but the man who makes the coffee whose passion drives his dedication. To truly understand coffee, from its origins to its roasting profile and characteristics, storage and brewing techniques, you can go on a six-day course at Anomali Kemang and come out the coffee King or Queen.