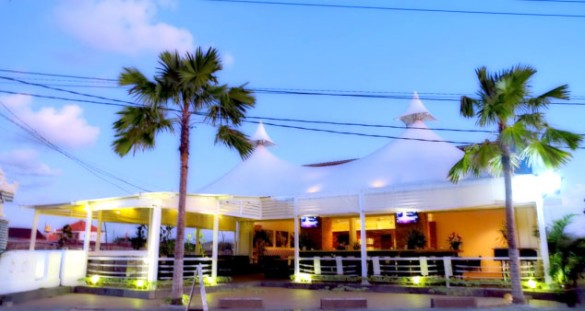 Jalan Batubelig is a 3 km stretch of winding road starting from Leo Square junction (going west) off Jalan Kerobokan Raya, which becomes Jalan Berawa at the bridge leading then onto Canggu Club. It is one of the fastest growing parts of the west coast of North Kuta, with land prices doubling along this road in 2011, moving it into the Seminyak price bracket.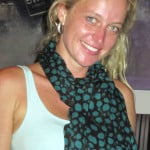 Pavilion is the most outstanding restaurant grill bar on Jalan Batubelig, both in terms of its modern architectural structure, a classic Europeanstyle big pavilion, with two highceiling tent posts and broad blue and white striped main building, and the music, art and culture found within. Though just one year old this month, it has established itself as one of Bali's chicest places to eat, meet and greet. It features Bali's most famous Jazz group, Rio Sidik Quartet weekly and holds monthlong art exhibitions from reputable galleries and individual artists, ensuring there is a continuous change of scenery inside and out. So let's hear what this young designer, owner and operator, Vanessa de Vries, and lead vocalist and trumpet player, Rio Sidik, have to say.
Vanessa, what was the inspiration for Pavilion?
Pavilion is my first grill bar. I moved back to Seminyak/Canggu two and a half years ago, so I guess I settled on this being the place for me. I'd been walking around with different ideas in my head about Pavilion for quite a while. Only after signing the contract to lease the land, though, did I start to collect all my ideas together and create the concept you see today. The feel I wanted to create is nautical and fresh — like you are on a big roomy yacht —and I think I have achieved that.
We started out with our walls covered in huge photographs of big ocean racing yachts which added to the nautical theme. In the last few months, we have been exhibiting different artists and galleries paintings, sculptures and other artwork. We often see our guests walking round slowly, viewing the paintings and getting immersed in different pieces, which later they come back and buy.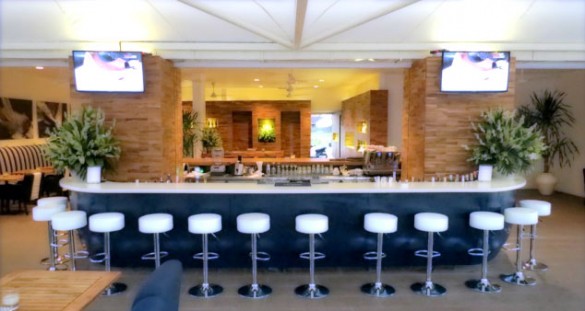 What really makes us unique in Jalan Batubelig is we are the only venue that puts on world class live music acts for free. There is no cover charge, our food and drink prices are unchanged on these nights, and so people get a brilliant live music performance that becomes one of the highlights of their stay in Bali. And we have lots of parking at the back, which is a real plus.
Why a bar grill? Who is your target market?
You, me and the rest of Bali! We specialise in grilled seafood and steaks. Our steaks are very popular. Simple but pure. Organic and fresh is the food that suits our identity. This philosophy we also use for our drinks and cocktails. "Elegant enough to bring your date, casual enough to bring the family, affordable enough to come back often…" is the way I would describe it. We have developed quite a large clientele who come regularly; expatriates living nearby, and lots of tourists too. Both are loyal customers and loyalty is very important for any new business.
You opened just a year ago, and got the place off to a good start very quickly. How did you do this?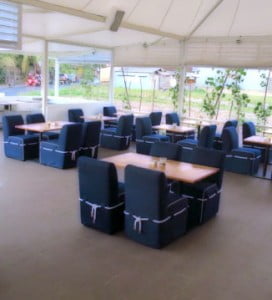 Pavilion has its ups and downs. Sometimes it's quiet and sometimes it's full. We are always looking at ways we can become more stable. Perhaps we opened a little early for this location. But this area of Bali is growing very fast, and is getting better known. It's a classier part of Bali. We get up to 150 people one night, 20 the next. It helps to have an "event", like our club meets, Hot Soul and Jazz nights. Now we are moving back to the high season again. People walking or driving by see us as sophisticated and associate that with being expensive. Not so. Our customers consistently rate us as having excellent food, drinks and service — at great Bali prices.
I handpicked our team. They are all excellent, welltrained, experienced professionals, very open and friendly with our customers. This is a big part of our appeal. You can sit at the bar and talk to any of our staff in English or Indonesian. A couple of them know some other European languages too. Their friendly Indonesian professionalism shines through. And I am here most of the time in the evenings to keep our great team motivated — shifting up a gear when we need to, which we all enjoy.
You are known for having the most famous of Bali's Jazz musicians with his all-star band, Rio Sidik Quartet as a regular feature on Thursday nights.
That's exactly right. Rio likes playing love songs and sexy jazz. They are great nights. People love the music, the style of the place. Rio attracts a lot of beautiful ladies and that makes the place look good, creates a real buzz. We all love Rio and his band. They are brilliant, real top professional musicians, the best jazz and fusion band in Bali. Parents bring their kids to experience these special nights. It's very relaxed. We try to do something special on such big occasions. People love the food and range of drinks, too.
Thursday nights with Rio really helps bring a crowd in. People then come to see what else we have on. Wednesdays and Fridays we have fantastic DJ's playing. Wednesday night is HOT at Pavilion with exotic swing music mixed by one of my favourite DJ's. Fridays nights are popular too. We have Aperitivo that starts at 5:00 pm before dinner with special drink prices, free canapés — tasters taken from the menu — and later on a great DJ. Weekends are getting busier again as more people come in for an enjoyable evening with their friends — and to make new friends.
It's good music all day long. Every night of the week is a bit different at Pavilion.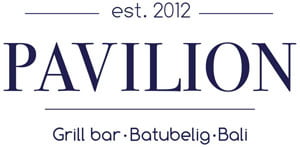 Jl. Batu Belig 106, off Jalan Kerobokan Raya, North Kuta, Bali
Tel: 0361 4737634
Email: [email protected]
FB: PaviliongrillbarBatubeligBali