Italian gastronomy in Jakarta is an endless spectrum. Each eatery has its distinctive accolade, whether that's nurturing Italian roots for those appreciating authenticity or a sophisticated twist of Italy's bits and bobs specifically for the connoisseur of modernity. LIBERTA Kitchen & Bar is the latter.
Its location itself boasts city life, being huddled amongst the metropolis whirl in Jakarta's central area. The road gets crammed at certain hours. Nonetheless, LIBERTA stands tall as an eclectic escape of comfort and revitalisation. LIBERTA means freedom, after all. I define "freedom" as being myself unapologetically. And that's how this contemporary Italian restaurant coaxes you for a meal.
I stop by LIBERTA on a scorching afternoon that Jakarta has lately been entailed with. The outdoor seating area allows one to bask in panoramic indulgence. But the wooden two-door opens to an indoor area screaming in novelty. An industrial setting accommodating up to 150 people for standing and sitting occasions blush with black and red hues and bricked walls generates contemporary, which extends beyond the food served.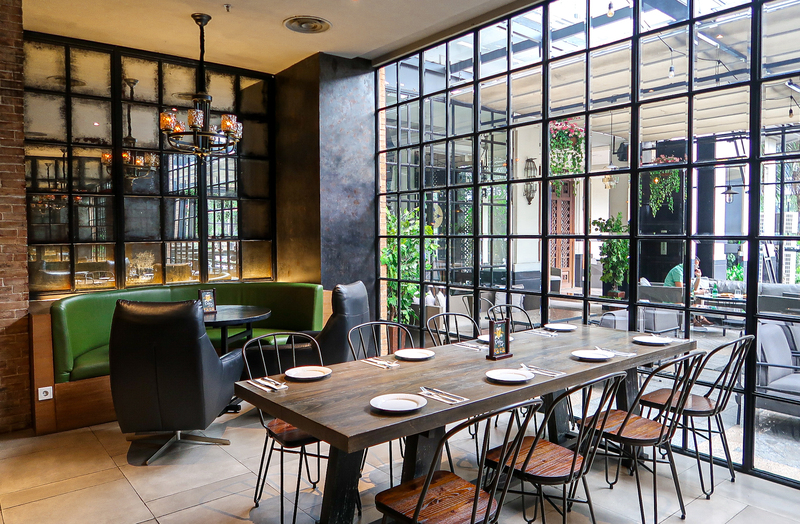 LIBERTA is heavily influenced by Italy's finest delectable soul, but it also infuses Western and Asian gourmets. Therefore, several cooking techniques from the variation of cultural influences are meticulously united and formed into dishes that best shower everyone's tastebuds, regardless of their origins.
Today's lunch features LIBERTA's favourites. There is a Set Lunch Menu but I figure that being experimental will foster an enthralling dining experience instead. For the appetiser, I relish in the Bone Marrow Spinach Spaetzle. Since when is a plate of pasta an appetiser, you might wonder? Here, the pan-roasted spaetzle is light from its spinach, herbed bread crumbs, aged balsamic sauce, and grated parmesan. The waiter scrapes off the bone marrow onto the spaetzle and mixes it all together – giving off a light, creamy consistency. "We recommend you to eat this directly while it's hot because once cold, the fats will throng," she said. Without hesitation I did.
My voyage to pasta wonderland continues with the Spaghetti Guanciale alla Carbonara, Seafood Linguine Parcel, and Burrata Bolognese Fettuccine.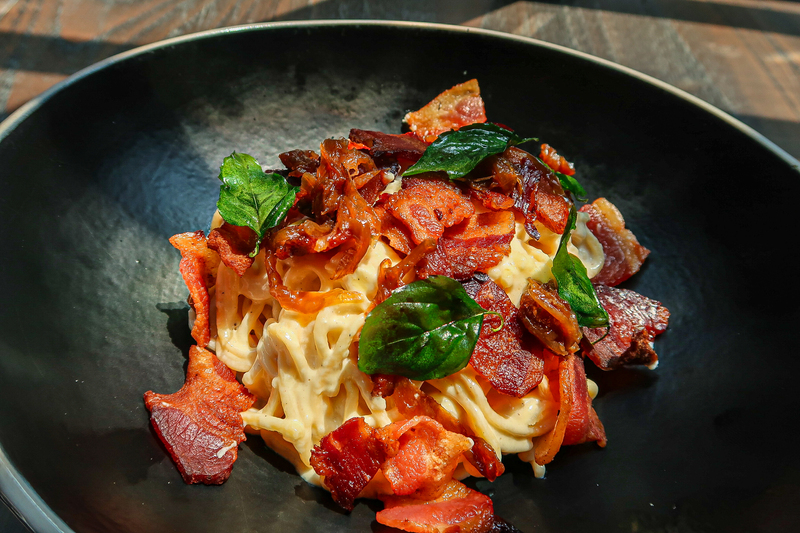 Executive Chef Andrie Erold Muaya made his grand entrance, pushing a stroller of a cheese wheel towards my table. "I'll be taking you through the assortment of Spaghetti Guanciale alla Carbonara," he gushed. He ignites a shot of vodka and pours it all over the cheese wheel. Stirring briefly, he pours in the spaghetti, taking his time to evenly coat until he carefully plates the infused spaghetti. "I've thinly chopped guanciale (an Italian cured meat of a pork jowl or cheeks)," as he proceeds to garnish the dish. "Please enjoy," he adds and walks back to the kitchen. The vodka is prominent but not to a bitter extent since the cheese and guanciale are amusingly savoury, creating a harmonised blend of flavours.
Chef Andrie momentarily returns with a plate of Seafood Linguine Parcel, a pasta dish bursting with mixed seafood ravished in tomato sauce mixed with white wine and basil that steams once he opens the wrapped aluminium foil. This is perfect for seafood lovers because a generous amount of clams, shrimps, and more are merry to the palette.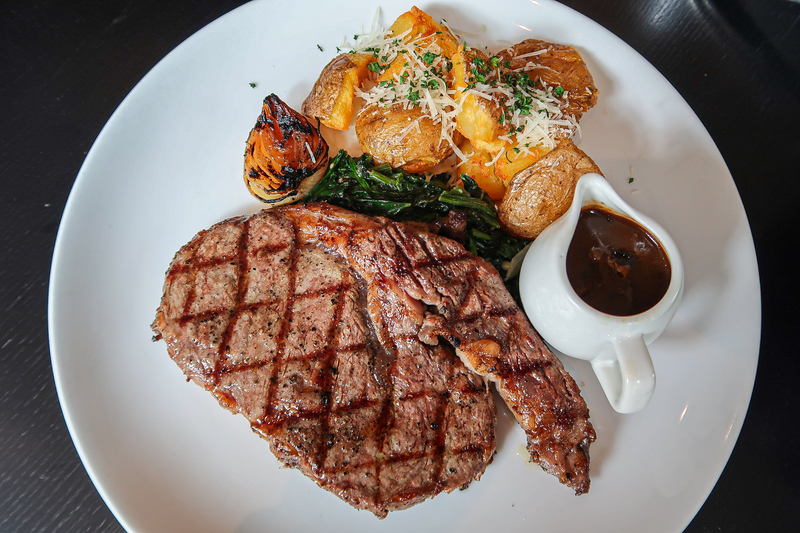 I unknowingly followed a theme here, actually; ordering Wagyu-based delights. The crowd-favourite, Burrata Bolognese Fettuccine, is first on my Wagyu list. After a bite, I understand why diners can't help but order this pasta dish – it's an embodiment of a classic Italian pasta rich in tomato and cheese. Cut through the whole burrata and watch it slowly melt onto the fettuccine drenched in the rich wagyu bolognese sauce topped with basil and parmesan crisp. The tomato's sweetness and burrata's creaminess once again create harmony on a plate.
As I'm enchanted with pasta, Chef Andrie reappears carrying a plate of the massive, succulent 250 g Wagyu MB3 Ribeye. I pour the white mushroom sauce atop the grilled black Angus rib eye that comes with my choice of rosemary potato wedges and sauteed spinach. One word: hearty.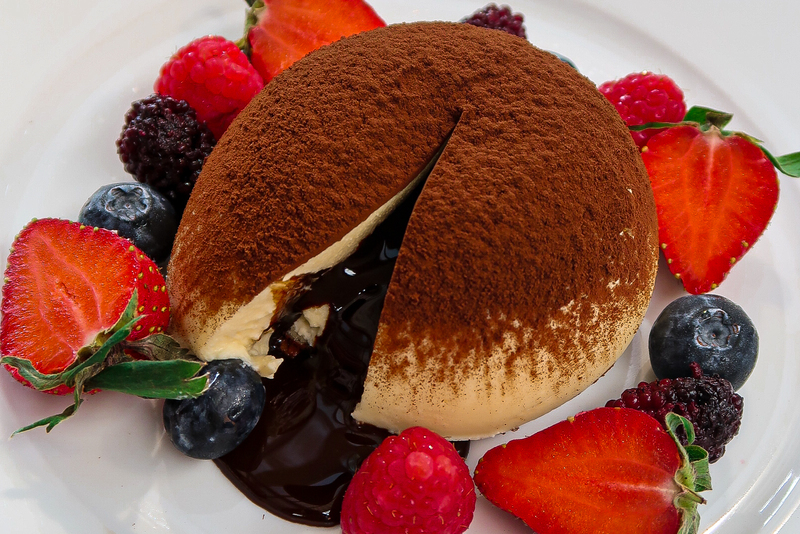 I switched to the outdoor bar stool while the Liberta Tiramisu was in preparation in the kitchen. I'm honestly not a fan of tiramisu but LIBERTA innovates this classic Italian sweet by incorporating a rich, melting espresso filling which I think is foolish to dismiss. Scoop small portions of the homemade molten espresso tiramisu, crunch hazelnut feuilletine bottom, and an assortment of fresh berries in one go – you'll only get a comprehensive sensation by eating this way. The combination of the bitter espresso, sour berry, and not-to-sweet tiramisu body is heavenly.
LIBERTA's strategic location amongst residential and office buildings suffices as a cosy, go-to place suitable for all ages where comfort food is brought to the next level. The plethora of food and beverages touches the right spot of professionals, executives, foodies, and corporate individuals seeking to make deals or enrich in quality time with family and friends. Starting from Rp100,000 for al a carte options and the Set Lunch Menu at Rp125,000, celebratory, intimate moments such as bridal and baby showers further extend LIBERTÁ's fun, upbeat aura. A VIP room, TV and sound system are on standby, while those opting for gatherings elsewhere can reach out to LIBERTA's team for outside catering.
"What other unity and harmony delicacy should I try next?" I wonder. Perhaps you can help me answer when you visit LIBERTA.
LIBERTA Kitchen & Bar
Address: Pavilion Retail Arcade, Jl. K.H. Mas Mansyur No.Kav. 24, Karet Tengsin, Tanah Abang, Central Jakarta
Tel: (021) 57941500
Instagram: @libertajkt