Ramadan is a special time of year in Jakarta. With the vast majority of the city participating in fasting, non-Muslim expats and locals are easily swept up in festivities.
Buka puasa, or the breaking of the fast, becomes a celebration for everyone to take part in whether with colleagues, family or friends. But after a month it's easy to run out of ideas of which delicious meal to try next. Thankfully, we have you covered.
From the most extravagant buffets in town to the best of the rest of the world, here is where to dine next.
The Sultan Hotel, Tanah Abang
This year the Sultan is hosting 'Ramadhan Warisan Tradisi,' a feast offering the best traditional cuisine across the archipelago. Dig into gorengan, the traditional fried treats found all over the country, or a warm bowl of bakso Malang before a desert of es campur.
"Indonesian dishes are enriched with herbs and spices and the rich flavour is really suitable for breakfasting," I Nyoman Sarya, Vice President of Operations at Singgasana Hotels and Resorts, said at the launch.
The hotel is also offering seasonal deals on rooms and meeting packages. For more information visit The Sultan's website.
Mamma Rosy, Kemang
Italian fare isn't the traditional cuisine with which to breakfast — but any excuse to visit this Kemang stalwart is good enough. Enjoy perfectly cooked pizzas and rich pasta al fresco, serenaded by live music each weekend. The ravioli con aioli or fontina special risotto are fan favourites which will be sure to have any diner returning long after Idul Fitri.
For more information visit Mamma Rosy's website.
Shangri-La Hotel, Central Jakarta
The Shangri-La is a world leader in hospitality and with this year's Ramadan offer, it is easy to see why. SATOO, the hotel's international buffet restaurant, this year features a menu celebrating the food of Indonesia, Malaysia and Turkey. The buffet embraces the spices used in all three countries.
Weekday dinner is priced at Rp.408,000 (US$30) per person, while the weekend is Rp.428,000 (US$32) per person.
To make a reservation, please visit the Shangri-La website.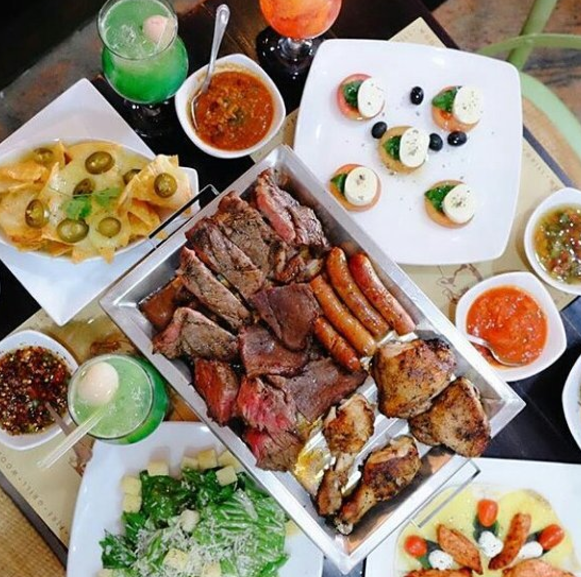 Image credits: El Asdor
El Asdor, Kemang
Craving steak and South American flair? Get down to El Asador in Kemang where the barbequed meats are a satisfying end to a long day of fasting — or a long day of waiting. The wood-grill restaurant uses a 'parilla' grill to create the smoky taste, unique to the Jakarta dining scene.
And for the fasting month, El Asador is offering 20 percent of food and drink between 5.30 and 8 pm.
For more information or to make a reservation please call 0217182206.
Raffles Hotel, Central Jakarta
Raffles invites guests to join the esteemed hotel for buka puasa, with two buffet sittings each evening featuring Indonesian, Turkish and Middle Eastern foods. All guests go in the draw to win a selection of prizes each week, including a weekend stay at the famous hotel, spa treatments, brunch passes and more.
The first seating each night runs from 5.45 pm to 8.30 pm at Rp.398,000 (US$30) per person, while the second seating from 8.30 pm to 10.30 pm will set guests back Rp.198,000 (US$15) per person. The price includes free flow of juice and soft drinks.
To make a reservation please call 62 21 2988 0888.