Jewellery simply doesn't care whether you are a size zero or size plentiful; it will add to your frippery and move you up a notch or two. It can announce your arrival in a regal way and make you look like a slick, stoosh, rich bi**h! Jewellery is a cleverly crafted piece of crag, don't you think? One day you can be rock-chick, next ma'am with her twin pearls, gypsy Rose Lee, Miss Bohemia, to the manor born or the Umaid Bhawan palace. It's all in the piece you adorn.
I like conversation-piece jewellery; cocktail rings as large as the Michigan stadium, necklaces that think of themselves as dresses and can make a Sumo wrestler look whippet thin, and earrings that shame the chandeliers at Versailles into 'also rans'! The masses will be instinctively drawn to you and your jewellery will be your mouthpiece!
Some would say I am a philistine as I prefer costume jewellery, with semi-precious stones than the conventional stuff. Still I would not turn down a gift of 200 carats or more! I adore silver and am a sucker for Navajo jewellery; there is a certain sensual serenity, yet forceful spirituality about it, making you feel connected to a force unseen. Unusual gems are what I am talking about – it's the piece no wallflower should dare to wear, only a sassy trot-out mare!
I have discovered some rare finds that I have generously decided to share with you. Take heed and study. If it is out of your price range, find a local jeweller and get a bespoke piece made! Make it all about you and your character.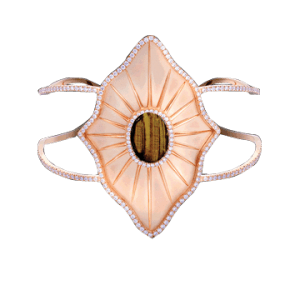 VICKISARGE Jewellery
The words that come to mind are superlative, devastatingly stunning, sensationally alluring and handsome. This is artisan endeavour in beautiful motion. Were these pieces of jewellery incarnated as monuments, they would be the Eiffel Tower, pure elegance and structure, the Trevi Fountain for romance, and the Sargrada Familia for its unique intricacies. They are the type of baubles you can hang on your walls and spotlight. It is downright pulchritudinous and with destaques-like qualities, cast a mystical carnival halo over the wearer.My babies would be, from the Artisan range, handcrafted Swarovski crystal single earring 'Red Indian' – rock chic über cool; the red and black feathers with the contrasting turquoise faux fur, splashed with silver paint is simply divine. Sweep your hair to the side and give this earring the attention it deserves. Simply add a men's crisp white dinner shirt tied at the waist, sprayed on jet black trousers kicking about just above that all-so-often ignored erogenous zone, the ankle, to show off your Christian Louboutin's Viennanna shoe and a huge cocktail ring. Bang, you are absolutely flawless.
The necklace is just how I like it. Made from copper and silver coated brass, it possesses tassels, Swarovski crystals, pom-poms, glitter sparkled feathers, thrown together in a stupendous bacchanalian euphoric mish-mash that lovingly caresses your neck! Wear it with Roland Mouret's Nortoni stretch crepe jumpsuit. If your budget doesn't stretch that far then look no further than Revolveclothing.com; they stock the über cool label Young Fabulous & Broke. Purchase their Sydney or Dakota jumpsuit, be rapacious like moi and buy both. Just one more suggestion, buy the VICKISARGE Burma rose gold-plated Swarovski cuff. This is one piece of covetous-inducing, swanky, uptown architectural luster. These designs are inspired by the beautiful tribeswomen of Burma, but yet has an art deco appeal; a cuff befitting of super-heroine, Wonder Woman, to capture her villain yet look super sexy stylish!Yves Kilcolin by Yves Spinelli
My drug of choice, which is architecture at its most dazzling. This is genius, high-end, rock chick/god jewellery. It bites, it flirts, it satiates and is downright bodacious audacious! Their Pave ring collection is freaking awesome. This jewellery collection has a medieval flavour with a dash of modern thrown in. Their Corvus pave ring is Roman Empire-esque beautiful and Cleopatra would have coveted this along with the entire collection to enhance her already legendary beauty.
Yves Spinelli's interlinked bracelets are simply delicious. Well, if it's good enough for Lupita Nyong'o… Wear a couple with one of the pave rings, manicured palest of pink nails (no loud salacious red please!), mascara, nude luscious glossy lips and from the Freepeople shopping emporium, their Alabama Gown or Kingsley pleated dress will be all you need. If you completely adore your beau and are confident enough that he will not have his head turned by a filly, then buy him Yves range of rings for men. Turn him into a virile alpha male rock god a la Johnny Depp, Jim Morrison and the vulnerable yet deliciously salacious Jimi Hendricks. Get your piece in soon.
House of Jealouxy
Now to homegrown talent in our very own lovely Jakarta, with House of Jealouxy. I dare you not to be tempted to part with your cold cash faster than you can say "HOJ"! Wearing their jewellery, you will induce feelings of jealousy, but who cares? Their ostentatious headdresses are empress worthy, necklaces that are cotton candy colourful and earring and bracelets quirky, geeky cool. From their "Write Me Letters" Spring/Summer 2014 range, the jewellery speaks to you through words, spelling out messages like "kill them with kindness", "explore, dream, discover" and "too glam to give a damn". An incentive to buy, buy, buy! I yearn for all. Their piece de resistance is the body armour jewellery. These creations can transform a tired dress into an outré piece; wear it with a sexy loose racer back t-shirt, skinny black jeans and killer heels and a mussed up hair do. Try the look with a cool maxi, too!
You make a statement by the jewellery you choose to wear. Don't let it wear you. In some cultures, your solitaire is an indication of your social standing. Get it so darn right! Be sassy-classy, but no way trashy. Love it, treasure it, care for it and pass it on. Let it carry your essence and memories through time, binding us together through love and beauty.
Fashion tip
It is considered super cool to wear one statement piece earring, so get on the case! Wear two different style earrings, mixing silver and gold. Buy charms and attach them to your (hooped) earrings. Thin, colourful ribbons look great tied around loops and holes of earrings. Be creative, wrap thin strips of Batik around your fossil bracelet, chunky necklace or earring and be earthy lovely.