A serendipitous discovery flung open the doors to a quaint and exclusive boutique on Abdul Majid Raya in Jakarta. Its mystical windows drew me in; I wished to step into the world of Jeffry Tan.
With no airs and graces, Jeffry popped out from his office to greet me. He was warm, charming, witty and cool. My beady eye scoped the boutique and I instantly fell in love. The cuts of his designs are clean yet convoluted, strong yet feminine, soft yet hard. All these contradictions are what make a Tan dress peculiarly beautiful. These experimental creations come to life because of Jeffry's attention to detail.
He trained at France's ESMOD School of Design in Jakarta. Having been around fashion for most of his life (his parents owning a garment factory), it seems that his métier was pre-ordained. With such undeniable DNA, one could expect nothing but excellence from him. Jeffry informs me that he had always wanted to do something creative and found that fashion provided him with that medium. To him, fashion is "both challenging and intriguing".
I congratulate him on a coup that designers dream of and that is to see Kylie Minogue wearing one of his designs – a funky, classy, sexy tuxedo jumpsuit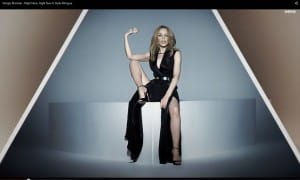 She wore it in the video of her new single "Right Here, Right Now". He replies that it is indeed an honour. I ask if there is a past or present famous person he would like to dress and he informs me that he would have picked Kylie!
She is his idol and in his eyes an ideal JT girl who encapsulates a subtle femininity and laidback sexiness, humorous and with a strong yet vulnerable side.
Jeffry cites his influences from graphic and interior design to architecture. He first specialised in menswear and indeed for his final year show it was a menswear collection that he sent down the runway. He decided later that womenswear complemented menswear and hit upon the idea to create a line for women. Thank God!
He opines that "womenswear is more fluid and conceptual, changing with the tastes of women, coupled with a lifetime of commitment to understanding women and your clients".
In 2009, Jeffry decided to start his "open kitchen" fashion showroom. Here you can see designs on mannequins and order what you like, made to fit you perfectly. This is a bespoke experience without the fuss, just downright getting the job well done! You can buy samples off the racks and I recommend checking out his shoes. Though only for the runway, you can buy them if you have big, model-sized feet. He can cater for all sizes and does European sizes up to a 42 (and he can go beyond that), which is hard to find in Jakarta.
The Tan look is distinctive and has evolved with its customer base. It can take about three weeks from inception to production of a sample dress and four to five months for a whole collection. Jeffry takes his work seriously and will quality-control check his materials so you never have that problem of following washing instructions on a garment only to find that it has been reincarnated as a robe that would fit snugly on your pet Chihuahua!
Fabrics are carefully chosen for quality, comfort and flexibility of movement. This is evident as Jeffry invites me to try on some of his designs in the studio. I protest that I am way too plus-size to squeeze into one of his beautiful dresses. I relent – Jeffry is persuasive. I try on a beautiful, racing green number. It is long with subtle beading in the V-neck area and ruffle-folds around the unforgiving tummy area. Until I looked in the mirror, I was terrifyingly suspicious of the ruffles! But yes, I looked skinnier than a skinny latte! I felt foxy, yet as I walked, the cut of the dress made my gait resemble the elegance of a ballerina. A certain enchanting magic is created when a Tan dress graces your body. So, at that moment I place an order of a siren red version and a pair of funky super-duper harem trousers with a twist. Just like that!
His new collection will be ready to wear in May. Expect layering, jackets and trousers, with bright colours like burnt orange, aquamarine and turquoise.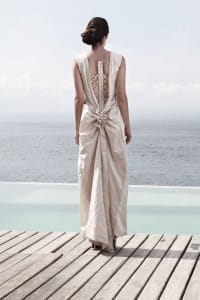 For those of you getting hitched, he makes wedding gowns too. There is a beautiful white dress called Lilium from a previous collection that you can have made-to-order. It is beautifully ethereal, with such gorgeous attention to detail to the back. The inspiration came from a trip to India and the Calla lily flower. In the most delicate of pure chiffon silk, using a traditional weaving method alat tenun bukan mesin, this dress would make the most intriguing wedding dress, requiring minimal accessories.
Jeffry Tan's trick is that he sticks to "what I know" and "likes to use solid colours, like navy, black, cream, gold, solid reds and burgundy, as after all everybody looks nice in navy or dark colours!"
If you have a designer whose personal mantra or raison d'être is to "achieve the best I can, giving that extra mile in all my endeavours", you can do no wrong in investing your hard-earned cash to become a member of the Tan society.
I ask Jeffry if he imagines that fashion design is perhaps as intricate as architecture; he says no but in his opinion there are similarities in terms of proportions, concept and finish. To him fashion design possesses ingredients that affect our feelings. These thought processes are clearly seen in his designs, by the vivid, striking fluidity and the way they caress the body.
When asked who amongst his contemporaries he most admires, without hesitation Jeffry mentions Biyan, and also Didi Budiardjo as "I like the intriguing way he thinks about and manipulates fabric."
We talk about where he sees his eponymous label in a decade's time. He would like to see it expand but not in such a way that causes loss of identity, as has been the case for some other brands. You can tell that Jeffry is a thoughtful planner and will only walk before he runs!