Gone are the days when sportswear was for the sole purpose of getting downright sweaty at the gym. It has stepped up its game: we are in the midst of a sports-meets-fashion revolution.
As more and more of us are exercising more regularly, fashion houses and sports brands are taking notice. Now, not only can you look gorgeous as you sweat, but these garments can complement part of your everyday attire – whether you buy them to pump iron or simply to pose in.
Celebrities such as David and Victoria Beckham, arriving and leaving gyms – such as the near-cult status Soul Cycle studios – swigging wheatgrass looking cool and stylish, only reaffirm the importance of looking good while working out.
Fashion's fit financials
Sport is big business, with more and more of us turning to yoga, Pilates, high-impact workouts, spinning, weight training, barre classes and the amazing Gyrotonic Expansion System. It is at these gyms and centres that we also build our social life and sometimes make lasting friendships.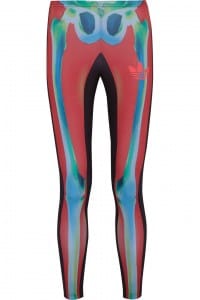 Nike has tuned in to our needs, and in the process has become a demi-fashion brand while shrewdly   enlisting the likes of top athletes as ambassadors and test drivers for their new products. Nike's training apps, used by millions, have created an online community, providing the company with user information to help them improve their products and keep their audience captivated.
The behemoth Adidas has it spot on. It keeps au courant by using the latest sports performance technology to create clever fabrics. Through collaborations with 'designers' – often pop and sports stars – it creates innovative, funky attire. Even if you do not worship at the altar of the gym, the temptation to acquire a set of gear, which may never taste a drop of your sweat, is irresistible.
Fitness DVDs are big business too, with one made seemingly every second by another famous person determined to show us how easy it is to lose weight. Well, it would be if you could afford a personal trainer and a full-time chef! If that lifestyle is all but a dream, fear not! The Nutribullet is a little mean machine that will change the way you eat – from smoothies to soups, your nutrition will become a no-brainer. Now all you have to do is go jogging!
The big dogs of the sports world, like Nike, Puma and Adidas, have so far kept a step ahead (see Nike's Air Flyknit trainers), but quickly catching up on the race-track bend are Lululemon, Sweaty Betty, Live the Process and Net-a-Sporter. They all want a piece of the action.
Sports-luxe mixology
The hybrid of street and sportswear is a heady combination and one in which a smarter, urbane feel has evolved.
Now, luxe sportswear is available to mix with your gym togs for a chic yet relaxed look.
T by Alexander Wang is the perfect label to mix with your sportswear. The British brand Sweaty Betty has hip active wear that can translate to daywear. Their partnership with the designer Richard Nicoll for their SS15 collection is sensationally cool, especially the Arashi reflective running dress, accessorised with a wide-knit, slouchy, super-chichi cardigan. Their yoga retreat all-in-one is so flash that it can turn itself from a harem skirt into a strapless jumpsuit. At the click of a mouse it could be yours!
Expand your wardrobe by mixing your sports and beachwear along with your classic everyday wear. A bikini top, yoga pants, some chunky trainers and a fedora – add a tux jacket and a slouch bag and you're off.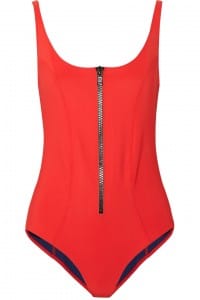 Sprint for Etro's wide-leg silk-crepe pants – deliciously psychedelic; they will mesmerise. Throw on a cool tracksuit hoodie, racer-back top and some Supergas and leave your competition in the dust. Alternate with a short-cropped cardi or swimsuit and wedges, and you will be ticking all the boxes.
Lisa Marie Fernandez's swimsuits are deliciously versatile and can spice up any shorts, trousers or skirt. Her Jasmine swimsuit, and the Arden one-shoulder number, are simply divine and worth every penny.
Adidas by Stella McCartney is the cream of the crop. This partnership is celebrating a perfect decade of synergy between sports and fashion, and there's a mountain of choice in the latest campaign. The cute tennis skirt matched with a hi-lo top or a racer back t-shirt, platform boots and a long, knitted sleeveless cardigan à la seventies would be rather cool. Her Run Climate shorts are lovely too, and would look fantabulous with a quirky wedge and an oversized jacket draped about your shoulders.
Grab a pair of Stella's elegantly clumpy polyurethane trainers, they are just the right mix of feminine-masculine; style them up with a fantastic red trouser-suit and sports bra. Allow Tomas Maier's Resort '15 collection red trouser suit inspire you – find a tailor to make you your own.
Adidas' Roland Garros collection by Y-3 Yohji Yamamoto is sleek tenniswear that is robust, yet delicately floral. Tennis players now want to look urbane and chic while doing battle on court. This is multi-functional sportswear.
The terribly seductive and voguish Rita Ora is the go-to girl of the moment when it comes to single-minded fashion and clearly, this is reflected in her collection for Adidas. Her printed chiffon track pants can be easily dressed up with a white jacket, yellow t-shirt and strappy heels.
Invest in an equestrian show jacket to wear with your flared jeans or crazy-print running leggings. Or, slink into a pair of jodhpurs (buy both beige and black if you can afford to) – this noble pant's origins date back to the 1890s, and today look divine with a pleasantly masculine, crisp white shirt. Complete the outré ensemble with sensational "So Kate" Christian Louboutin heels in nude for demure and black for vamping.
Be part of the revolution: look sleek and snazzy as you get fit and healthy.