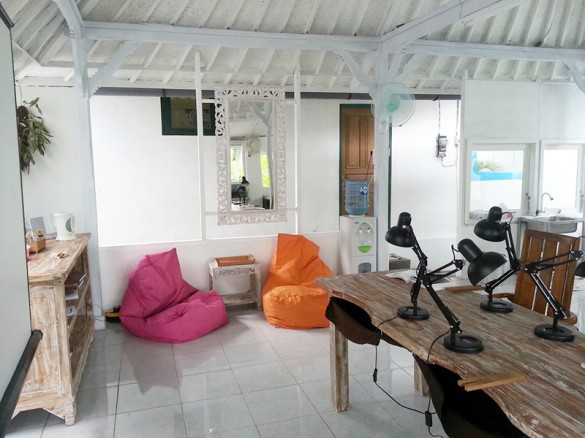 Vanessa Campagnaro doesn't so much walk into a room, rather at a touch over 6-foot 1-inches, she lopes. Following closely behind her is Selenia Rebeiro, her partner in the extremely successful Sanur Jewellery Studio. These two women, from vastly different backgrounds, have made it their quest to bring silver jewellery manufacturing to anyone willing to learn the craft.
What often makes a partnership work is when the chemistry is at opposites of a spectrum and they are living proof of what has drawn them together. Vanessa is an Englishwoman who, by her own admission, has always had "metal in her blood". Born into a manufacturing family who invented the famous Aga wood-burning stove, one can appreciate that the lure of metal, any kind of metal, was always going to dominate her life. The world was, from an early age, her oyster as she has lived and worked all over the globe. Growing up in Ontario, Canada, she had a fixed vision of what she wanted to do and pursued it with a passion that still seems to course through her bloodstream today.
Her introduction to design and manufacturing began while at Cheltham Art College followed by a degree at the University of East London. From there the world of fashion and jewellery beckoned, which led to stints with Burberry in Tokyo, followed by time in New York and California where she studied under the renowned jewellery designer Nancy Shappelle.
Selenia's background is equally as colourful. Born in Angola of Portuguese origin she became a wanderer by trade at an early age. The beginning of the war in Angola meant that the family had to relocate to the UK where she completed her education. Once she had graduated, she followed the roads less travelled and chanced upon the jewellery markets in thriving Kathmandu.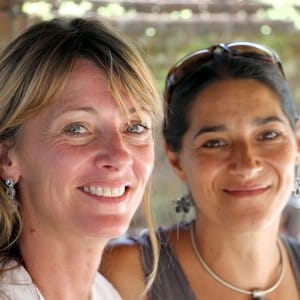 Throwing caution to the winds, she apprenticed herself to a master craftsman in a small factory in the heart of the silver market. It was here in the back streets she learnt her craft, studying the intricate designs and manufacturing techniques using age-old methods of shaping the metal into elaborate and elegant pieces. Her thirst for knowledge then took her to Rajasthan in India to learn the art of manufacturing with gemstones where craftsmen use ancient methods that have existed for centuries. Even today she uses a blowtorch powered by foot pedals to fill the bellows!
It stands to reason that at some point the paths of these two incredible women would inevitably cross and it was on the island of Bali where their talents and personalities met head-on. From their first meeting they knew that their philosophies regarding their craft were on the same trajectory; it was a meeting of minds. However, it was their overwhelming desire to teach that fundamentally cemented the bond and they haven't looked back since starting their business nearly four years ago.
When asked about their philosophy and desire to teach, their answers were similar. Selenia thought about the question for a while before replying, "I trust that the knowledge bestowed upon me was meant to be shared. I was given this gift of designing and jewellery-making and so teaching is my way of sharing my gift with others."
Vanessa answered, "I believe creativity flows from a calm and organized space. For us, knowing one day in our studio can be the choice between a more creative life for the future or a sudden driving force behind a career for one of our students makes us know we are doing something right here."
These strong, independent women know the path they wish to travel and are more than willing to share their vision in empowering other women. Outside of their business, both Vanessa and Selenia were heavily involved in the establishment of The Sanur Springboard where they devoted their time to teaching the local population of young women the power of design. In essence, the overriding vision was to try and teach willing participants a 'trade' so that this could lead to future employment opportunities.
It was the involvement in this group that was the platform for the formation of the Sanur Jewellery Studio. Vanessa and her partner Mark have transformed what was a rather run down residence into a splendid home complete with a large functioning jewellery workshop. The teaching studio is a light and airy barn-like structure painted bright white. Workstations all face the front and are replete with all of the tools of the trade to create what will be their own masterpiece.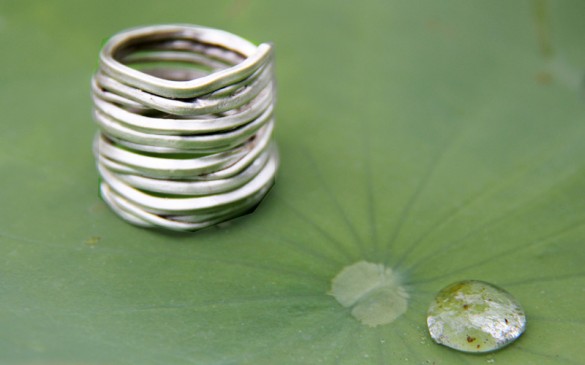 Both Selenia and Vanessa introduce new students to the design process where each individual is encouraged to create a layout on paper and then led through the process of bringing their masterpieces to life. The studio itself attracts locals and tourists alike, as even those with no knowledge of the process of jewellery design can, and do produce a treasured piece that has their own stamp upon it. Couples from around the world intending to marry in Bali come to the studio to design and make their wedding rings in just one day. This is somewhat of a special way to begin their lives together.
Classes begin with an in-depth talk on the history and complex nature of silver and its unique properties. I am told that the best silver originates in Mexico, however most of the silver used in this studio comes from the island of Sumatra. Demonstrations detail how the metal behaves when heated and covers areas such as how a manufacturer can put 'spring' into the metal to make it more pliable.
Both women tell me of the satisfaction they receive at the end of a day when students proudly wear their own creations, be it a ring, bracelet or an intricately designed pair of earrings. There is something rather personal about having a piece that has evolved from one's own imagination and bringing it to completion. The studio takes on and teaches local apprentices for, as both women maintain, theirs is not a craft to own but rather something to pass on to those willing to learn.
To discover more about Sanur Jewellery Studio visit www.sanurjewellrystudio.com