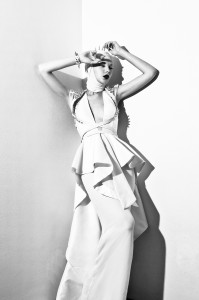 There is a novella by Ernest Hemingway, The Old Man and the Sea. For eighty four days, "old man" Santiago had failed to catch fish to sell. He was considered "Saloa", unlucky. His young assistant Manolin leaves to work with more successful fishermen, but is still devoted and loyal to him; the old man had after all taught him how to fish. On the eighty fifth day, the old man travelled alone and baited a leviathan of a marlin. After an epic Herculean struggle, he overpowers the marlin and ties the carcass on to his skiff. He considers this fish not worthy to be eaten because of the struggle and dignity the fish showed in dying. Santiago heads home. Again he does battle but with sharks who smell the trail of blood. They devour the marlin and Santiago is left with the skeleton. The exhausted Santiago sleeps on his return. In the morning, the fishermen and tourists marvel at the catch. Manolin is relieved Santiago is safe and his love for the old man is evident by his continued care and help every day. Now Santiago is no longer unlucky, he has caught the biggest fish and he and Manolin agree to work together again!
This is an inspiring story of strength, will, suffering, pride, respect, friendship, endurance, love and reputation, which leads me to this designer, Aurelia Santoso. The name Aurelia could belong to an exotic flower, a mystical and theatrical prose. It can also be interpreted as 'golden' but one could imagine such a name as a lead character in one of Shakespeare's finest or in a Greek mythology.
I meet Aurelia at her studios in Kuningan. She is slight, delicate, strong and gracefully beautiful; a 'Steel Magnolia'. Aurelia's love of all things fashion started early. When as an ankle-biter, her father remembers that she began to draw and express what she would one day become her calling, a great designer. She drew her inspiration for the two collections from her love of fishing with her father, the novella The Old Man and the Sea, the ocean and the 1920s sci-fi metropolis. On reading the book and watching the film, her interpretation of both in her designs is apparent. She will be a force to be reckoned with. It is all in the blood you see; her grandmamma made bridal gowns in a small studio, where you could say Aurelia's informal apprenticeship began. Grandmamma nurtured her design skills and is now retired but quietly proud.
Aurelia's artistic journey took her from the bridal studio to the City of Angels Otis School of Art & Design, an internship with the Queen of print Mary Katrantzou, then Raffles Design Institute in Singapore and full circle back to Jakarta. She cites her influences as movies, new and old, books – old (English) classics – places and people. The ocean holds magical and sentimental value for her too; its vastness conveys a boundary-less world where one's imagination can flow ad infinitum with spectacularly unimaginable results.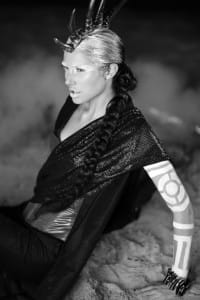 The designs are clever, earthy, elegant and tough. The tulles (reminds her of fishing nets), silk chiffons, satins and crepes add many dimensions to both collections. This is a sleek, clean, modern look with overlays to give amplitude and diversity to the clothing. The prints on the garments are Aurelia's own opus of creativity. It is genius.
The ready-to-wear diffusion collection LAISON is kooky yet smooth. A green wool-crepe strapless catsuit is classy, Man Ray-esque with a dash of masculine sexuality thrown in. Think 1920s actress Louise Brooks; she would have looked simply fabulous in this. Team yours with a fedora and a cuff as wide as the Gulf of Mexico! Stride with pride and soak up the admiring glances. Mine is on order.
The black dinner jacket is cheeky as it is tantalising, a scene-stealer with a peek-a-boo slit cut at the back. The cuffs turned up with red satin lining give it that certain je ne sais quoi. Shorts and basques printed with fish and oceanic scenes is simply high-sea glorious. Skirts and tops in satins get the high-sea treatment too! Long silk printed shirts that can double as dresses are versatile cool. Skirts are given a modern twist by smart layering. Long chiffon skirts are whimsical yet chic. The cropped top is elegant, no showing of a belly because of a stylish longer front, just a peek at the sides, low at the back to hint some skin, with flamboyantly glorious yards of chiffon to tie as you will! This caters for all tastes.
The Couture collection, Aurelia Santoso, is a sophisticated beautifully crafted haul. With this, Aurelia enthused that she "let her imagination run wild, no boundaries." It has elements of a futuristic world; think Metropolis meets Blade Runner, meets High Society and it darn right works!
The white futuristic gown is Gloria Swanson-esque and could sublimely adorn any of today's A-lister actresses' coquettish limbs. It is bondage elegance and subtly enticing. The folded peplum and long skirt give it that sweeping feeling of Grace Kelly's character in High Society. The vampish black satin silk top and skirt screams femme fatal-screen siren; its red leather belt is cleverly woven and twisted. Team with long black gloves and Christian Louboutin's Pigalle 120 and boom, there you go!
The off white 'quilted' double peplum low cut waistcoat and skirt is simply gorgeous, glide in it to your soiree. The bustier ensemble with the chainmail shawl is futuristic funky kick-ass babe. This outfit takes no prisoners.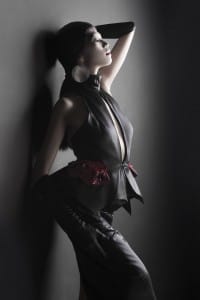 Aurelia says of her designs, "They are empowering, relatable to the modern woman who likes detailing in clean cuts." Her design heroes are Alexander McQueen, Hussien Chalayan, Maison Martin Margiela and Iris Van Herpen. Aurelia finds deviating beauty interesting and dream human mannequins to dress would be Tilda Swinton, Marion Cotillard, Natalie Portman and Rooney Mara.
I will not spoil it for you. Go take a look and be amazed. You will spend, but it will be worth every darn hard-earned dime and you may have a collector's item on your hands.
So you see, people of what I like to call 'The Jaks', the novella not only inspired Aurelia but the qualities it portrays – strength, will, skill and admirable reputation – are all present in both Aurelia and her collections. The beauty and vastness of the ocean that she loves is interpreted in her prints and, like the old man Santiago and Manolin, Aurelia and her father have a friendship, a bond that is heart warmingly thoughtful and beautiful.