Victoria Bannerman urges you to get on the trend trail this summer with her foolproof guide to the major trends from the Spring-Summer 2015 runways – and she will be out and about on the prowl, seeing how Indonesia's style mavens rock it! Look out for her monthly trend updates, with fabulous tips on how to mix-and-match your seasons and styles to suit life in the archipelago. 
Look out for shirt dresses this summer. They can be worn multiple ways with jeans, shorts, miniskirts, flares and skin-tight trousers. Team yours with a tie or embellish with brooches and badges, or get one with a thigh slit, drop waist or baggy shape and add a quirky belt. It can take you from the office to the bar.
Add sunshine yellow to your wardrobe and brighten up the lives of those around you! There are different shades of yellow, from lemon to marigold – find the hue and undertone to complement your skin and be the sunflower of your funky medina.
Be the supreme checkmate and invest in gingham. Clash it and funk it up; wear yellow check with pink, green with red or get a pencil skirt suit made with black and white check – a timeless look!
Monochrome is banging on the fashion door again! We all have something black and white in our wardrobes. Change it up by adding a splash of colour, such as a red belt. Patent shoes always look great with monochrome. Create a cacophony of chaos and don monochrome with gingham!
Culottes are in. Not flattering for all but hey. Wear with wedges or loafers, add a white shirt tied at the waist, cravat, blazer, cropped jacket, waistcoat or a long, chunky necklace. An elegant option would be to have a "tuxedo" culotte suit made with a fitted jacket accessorised with a chic bra, stilettos, a chunky bracelet and a behemoth clutch.
Chunky heels are in. Think 70s style platforms and then some. They are flattering, won't murder your feet and will make you six feet tall. I have invested in what I call my 'troika of shoes', all from Kurt Geiger – Halo, Hero and Heidi. They will take you right through the seasons and beyond.
70s style is going to be huge! Check out Emilio Pucci and Chloe Spring/Summer 2015 then get your own less expensive version. Think swirling floral, big Morticia sleeves, chiffon, bed hair, minimal make-up. Think Woodstock, Coachella, Glastonbury, Janis Joplin, Joni Mitchell et al, long flowing Kaftan style dresses and gladiator sandals – Alberta Ferrati and Nicholas Kirkwood for Ederm are Roman cool.
Denim is back with a vengeance but is now sophisticated in many guises and textures, so we can do triple denim and still look cool.
From Bottega Veneta to Ashish and Chloe, there is something for everyone. Update your old with the new, textured, lightweight denim or add some patchwork to give it that 60s/70s look. If denim on denim is too much for you, check out Free People's vintage denim tote bag.
Be shady in the eye wear department and invest in quirky coloured glasses. Get red, green, blue or yellow then choose an impractical-looking shape of glass and go crazy with the frame. Rein it in for the office though!
Get your crazy trainers in. These are not for running in, just posing. If you are cool enough, snap up a pair from Kanye West's collaboration with Adidas—the Yeezy Boost—with its bouncy sole technology.
Be demure and invest in a lace dress. White is sweet and pretty, black is femme fatale, red is sexy siren and green is sensible, approachable and intriguing.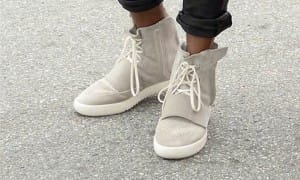 Get your sergeant-major thing on. Army neutrals and combat fatigues are back. They never really went away. Revamp yours – add a yellow shirt to your combats, or be brave and wear a monochrome shirt, a black tie and some brown leather cuffs. I thought Kim Kardashian's combat trousers, although not loved by the fashion cognoscenti, were cool in a GI-Jane way!
Tan your hide with leather in mint colours, or your faithful brown and black hues. Grab yourself a tassel bag. Free People have a great selection of funky bags to choose from, for example the Dreamweaver, Morgan bucket and Santorini crossbody. Fringing is also huge and I can't get enough – there is just something devilishly sexy about it that it renders the wearer irresistible. Proenza Schouler, Tom Ford and Giambattista Valli show us how to do sophisticated fringing.
So go on, get trending trendy!