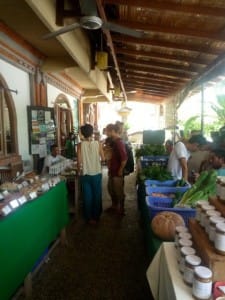 Our local food producers are island treasures. Practicing sustainable agricultural techniques and using pure ingredients with no preservatives or genetically modified additives, Bali's organic growers and producers of wholesome home-grown products are essential for promoting environmentally responsible consumption in Bali's ever growing population. The "Big Food" and "Big Organic" corporations have not yet arrived on Bali, which means that products from small family farms are not in the premium price section of the supermarket. Together, they have proven that healthy cuisine does not have to taste like old tires. Although accounting for only a small percentage of all foods sold, this select group has evolved in response to the lucrative and ever expanding consumer demand for healthy food. Here the focus is not only on food products but also on what niche each producer holds in this specialised but fast growing market.
Aiona
Bunutan Village, Karangasem, tel. 0338-161-730, email: [email protected] website: www.aionabali.com.
Jams, mango paste, spices, pure herbal sea salt, homemade granola, Bali saur (grinded organic coconut with spices), organic cookies, kombucha mixed fruit drinks and aloe juices combined with different fruits. Aiona products are made from their own organically grown produce from crops planted and harvested according to the moon rhythms and Balinese holy days. They also run a vegetarian restaurant, guesthouse and offer holistic treatments, readings and spiritual advice.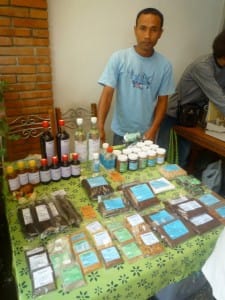 Alami
Yehembang Kauh, Jembrana, HP 085-237-153-280 (Sayu) or 081 8056 8882 (Ketut), email [email protected].
Organic agricultural produce grown by using traditional techniques on a one-hectare plantation in west Bali. Managed by Ketut Adi, products include: sundried coconut, raw cocoa beans, vanilla beans and powder, Virgin Coconut Oil, lemongrass tea, cloves and nutmeg, ginger tea. Alami sells at Ubud Organic Market 9 am-2 pm every Wednesday, Wednesday at Café Arma and on Saturdays at Pizza Bagus. Free home delivery service.
Jl. Pantai Brawa 47 Tegalgundul, Tibubeneng, tel. +62-361-844 6406 / 62-361-742 3324, email [email protected].
Jams, jelly and marmalades in 255 g and 28 g jars made from locally grown fruits. Tropical Blossom Honey in 28-g and 1-kg glass jars. Products are 100% natural with no artificial flavours, colours or preservatives. Available at Bali Deli, Coco Mart, Hardy's, Canggu Deli, Pause Cafe, Alun Alun. Price list and more information available by email: [email protected] (Danti), [email protected] (Yusie). Food service/hospitality establishments are eligible for business discount.
Bali Asli
Lady Garden 11, Jl. Gunung Soputan, Denpasar, tel: 0361-483-994; Pupuan office: 0362- 71306, email: [email protected], website: http://www.bali-asli.com.
Jams, jellies, marmalades, zesty chutneys, nut butters, honey, seasoned salts, Colloidal Silver. Products made from 100% local fruits, spices and vegetables with no preservatives, colourings or artificial ingredients. Established in 1986, their processing plant is 9 km north of Cempaka Belimbing in the mountains of Pupuan in Tabanan. Jams and jellies are packed with more fruit than most commercial brands so that the sugar content is kept at a minimum, and are more reasonably priced than expensive imported items.
Bali Good Foods
Website www.baligoodfood.com.
This restaurant group that includes Terazo, Batan Waru, Cinta Grill and Siam Sally has its own organic farm.
Bali Rungu
Baturiti, HP 081-338-721-705 (Gede Green); email: [email protected].
Sells over 60 varieties of vegetables, fruits and herbs to restaurants, hotels, bakeries and supermarkets. Produce grown on a "self-certified" 2.5-ha organic farm in the mountains of Tabanan using "green" manure, composting, mulching and crop rotation permaculture techniques. For photos and additional information, check out Gede's blog www.baliorganicproject.typepad.com.
Tours Rp.150,000 per person (min. 2) or special price for groups.
Dharma Teas
Jl. Drupadi 25 C, Sumerta Kelod, Denpasar, tel. 0361-255-475, email [email protected], website: www.dharma-teas.com.
Selection of over 40 Premium loose leaf teas and herbal infusions imported from the major tea producing countries including Darjeeling from India, and Ti Kuan Yin, Lapsang Souchong and Jasmine from China. An active member of the Indonesian Tea Board's campaign, they work closely with several top Indonesian gardens to improve the quality of product and the quality of life for Indonesia's smallholder tea farmers.
Down To Earth
Jl. Laksamana 99, Seminyak, tel. 0361-736-645/0361-732-080, email: [email protected], website www.downtoearthbali.com.
The same person who owns Zula owns this vegetarian restaurant, serving nutritious and well-balanced organic food. Wide variety of organic products and dry goods from chickpeas and sesame tahini to hummus and Maca Jahva (a natural alternative to coffee) and hand harvested organic sea salt available in many supermarkets and specialty stores around Kuta, Sanur and Seminyak. Also runs a food processing kitchen and vegetarian gourmet cooking school. Membership (Rp.1 million) qualifies you for a 10% discount for one year.
Juice Ja Cafe
Jl. Dewa Sita, Ubud, tel. 0361-971-056, HP 081-246-609-19 (Suzan), HP 081-337-868-848 (Ibu Rika), email: [email protected].
Wheatgrass and seeds, dried fruit, juices, cold pressed coconut oil, vanilla, herbal teas, jams, homemade chutneys, salad dressings, kampung-style Balinese rice cakes, handmade palm arak liqueurs, Bali-based organic coffees, cocoa products, vanilla beans and extract, dried snake fruit chips, organic raw chocolates, nut butters, carrot-spice cake and other baked goods. Whenever possible, owner Susan Kohlik always tries to buy locally manufactured products over imported ones. Pricelist at [email protected] No sales through retailers. Wholesale discounts available.
Kopi Bali
Tel. 0361-720-589, website: www.kopibali.com.
The island's best known homegrown coffee producer and one of Indonesia's premier gourmet coffee roasters which cultivates high grade Robusta and Arabica beans in the highlands of Bali and other islands. Using traditional processing methods, beans are pounded by hand to remove the dried husks and kept in a warehouse for a year to mature. No artificial flavours or chemicals added. Sold in Bali's grocery stores, supermarkets, or exclusively packaged for hotels and duty free shops.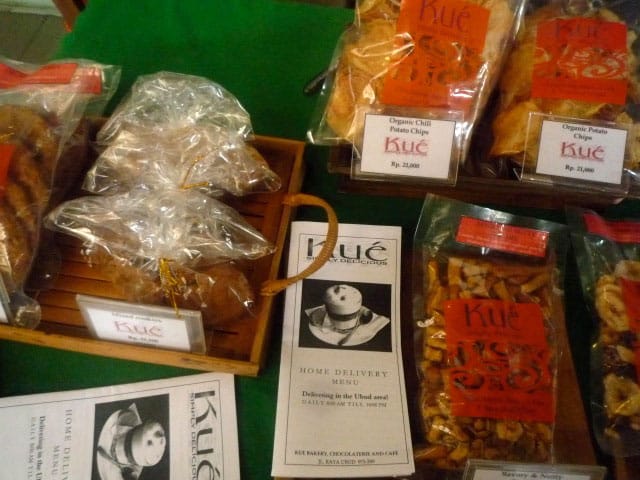 Kue
Jl. Raya Ubud (on Ubud's main road near post office), tel. 0361-975 249, email [email protected].
This artisan bakery/cafe has been producing desserts and European style breads for nine years: 14 different breads daily (including wheat and gluten free), croissants, cakes, pies, tarts, 23 types of handcrafted chocolates and truffles. Kue uses fresh ingredients, organic palm sugar, its own wild yeast starters, no additives, flavour enhancers or artificial leavens.
Sari Organik
Their main restaurant in the hamlet of Abangan is at the end of a 10 minute walk off Ubud's main road. Tel. 0361 730-1839, hp 081-338-644-037 (Nila), hp 081-238-663-10 (Agung).
Homemade juices, soy milk, kombucha teas, honey, jam, tofu, organic (chemical-free) vegetables and several varieties of rice grown on a model 0.40 ha family-size farm established in 2006. Oded and Nila actually run two businesses: the vegetable and rice growing and sales division and the post-harvest food processing and restaurant division with branches in Penestanan (near Ubud) and in Penelokan (Kintamani).
TJ's Mexican Restaurant
Gang Poppies I/24, Kuta, tel. 0361-751-093, email: [email protected], website: www.tjsbali.com.
The only 100% locally produced range of Mexican foods in Indonesia: 6" fresh corn tortillas, 8" and 11" fresh flour tortillas, taco shells, cocktail party taco shells, corn tortilla chips, salsas and homemade granola made from the restaurant's own recipes developed and refined in TJs' kitchens for over 26 years. TJ's uses as many organic ingredients as possible, 90% of which are locally grown, with no artificial additives or colourings added.
Verdure
Tel. 0361-999-9372, email [email protected], website: www.verdurebali.com.
The first commercial supplier of wheatgrass products (fresh, instant and frozen) in Indonesia.