The Year End Festive time at the Four Seasons Hotel Jakarta is a magical and fascinating journey of sophisticated luxury.
With its Alexandra Champalimaud chinoiserie inspired decor and dreamy settings, the Hotel provides truly Instagramable backdrops for families to capture their most memorable moments amongst varied iconic displays and installations. Dine, celebrate, and capture the spirit of giving and togetherness with a host of sparkling events and activities. Discover this Whimsical Wonderland of Four Seasons, where each day of the festive period feels like a new chapter in a classic Christmas tale.
"The team has been working these past few months to ensure that our esteemed guests can enjoy the celebrations with some inspired Four Seasons flair and magic," said Yonatan Kachko, General Manager. "Experience the festivities at the hotel where guests can choose to dine, celebrate or simply connect with loved ones," he added.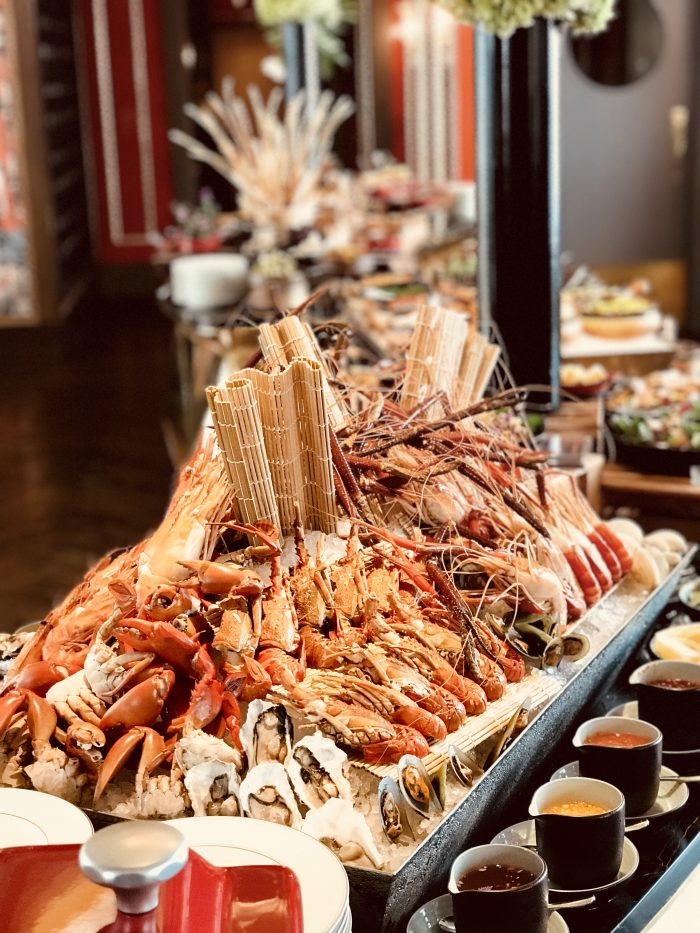 Alto Restaurant & Bar
Synonymous with exceptional service and outstanding gourmet delights, Alto Restaurant and Bar presents a selection of creative, festive inspired menus, assuring the finest seasonal tastes for the discerning palette. Led by the Chef de Cuisine, Mario Libreght Aipassa, experience authentic Italian cuisine at its elevated best.
The Christmas Carol Degustation Menu
With a seven course menu inspired by Chef Aipassa's favourite childhood novel: Charles Dickens' A Christmas Carol, experience Alto as never before; where each dish beautifully represents each phase of the timeless story. Begin with the Ebenezer Scrooge Torched Marinated Prawns, a delicate dish in citrus with shaved fennel, compressed watermelon, avocado puree, and home made Tarantina sauce.
Continue with five other magically crafted courses and then for the main course, Alto's have the alltime favorite beef Wellington using US beef tenderloin, foie gras, duxelle, and spinach baked and wrapped in a puff pastry, served with Alto's signature truffle and port wine sauce. End the night on a sweet note with Executive Pastry Chef, Lorenzo Sollecito's Mr. Clause Sphere, a whimsical combination of orange and chocolate cream, warm panettone, caramelised almonds, panettone gelato, and sspresso zabbaione, sure to leave you satiated and delighted! Expect the appearance of Carollers and stunning views of Jakarta's skyline.
The Christmas Carol Degustation Menu – Tuesday, 24th December 2019, 7pm Seven Course menu at Rp1,890,000++ per person.
The 2020-20 Dinner
What more auspicious and special place to ring in 2020 with style than at our hotel's 20th floor, Alto Restaurant and Bar. The culinary team, led by Chef Aipassa, has crafted a masterful eight course degustation menu for this once in a lifetime occasion. Whet the pallet with caramelised lamb croquettes with raisin puree and harissa. Then, slip into a warm tomato consommé with heirloom tomato salsa, tomato sorbet, topped with whipped goat cheese and basil. Continue the countdown with torched Dover sole served with mussel and blood orange salsa, finished with citrus zabbaione.
Ignite the fireworks with seared Wagyu beef and caramelized bone marrow served with fondant potato and herbs puree. Toast to a glorious new year with Alto's finest midnight tea, with jasmine mousse, chocolate and raspberry gelato, with infused vanilla sauce. Continue the party at Alto Terrace afterwards, where guests can enjoy live entertainment whilst counting down to a blessed and prosperous new year.
The 2020-20 Dinner – Tuesday 31st Dec 2019, 7pm
Eight course degustation menu at Rp2,200,000+++ per person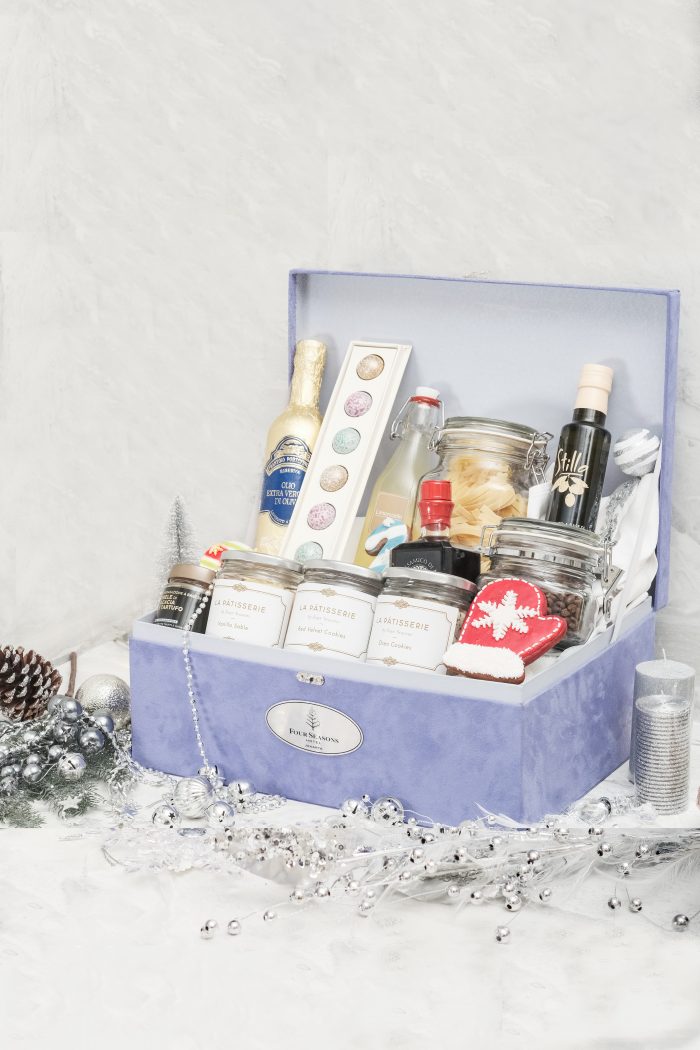 Christmas and New Years's Day Brunch
Continue the celebrations on the following morning, as the hotel's culinary team prepares an array of decadent delights. Along with evergreen classics like a selection of cold cuts and cheeses, and extensive fresh seafood buffet, enjoy a new and exciting array of live stations such as aromatic herbed lamb leg, Norwegian salmon en croute, 40 clove roast chicken and roasted rack of tomahawk. Not to be missed: Executive Pastry Chef Lorenzo Sollecito's dessert tableu. Some light entertainment and traditional Carollers add to the occasion.
Christmas Day Brunch – Wednesday 25th December 2019, 11.30am
New Year's Day Brunch – Wednesday,1st January 2020, 11.30am
Lavish buffet priced at Rp1,230,000++ per person
Silver Christmas at La Patisserie
There will be plenty of reasons to linger in the gorgeous Tiffany blue tea room – La Patisserie under the twinkling lights of silver Christmas trees as Executive Pastry Chef Lorenzo Sollecito and the team will showcase their finest festive creations, including the iconic Christmas stollen, along with the deliciously decadent snowy carrot cake and jolly cake. Some petite delecacies such as popcorn Xmas sphere, Santa's polar bear, crown brest de Paris, swan, and modern Mont Blanc, along with festive macaroons and festive bon-bons suitable as a gift for family, friends, business associates, or even for yourself!
Petite Delicacies start from Rp85,000++
Festive Macarons at Rp288,000++
Festive Bon Bon at Rp125,000++
La Patisserie Siganture Stollen Bread at Rp188,000++
Cakes starts from Rp395,000++
The Four Seasons Signature Hamper
The most eagerly anticipated offering from our hotel each year is our Festive Hamper. This year, the Four Seasons Signature Hamper comes in a limited quantity and contains all the heavenly goodies anyone can imagine, from Alto's pasta, truffle honey, olive oil, balsamic vinegar, coffee beans, Nautilus' Limoncello, and La Patisserie's bon-bons and cookies. Along with Chef Marco Riva's farewell gift for everyone, one of his prized pasta recipes and a limited seating Alto Cooking Class with Chef de Cuisince Mario.
The Four Seasons Signature Hampers start at Rp1,900,000++
The team are more than happy to create customised and personalised variations in consultation with guests and their enterprise. Minimum orders apply.
Palm Court and Orchid Court
Palm Court Celebration Menu
Unwrap a Christmas feast this season at Palm Court – the stylish venue for discerning gourmands. Indulge in a festive celebration of culinary delights as the team celebrates "Everything Christmas". Chef Asep Hamdani has created a menu of simple sophistication which is characteristic of his food and philosophy, taking regional ingredients and local specialties and elevating them to something truly memorable. The holiday menu features five exquisite dishes: snowflake salmon, Whoville soto daging, winter blues, potluck nasi jeruk, and the decadent sugar plum.
Available throughout December 2019
Individual dishes start at Rp190,000++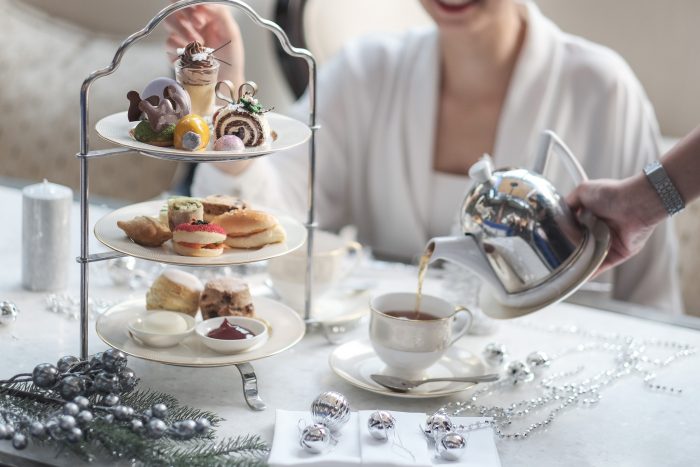 Whimsical Afternoon Tea
Come and enjoy a special afternoon tea created by Executive Pastry Chef Lorenzo Sollecito especially at the Orchid and Palm Court. Indulge this holiday season with a festive collection of sweet and savoury temptations. Each individual set is crafted to perfection and is rather pretty. Don't forget to post before tucking in!
Available throughout December 2019, from 3-5pm
Whimsical Afternoon Tea at Rp418,000++ for two people
Nautilus Bar
Ring in 2020 in style as Nautilus rolls out the red carpet on New Year's Eve for its regulars and globetrotters alike. While the kids are fast asleep in bed, parents are invited to enjoy a well-deserved, handcrafted cocktail by the master mixologists at Nautilus Bar. They are also featuring some festive favourites like sangria rosso, sangria blanco, and the classic eggnog, perfect for any occasion.
Ultimate Jakarta
Time is the ultimate luxury. Spend it with your loved ones, those that truly mean the world to you, and those who you have to thank for all the wonderful experiences that happened this year. Come indulge them in the ultimate staycation to close of the year.
The Ultimate Jakarta Staycation includes:
• Breakfast at Palm Court Restaurant or in-room dining for 2 adults
• The 2020 New Year's Eve Dinner at Alto Restaurant and Bar for 2 adults
• Our Enhanced New Year's Day Brunch at Alto Restaurant and Bar for 2 adults
• A relaxing, 60-minute Aromatherapy Couples Massage at The Spa
• Daily Evening Cocktails for 2 adults at Nautilus Bar
• Complimentary Kids Activites and Play Area
• A host of in-room surprises, treats, and special New Year's run-down service
• An extended late check-out until 4pm on 1st January 2020
Rates start at Rp9,880,000+++ for 31st December night in the lead-in Executive Suites.
For longer stays, please contact us directly at [email protected] or chat with us on #FSApp
Complimentary Kids Activities
The festive season is so special for children, it will build formative memories of the year and kids always look forward to it with keen anticipation. Four Seasons Hotel Jakarta promise to keep the little ones busy with plenty of activities, games, and experiences around the hotel. The hotel has exciting Movie Marathons with lots of yummy treats, colourful ball pits, a fun treasure hunt, and much, much more.
Available at Salon 1 & 2 on 24 and 25th December and 29 – 31st December 2019, and 1st January 2020.
The Four Seasons Spa
This holiday season, take time out to pamper yourself with a series of facials with the quintessential French skincare brand Biologique Recherche. The brand is available exclusively in Indonesia at The Spa by Four Seasons Hotel Jakarta. The skin deserves a festive miracle and the hotel provides the solution with personalised pampering sessions.
Biologique Recherche treatments start from Rp1,325,000++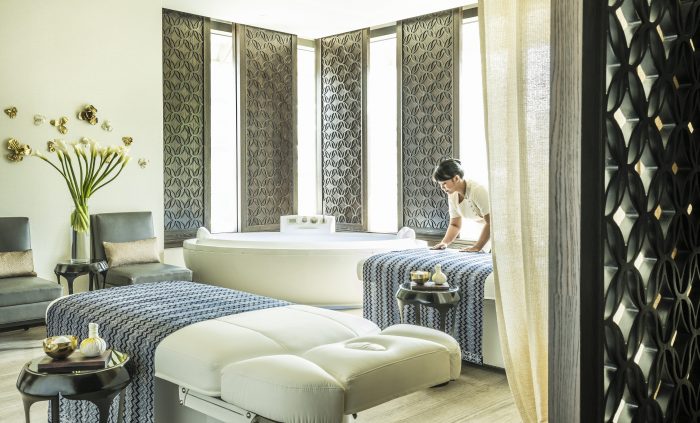 Spa Gifts
Indulge with treatments to relax, recharge, and reconnect at The Spa: an urban escape for daily renewal in the heart of the city. Choose a gift that will surpass even the highest expectations, from The Spa value card to special hampers, give the gift of beauty and wellness to your loved ones this festive season.
Starting from Rp2,500,000++