Bali has developed a thriving party scene with something for everyone.
Kuta tends to pull in a younger, wilder crowd while Seminyak typically attracts a hipper, classier group of clubbers. So are you ready for an epic 24 hours? Let's find some good places to warm up.
Noon – 2 pm: Finns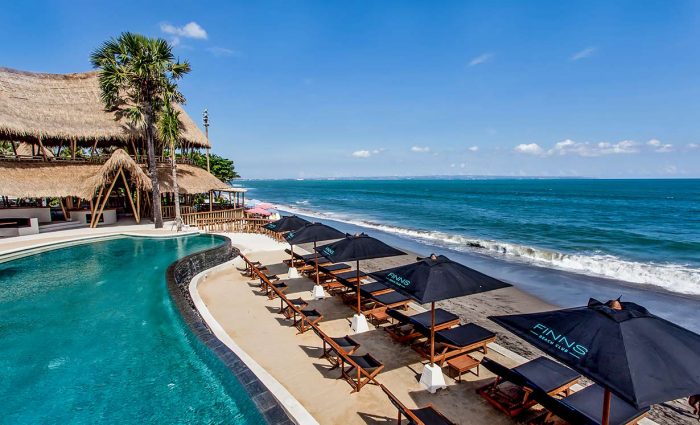 Mark the beginning of your full day of partying with a nice and breezy start at Finns. Laze away in the comfortable day beds on a white sand beach or swim in a stunning 30-metre infinity edge pool with a pool bar (and underwater speakers). Enjoy the unbeatable 180-degree ocean views whilst listening to deep house music filtering through the venue. Enjoy a delicious cocktail, or two, but remember, you don't want to peak too early.
2 – 4pm: Potato Head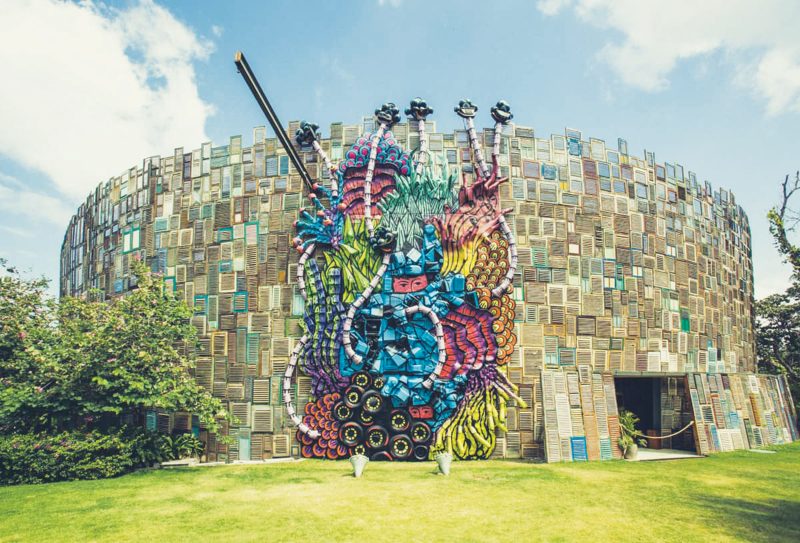 Walk down the beach to the trendy beach club Potato Head. The rooftop space has a gorgeous view of the ocean, but more importantly, you'll find copious amounts of cocktails. Pistachio rock melon Martini is a PH signature cocktail, created from a mix of Belvedere vodka, melon liqueur, fresh rock melon, and pistachio foam. Don your bikini and work on your tan.
4 – 6pm: KU DE TA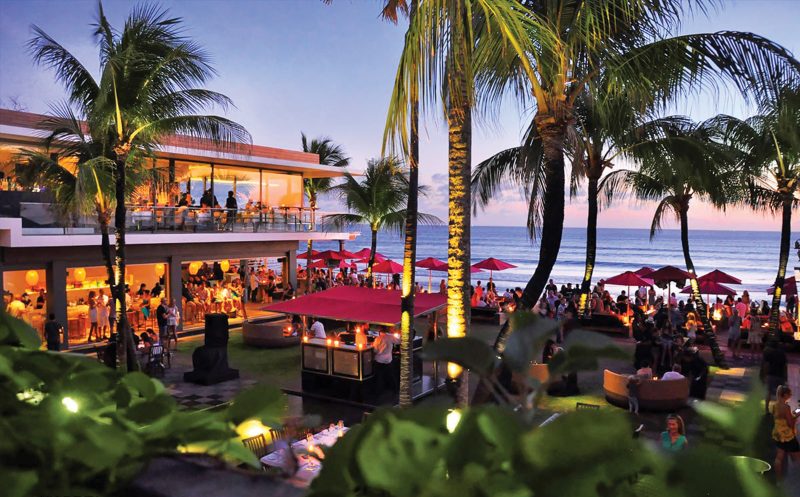 Dry off and head to KU DE TA, the ultimate waterfront bar/restaurant located on Seminyak beach. Globally renowned KU DE TA allures with a laid-back beach vibe, fabulous ocean views, superb dining and exuberant nightlife. The drinks program headed up by bar manager Bruce Bartholomew boasts an expansive list of cocktails embracing all the classic and tropical favourites, concocted by award-winning mixologists. It may be hard to leave as the sun sets.
6 – 8pm: Cocoon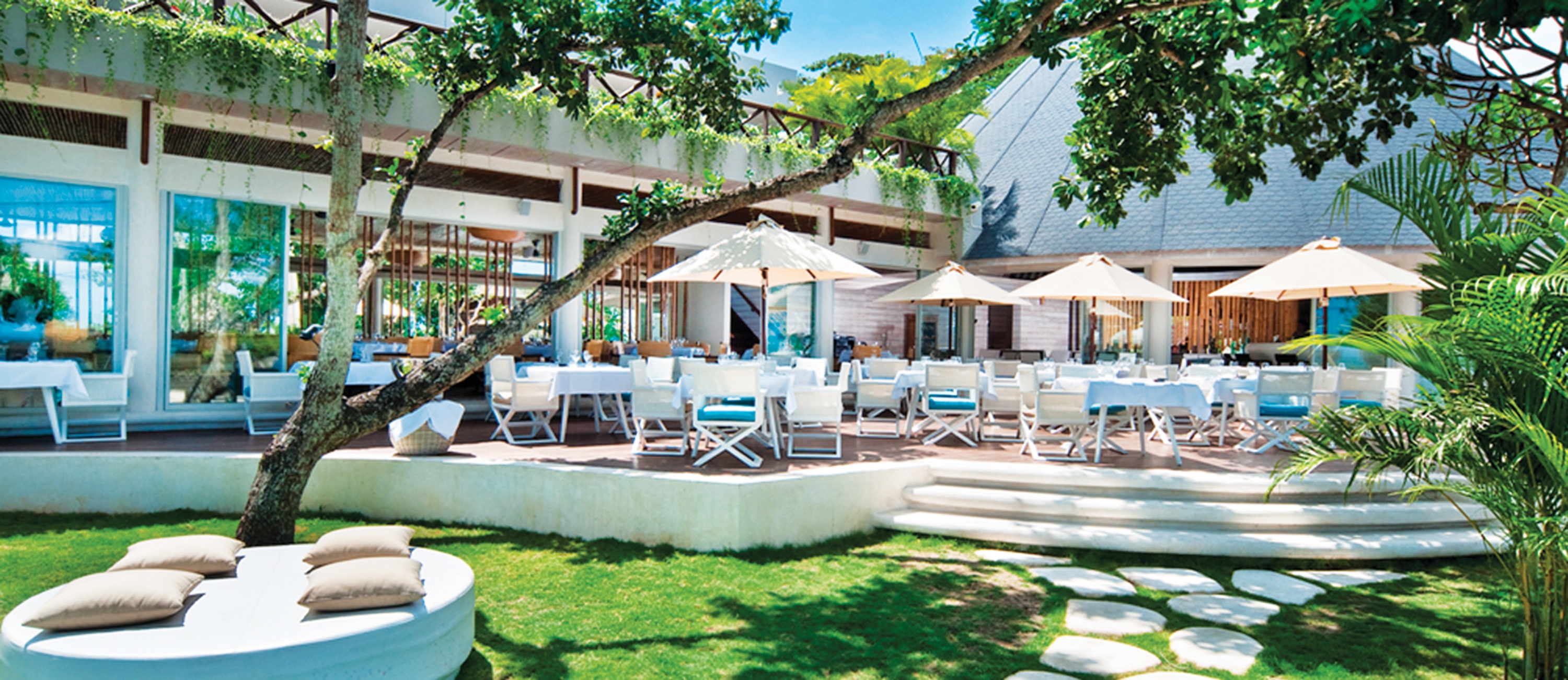 Walk down the beach and catch the tail-end of the spectacular sunset. Cocoon Beach Club offers a great chill-out scene with an inviting blue centre-piece pool surrounded by white sun loungers. March to October Cocoon throws some of the biggest pool parties on the island. SPLASH, now in its sixth year, attracts around 700+ party-goers! Cocoon's own signature B Svenaz cocktail comprises tequila, orange liqueur, orange juice and rhubarb sorbet. Don't forget to line your stomach with some Asian fusion cuisine – you have a long night ahead of you.
8 – 10 pm: Red Carpet Champagne Bar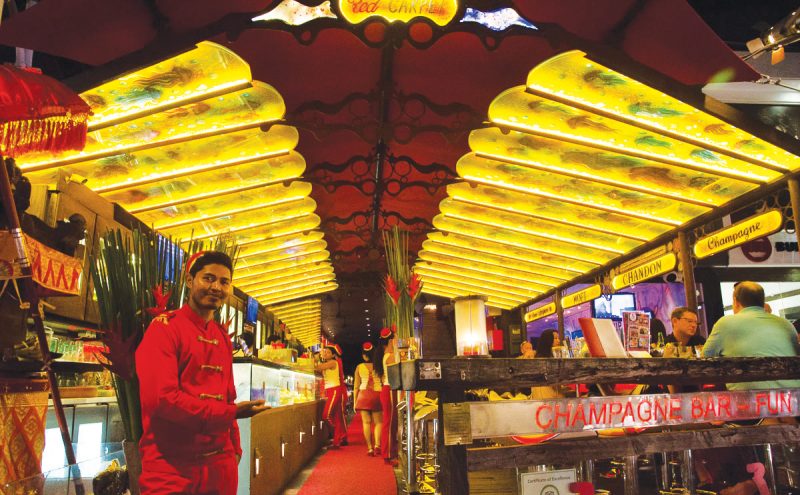 Make a beeline for Red Carpet down the road. The joint is cosy and intimate, with a splash of sexy. As one might expect of a "champagne bar," there is a sort of upmarket exclusive feel – yet the atmosphere remains light, playful and casually fun. The bar is home to Asia's largest champagne collection, with well over a hundred bottles on the menu. A generous selection of wines, spirits, cigars and unique cocktails also fills their menu.
10pm-midnight: La Favela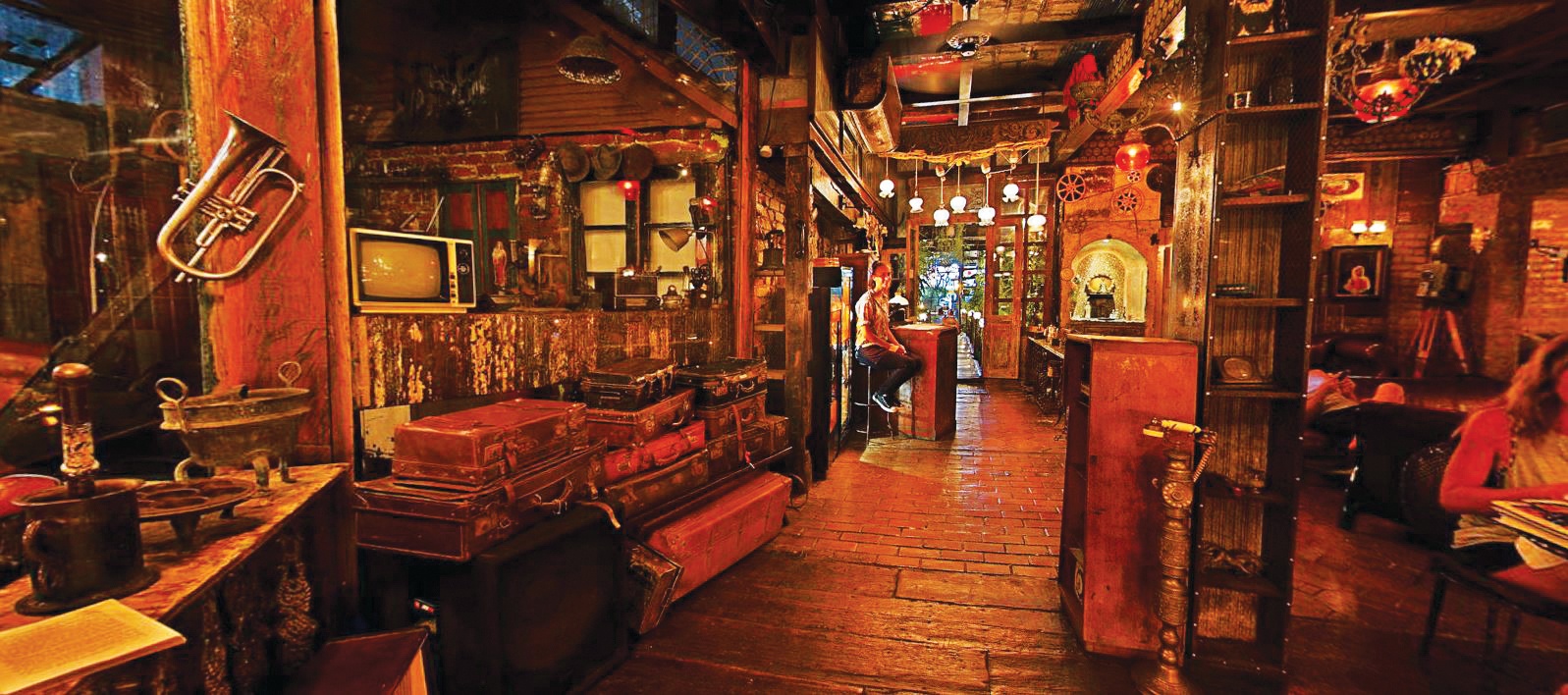 Hop across the road to "party central" at La Favela, a cavern of quirky interior design inspired by Latin America. Popular with a younger crowd, the drinks flow and the music pumps until the early hours. Get your dancing shoes on! Every night, rummin' comes alive with classic reggae hits courtesy of the DJ. Grab a pitcher of Island Time Punch, made with Bacardi Super Rum, Brugal Anejo rum, plum wine, Thai iced tea and cardamom syrup.
Midnight – 2am: Sky Garden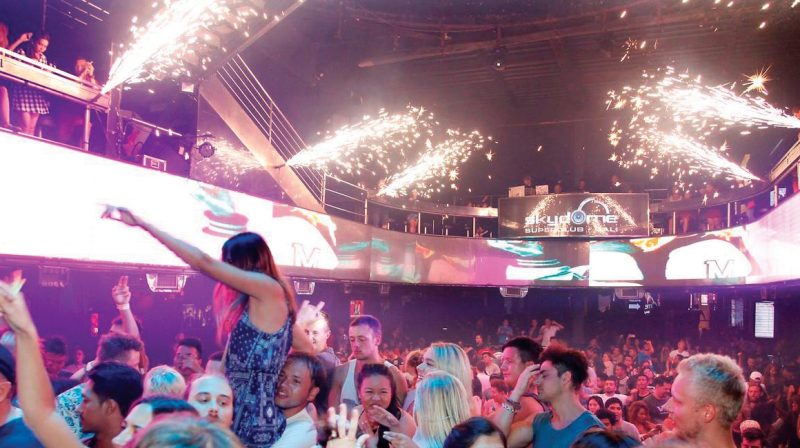 You've successfully reached the halfway point. Make your way to Sky Garden in Kuta. The atmosphere in Skygarden is that of a true super club – there are four different music styles across three levels, so you can switch between floors, from the rooftop to Bang Bang on Level 2. Why not discover the live band, check out the dancers and make new friends. Hope you're still standing – it's time to head to the newest club in Umalas.
2 – 4am: Jungle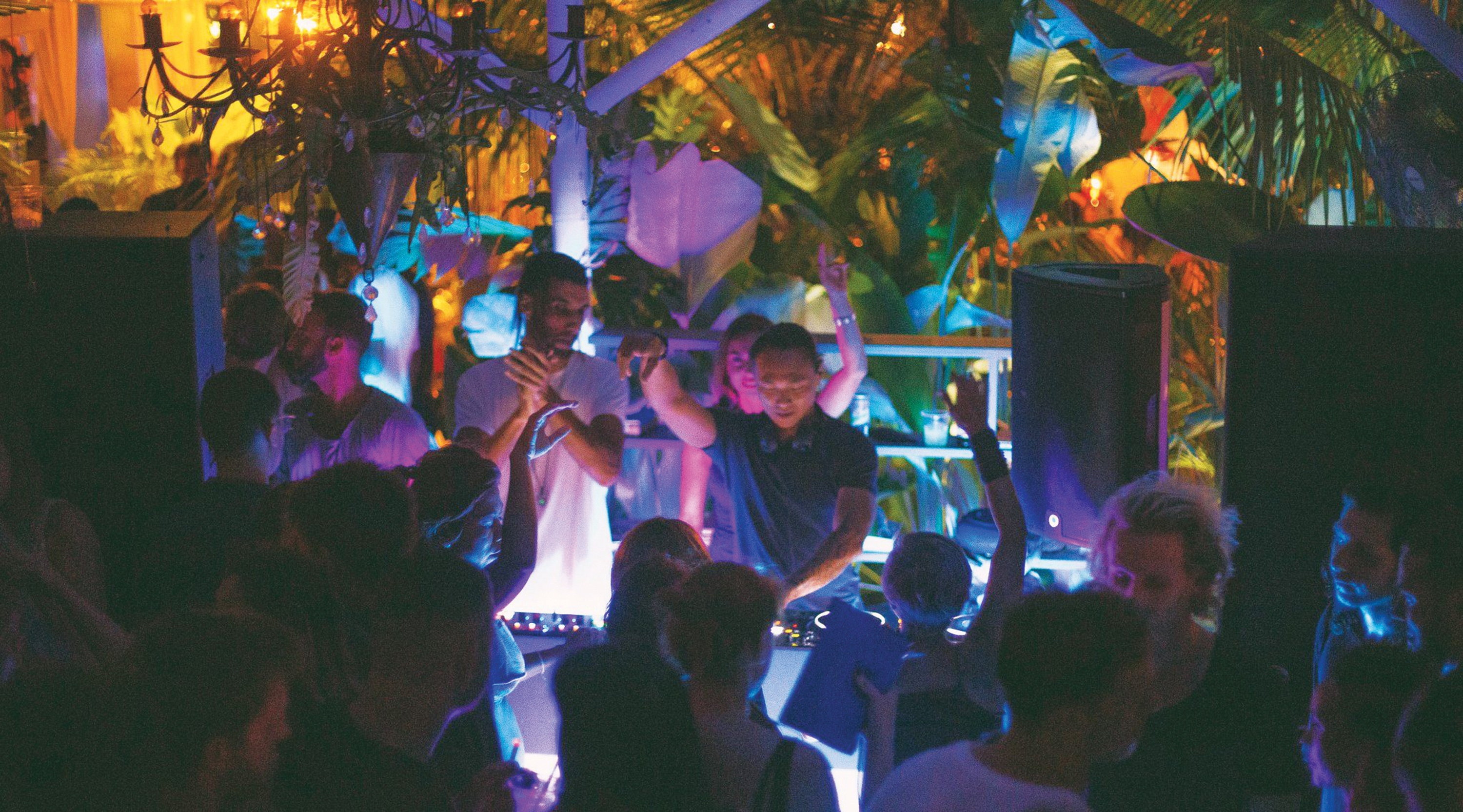 Well done – you've made it to Jungle, where you can expect to find the venue packed with Bali's hippest partygoers on Friday nights. An outdoor jungle atmosphere and an abundance of cooling fans within a rice field offers quality club sounds throughout the night. If it's not Friday, head over to Mirror – you'll find it crowded with expats and Jakartans. If you don't like Mirror, Jenja is happening from Wednesday to Saturday with great electronic beats.
4 – 6am: Pyramid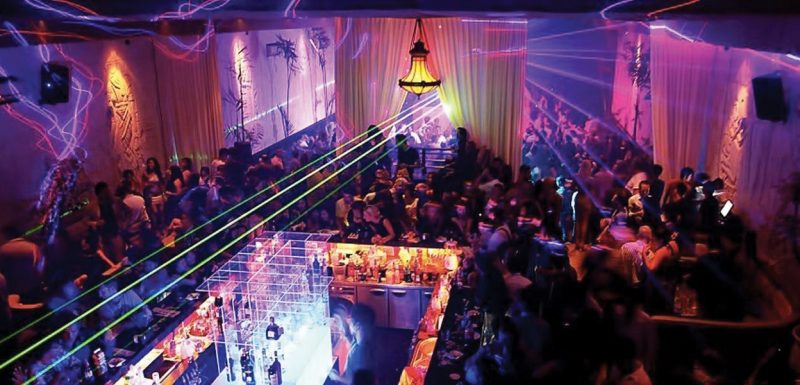 Call a cab, you're going to Pyramid Club – one of the very few late night spots on Kuta's outskirts catering to everyone looking for a fun place to party hard after hours. The nightclub features a centre-piece bar that serves a selection of international beers, liqueurs and cocktails. A roster of international resident and guest DJs helps the crowd get loose on its dance floor seven days a week. Drinks are reasonably priced and best served with ice. Some nights can get really sexy at Pyramid with girls in bikinis and sexy dancers.
6 – 8am: Petitenget Beach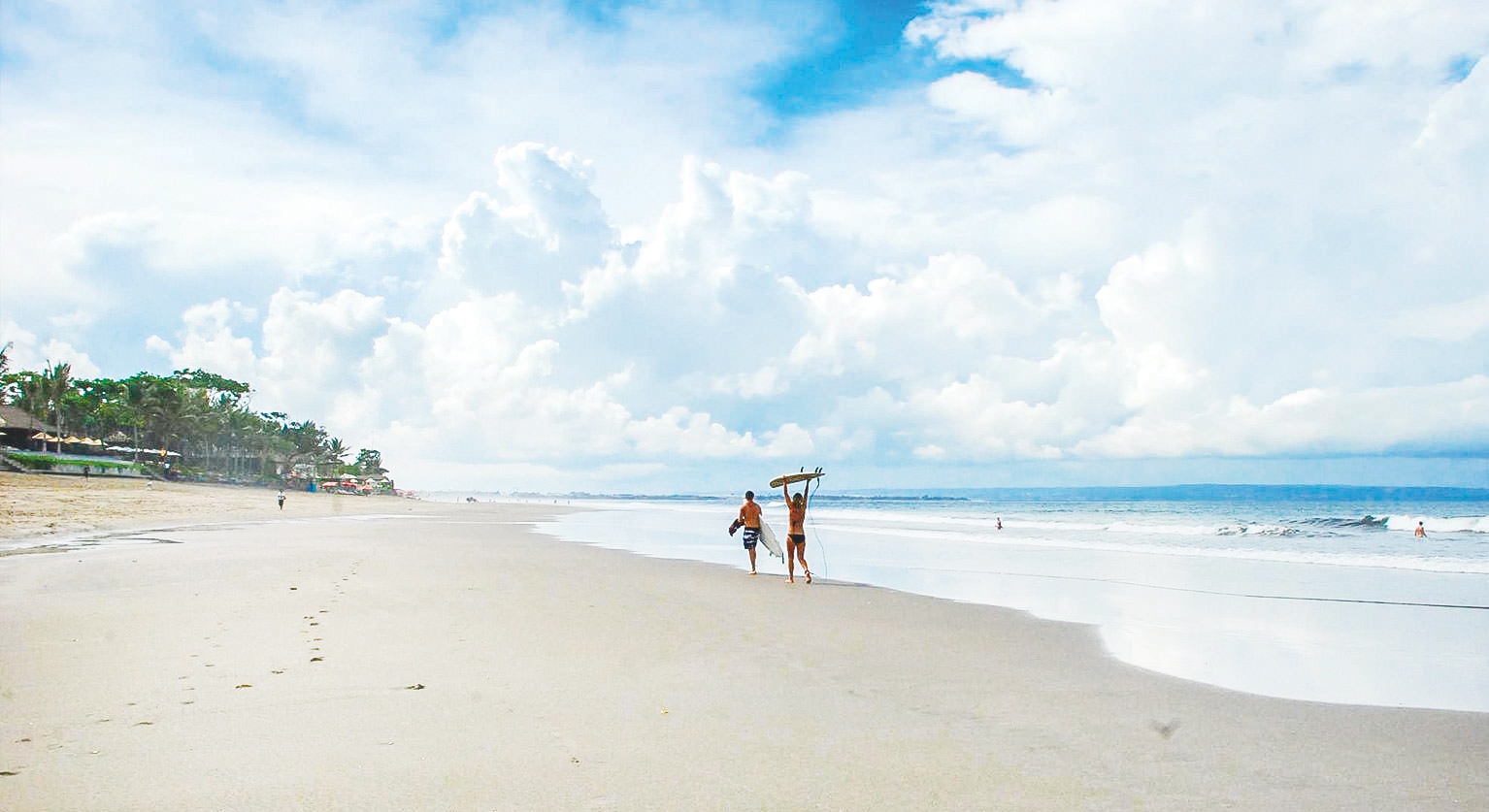 At an hour when more people have hit the sack than the club, there's only one place left to go – the beach. Why not head to convenience store Circle K if you're looking for a great cup of coffee or even more cold beers? Then get down to Petitenget beach to feel the cool sand between your toes and witness a fresh Bali sunrise. The nearby temple is dedicated to warding off evil spirits – so you'd better be on your best behaviour and respect Balinese culture.
8 – 10am: Sea Circus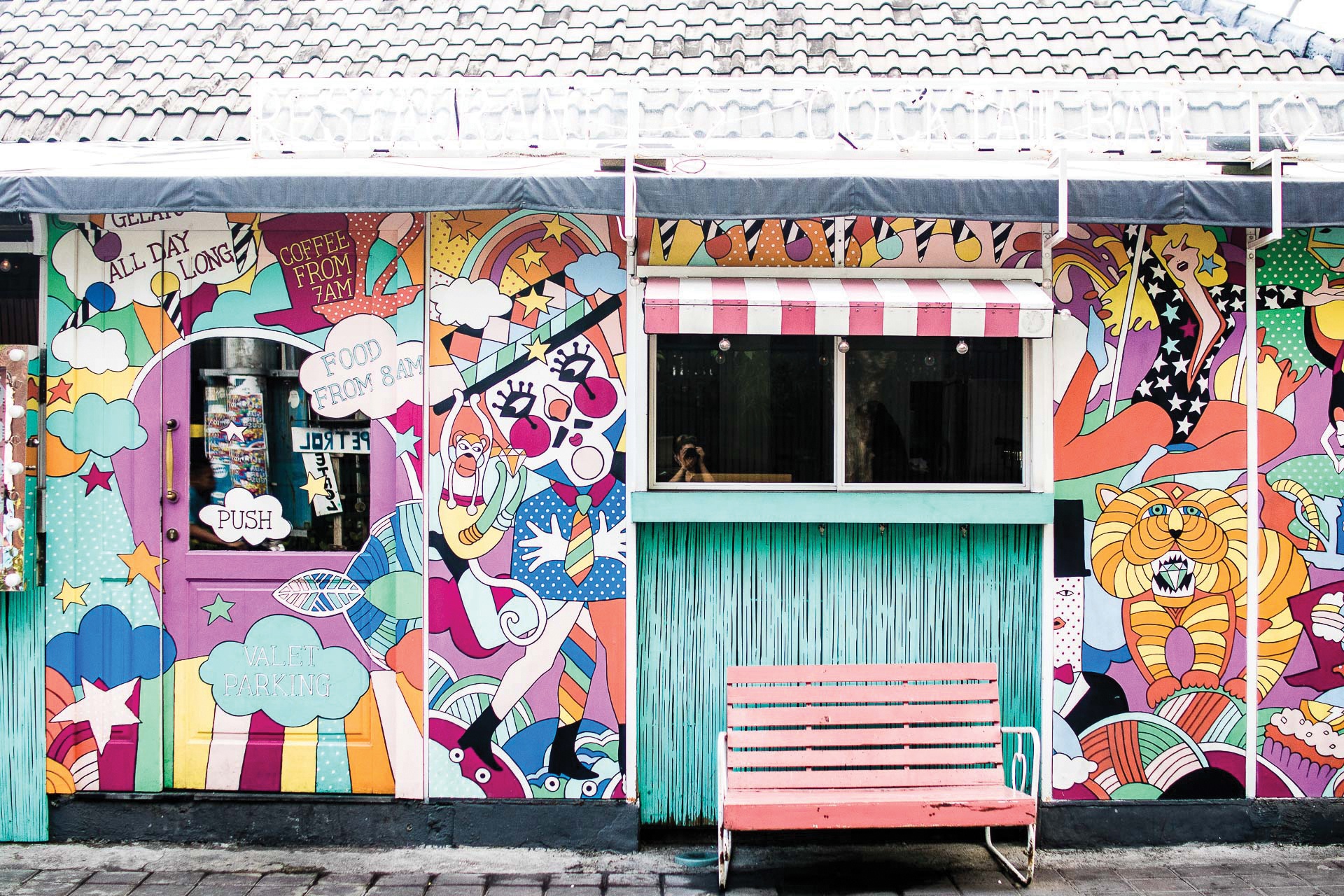 You've been partying solidly for almost 24 hours! Naturally, a new dawn calls for sustenance. Whether it's chai tea and chia porridge or an eggs benedict with a bloody mary you're craving, Circus is where it's at: here you'll find other souls on varying levels of inebriation looking for a full English breakfast, washed down with a revitalising cup of coffee.
10am – 12noon: Jiggy Boat Party Gilis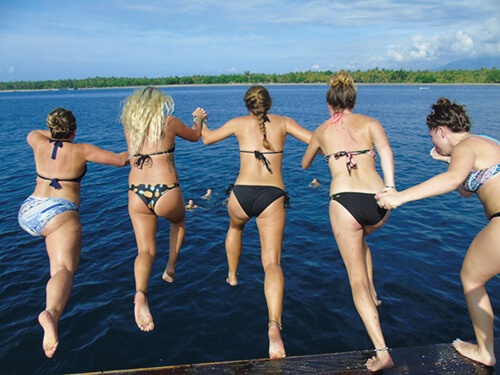 Congratulations – you've partied for 24-hours-straight in Bali. How about spending the day on a boat? Seriously – we dare you. Jiggy Boat Party Gilis is a short 35-minute boat ride away from Bali to the neighbouring island of Lombok. A whole day of partying around the Gili islands involves setting sail at 2pm for a whopping five hours of partying. Go for it!