The eve of my 25th Birthday and the start of a celebratory weekend with friends living in Bali; I was kindly invited for cocktail tasting at Bubbles & Pearls at the W Lounge at W Retreat & Spa, Seminyak.
An unmatched drive-way from the entrance through the gardens to the hotel reception was like none other; fantastic water features and gardens of world-class prestige was a great introduction to the Hotel and why I imagine they call it a "Retreat"; pristine, gorgeous landscaping which you would only find in the top hotels around the world. My friend and I (who accompanied me to the event) looked in amazement and discussed why hotels back in London Town did not have similar beauty on the run up to their hotels; whether it's financial or a lack of appreciation for such beauty on a metropolis city break we didn't know, all that we did know was that we certainly enjoyed the scenic display en-route to the reception.
On arrival, we were greeted by the concierge and shown to the bar, after receiving our wristbands for the event and after showing up early we decided to relax at the renowned Woobar for a sun-downer while other guests arrived. Woobar's staff treated us as royals and escorted us to one of their lounge sofas whilst our personal waiters would later attend to us. I turned to my friend and said that even in Marbella where I frequent and have a holiday home, Spanish lounges do not compare with style, sophistication and serenity. A fantastic variety of pinks, reds and oranges flourished the horizon; I turned to my friend and whispered, "This is the life".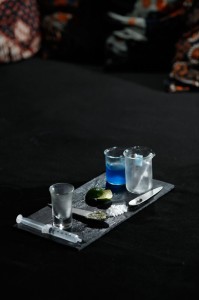 Placed on the bar was a beautiful arrangement of a cocktail in which the ingredients were separate; a spoon comprised of sugar laid on jelly, a shot of soda water and a syringe of some spirit of sorts. The host of the evening introduced the cocktail as the bar's take on the classic Mojito, the jelly being mint jelly and the syringe full of Rum. I myself did not favour the drink over a classic pre-mixed version, however, the presentation and arrangement were world-class. I recommend this to anyone adventurous or looking for something to share with friends or partners for a fun way to start the evening – ask the bartender for a 'Deconstructed Mojito'.
Following our space-age Mojito was the Post-Wall Street Crash Prohibition inspired, 'Speakeasy Nitro-Iced Tea', again the presentation was fantastic. Hot Lemon Tea served in a teapot accompanied by a large book which when opened was hidden an iodine bottle; when injected into the tea, a mouthwatering fusion of Absinthe and Lemon Infused Vodka struck our taste buds like bolts of lighting and certainly put hairs on our chest (wink). Great for pre-dinner aperitifs.
Thirdly, the "Smokey Bourbon", by far my favourite of the selection. The classic Smokey Whiskey has always been a classic cocktail around the world enjoyed by both Gents and Ladies for a number of years and of course, a personal favourite of mine. Grant Collins has modified this classic to perfection replacing the a Single Malt Whiskey with Jim Beam Black, less dry, sweeter, more substance – a nightcap for the more discerning.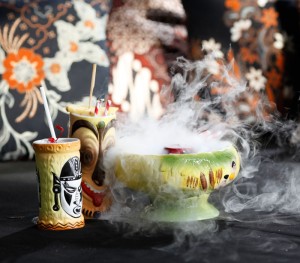 Last but not least, the 'Smokin' Tiki Punch', a great alcoholic tropical punch in a Tiki fashioned wooden goblet, very easy to drink, full of citrus and fruitiness; a cocktail to be enjoyed by everyone whether it be a cheeky late morning pre-lunch pick me up or an evening sun-downer.
After the tasting I got speaking to the Bar Solutions representative and whilst sparring ideas and favourites off one another we decided that a final drink for the night had to be done, a mutual favourite and one for the connoisseurs – a 'Negroni'.
W Lounge has a great atmosphere of relaxation and sophistication, the bar staff are very knowledgeable and happy to create a beverage to your taste – speak to the W's mixologists for a complete listing of ingredients for the cocktails mentioned and their much more.
If you are living in Bali or here for a visit the well-worth-travelling-for Grant Collins' Cocktails should be on your list of things to see and do. And without furthermore to do I bid you all happy drinking!
Angkat Gelas! Cheers! Prost! Proost! A La Votre! L'Chaim! Salute! Salude! Skål! Kan-Pie! Gun Bae! Na Zdorovie!