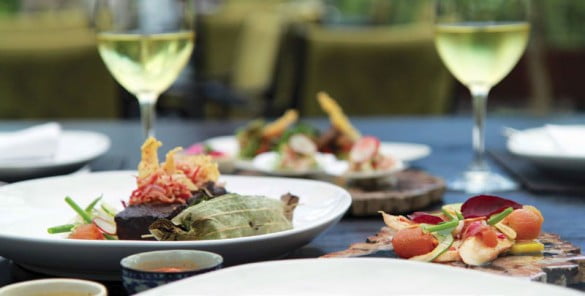 WHERE IS A GOOD PLACE TO EAT INDONESIAN FOOD?
Bali is a strange place — you can find French fine dining easier than a good Indonesian restaurant. Somehow I find it difficult to answer the question, especially if the person who asks is a tourist who has never been to Indonesia before. Of course my typical Indonesian food won't suit the palate of my tourist friends.
"A lot of tourists who come to Bali, they want to try Indonesian food, but they don't want to go to a warung. They are not confident to go to somewhere very local," said Melissa McCabe, marketing of Merah Putih restaurant.
Apparently, that was the reason behind Merah Putih Restaurant, a new dining destination in Petitenget, Seminyak that features sumptuous Indonesian foods in an elegant and sophisticated atmosphere. McCabe said the founders realized that there was a gap in between hotel restaurants providing good Indonesian food and independent restaurants that focus on the setting. That's how the idea came about.
Named after this country's national flag, this restaurant is a celebration of Indonesia that honours the cuisines, the design and the people. They claim to be the most complete Indonesian dining destination in Bali, perfect for locals and of course all tourists who want to try authentic Indonesian foods.
When I came to the restaurant, I was quite surprised by the appearance. It was far from traditional — I was thinking of a lot of bamboo with tropical nuance, but I was wrong. Unlike other sophisticated dining destinations in Bali that showcases the view and outdoor concept, Merah Putih restaurant is proud of their indoor dining area, bringing the outdoor atmosphere inside.
"This is what makes us different. This translucent roof collects the rainwater that flows in through the pillars then stores it in our underground water tank. We don't pump groundwater and don't use government water," said McCabe.
Filtered with a UV water filter, the water is used daily, and according to McCabe, it's even used for staff drinking water. The water is also recycled and only produces one percent waste in total. When lit, this translucent roof and pillars will beautifully glow making a mellow atmosphere within the restaurant. With coconut and plants inside, there is no difference whether you eat here, or under the moonlight.
There are four different sections in the restaurant. Upon arrival, customers will be guided to the bar area where they can order drinks or just simply wait to be seated. The dim lighting and stylish seating make it comfortable to sit and enjoy drinks and a light snack before the main one. A large variety of cocktails, wines and spirits are available. The restaurant has a wine cellar with 150 different wines from all around the globe. But their cocktails are more interesting.
Ngurah Arsana, the bar manager told me, "We use local fruits because the flavours are stronger and it's very refreshing."
The result makes the cocktails very quirky. Ngurah replaces major imported ingredients with local fruits, so you'll get a rambutan and local grape martini instead of a lychee martini. Unfortunately, some of the drinks might not be available and depend on the fruit season.
Onto the foods, Merah Putih provides a complete selection from all across the country. They have Sumatran balado, curry, ayam taliwang, gulai kambing, babi guling, and many others.
The menu is divided into three: à la carte menu, set menu, and vegetarian menu. In the à la carte menu, customers can choose authentic and fusion tastes in sharing plates or in larger portions instead, along with side dishes of many different choices of rice and vegetables. The price is quite friendly for a sophisticated dining experience. Dishes in small plates are priced from Rp.70,000 to Rp.90,000, while the large portion are Rp.135,000 to Rp.160,000.
On the set menu, the price per person is Rp.290,000 and Rp.320,000 with a minimum of 10 people per table sharing foods in small and large plates along with sides and sweets.
I tried their padang beef bak pao, which is slices of rendang meat placed in a bak pao bun. The beef was very succulent, soft and tasted very authentic, just like any rendang I used to eat from my favourite Padang restaurants. Eating the bebek goreng sambal mangga, I could taste a mixed of very thin slices of young mango, a sweet yellow mango sauce, the rich flavour of shallots and the strong kemangi. It was a perfect combination that excited my taste buds. My dessert was kelapa tart a tiny glass of coconut crème, local berries called buni (which tasted exactly like other imported berries), crunchy bites and coconut flesh, really gave a perfect ending.
The food at Merah Putih is the translation of Indonesian foods brought to suit the palate of both local and tourists. As an Indonesian, I was quite impressed. They also prepare eight different sambals that go well with different dishes, pleasing all Indonesians who crave for hot and spicy food.
The first thing they test is the sambal. If the sambal is okay, everything else will be okay.
Merah Putih
Jl. Petitenget No.100x, Kerobokan
Denpasar, Bali, Indonesia
Phone: (0361) 8465950