One month after prominent terrorist leader Santoso was gunned down in East Indonesia, the group's second-in-command has been taken into custody.
On September 14, Indonesian police and the national army in Poso, Central Sulawesi, discovered the body of a man named Andika, a member of the local terrorist group known as East Indonesia Mujahideen (MIT).
Sulawesi Tengah Police Commissioner Rudy Sufahriadi reported that Andika cracked his head after hitting a rock while drifting in the river. The team also found firearms, a jacket, and improvised explosive devices in the Puna River near the Tangkura Village of the same district.
Continuing their pursuit, police and army personnel managed to get their hands on a much bigger catch: Basri, a prominent member of MIT and the second target of Operation Tinombala.
Beginning in January 2016, Operation Tinombala was established by the Indonesian government to capture and eliminate MIT, which had been spreading terror in Central Sulawesi for years. 
Basri's capture is considered a major success of the operation. One month earlier, the joint-military operation put down MIT leader Santoso in a violent gunfight. As second-in-command, Basri took charge of the group's rebel operations until he was captured Wednesday, September 14.
Chief General Tito Karnavian of the national police said Basri's capture will definitely weaken MIT. The terrorist group, which started with about 39 members armed with factory-made assault rifles, now only has 12 members left with very few firearms; the third man in the MIT chain of command Ali Kalora is now the main target of the joint operation.
But despite these developments, the leading authority on Islamic extremism in Indonesia Solahudin expressed worries on how radical theology is well supported by the people of Poso. Experts say the locals have regarded Santoso as a hero to one degree or another for the protection he provided Muslims in the Poso community. This idea was supported by the number of people who gathered during Santoso's burial.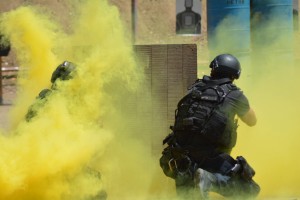 Head of the police's public relations division Inspector General Joey Boy Amar, however, dismissed this claim of public support for MIT, explaining that the people who gathered for the burial were not MIT supporters, but simply curious people who wanted to see the body of Santoso.
Regardless, the police continue to approach the Poso situation with vigilance. Authorities aim to hunt down the remaining MIT members, educate the public, and lure them away from radicalism.
Will the police and military soon eliminate MIT? What lessons can they apply to other pockets of extremism in Indonesia?  
Editing by Nadya Joy Ador
Featured image via Wikimedia; post image via Flickr; video via Antara TV