Australia's Army Chief Lieutenant General Angus Campbell apologised for "sensitive and painful" teaching materials at an Australian military base, promised strict punishment for all personnel involved and a restructuring of their military learning curriculum.
In a statement issued by the Indonesian military yesterday, February 8, Armed Forces Chief General Gatot Nurmantyo said he has accepted the apology from Australia's army chief over the offensive training material found at an Australian special forces base.
In early January, an Indonesian language instructor discovered an assignment on the curriculum at Campbell Barracks that spoke of West Papuan independence and a spoof of the country's ideology Pancasila. Nurmantyo had previously pointed out that the material in question "discredited the TNI, the nation of Indonesia and even the ideology of Indonesia."
As a result, it initially appeared as if Indonesia had completely severed all defence ties with Australia before Chief Security Minister Wiranto eventually clarified that the suspension only referred to a postponement on the countries' cooperation but only with the Special Forces Australia language training program.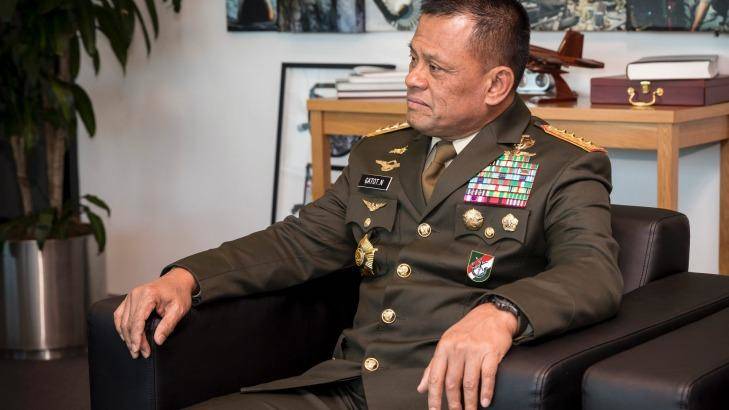 Lieutenant General Campbell met with General Nurmantyo in Jakarta yesterday where the Australian army chief conveyed "deep regret and apology" over the incident.
General Nurmantyo said in the statement that the Australian military will stop their Indonesian language learning activities, revise their learning materials and conduct relevant internal restructure.
Lieutenant General Campbell stressed that the materials in question did not in any way reflect the Australian Army's view and vowed to take the appropriate action to correct the oversight. Thus, the Australian Defence Force will implement strict punishment for all the personnel involved that will ultimately affect their career. General Nurmantyo added that the Australian lieutenant general had ordered to close of the Campbell Barracks following a reassessment of their curriculum.
The Indonesian military chief has accepted the Australian apology but emphasised that he still needed to consult President Jokowi before finally resuming military cooperation with Australia. General Nurmantyo thanked the Chief of the Australian Army and the Defence Force for the "firm and fast" response.
Meanwhile, Indonesia's Security and Justice Minister Wiranto commented he appreciated that the two military chiefs decided to resolve the issue promptly and for that the relationship between Indonesia and Australia remains solid.
Image credits: TheMercury, TheAdvocate