According to General Gatot Nurmantyo of the Indonesian Military (TNI), Indonesia will deploy more military personnel in regions like Papua.
Nurmantyo has stated that TNI needs to focus more on the eastern part of the country and its border areas. This could "help create new economic centers and trigger development," the navy general said on Thursday, January 19, at the TNI headquarters in Cilangkap, East Jakarta.
Papua is in the easternmost part of Indonesia but is a highly disputed territory, as conflicts between West Papuan indigenous tribes and the Indonesian government continue.
Meanwhile, the joint military training between TNI and the Australian Defence Force (ADF) has been temporarily suspended. This decision was made to investigate the alleged negative statements about Papua, Timor-Leste and the defunct Indonesian Communist Party (PKI).
According to Chief Security Minister Wiranto, the temporary suspension will not disrupt bilateral relations between Indonesia and Australia as "[it] has been going well recently."
Deployed military manpower will consist of naval personnel. The TNI will start planning to build army and air force bases soon. The TNI fleets are currently stationed in Surabaya (the Eastern Fleet) and Jakarta (the Western Fleet).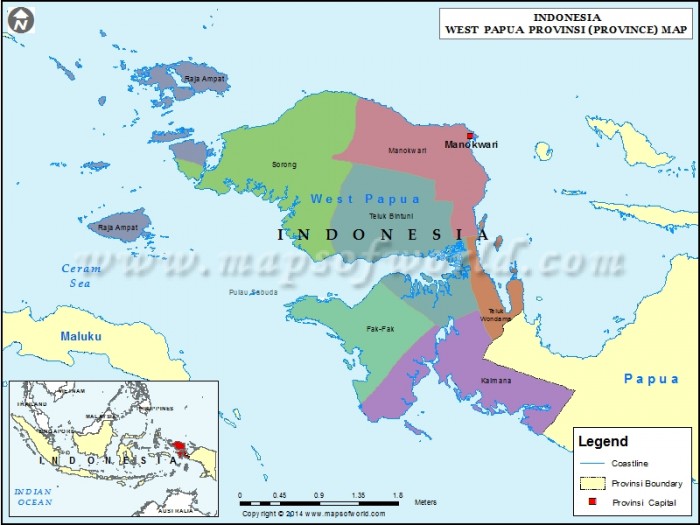 Recently, the Indonesian Navy closed a deal with contractors to procure goods and services. The contract is valued at US$170 million and will be used to purchase personnel equipment and weapons, build facilities and infrastructure and perform research and development.
The development in the naval department is part of President Joko 'Jokowi' Widodo's policy for this year.
Aside from the construction of the bases, Jokowi has also requested all the other Indonesian ministries to accelerate efforts for their respective industries. Enhanced services from across ministries could bring positive results to the country.
Image credits: The Diplomat, Maps of World