The flood of fake news in Indonesia is severe enough to make it a top security priority in 2017, along with terrorism.
Chief of National Police Gen. Tito Karnavian vows to improve the department's ability to track, monitor, and eventually clamp down sources of fake news and 'half truths.'
Aside from arresting sources, the government intends to promote a wider awareness of social media use and evaluation of websites and social media platforms including WhatsApp, Twitter, and Facebook, which are popular in the country.
President Joko 'Jokowi' Widodo has expressed concern over the spread of fake news due to its possible impact on economy and international ties especially with China. In one of his recent cabinet meetings, he called this false or misleading information as divisive, worrying, and not in Indonesia's culture and character.
Fake news is not entirely new in Indonesia as the president himself became a target during the 2014 elections. However, it has become widespread the Chinese embassy is already alarmed, especially after China was accused of developing bioweapons against Indonesia. This is after real news mentioned about Chinese-grown chili peppers that were found to contain harmful bacteria that killed crops.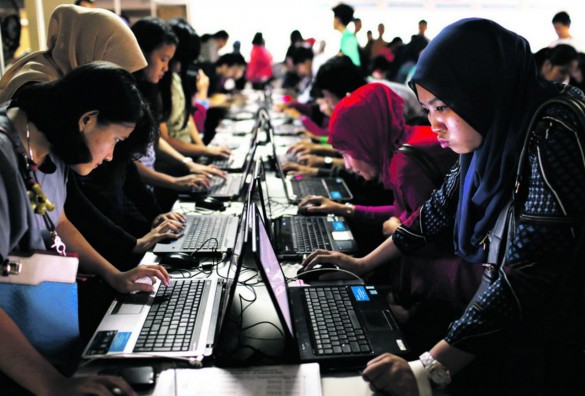 China hopes the fake news will not affect their 'bilateral relations and friendship.' China is currently one of Indonesia's biggest foreign investors.
Meanwhile, an edited video allegedly created by Paramidan University lecturer Buni Yani is also being blamed for the increased tension between ethnic Chinese and hardline Muslims in the country. The video showed Jakarta governor Basuki Tjahaja Purnama, also known as Ahok, supposedly slighting Muslims and the Koran. Ahok, a Christian and an ethnic Chinese, is a close ally of Jokowi. He is currently on trial for blasphemy.  
Early this month, around 200,000 people led by hardline Muslim groups rallied to the streets, paralyzing majority of Jakarta and calling on the resignation and even death of Ahok. The uproar is making the ethnic Chinese worried about their safety as they fear for a repeat of the tragic 1998 May riots.  
Image Credits: Today Online, ABC Australia