In this issue of Indonesia Expat we meet Nagesh Chawla, General Manager of the Ritz-Carlton hotel in Mega Kuningan, Jakarta. Nagesh is an experienced hotelier with over 12 years in his field of work, having worked in India and Hong Kong before moving to Jakarta. Nagesh takes time out of his busy schedule to discuss what it takes to run a five-star hotel in the capital.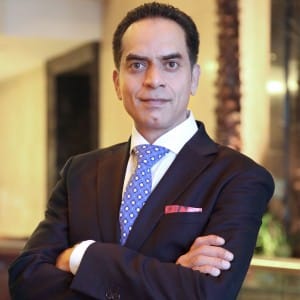 Nagesh, you worked in India and Hong Kong before Jakarta. Is managing a hotel in Jakarta any different to managing one abroad, and if so, how is it so?
Managing Hotels anywhere in the world is very similar as it entails a lot of detailing. The basics of our business remain identical everywhere. The only recognisable difference here would be that Jakarta requires a greater degree of micromanagement. Having said that, it is truly a pleasure to work in Jakarta where our Ladies and Gentlemen possess a natural sense of hospitality.
Who owns the Ritz-Carlton hotels? Can you give us a little bit of background information about the hotel?
The Ritz-Carlton brand is actually a part of Marriott International and it is the luxury brand of the company. There are currently about 81 Ritz-Carlton hotels worldwide in over 65 countries which include The Ritz-Carlton Hotel & Resorts, The Ritz-Carlton Reserves, The Ritz-Carlton Destination Club, The Ritz-Carlton Residence and more.
The Ritz-Carlton Jakarta opened on May 1st, 2005 which later became The Ritz-Carlton Jakarta, Mega Kuningan in 2010. The hotel comprises of 333 guest rooms, two award-winning restaurants, a world-class spa and fitness centre, The Ritz-Carlton club lounge and grand ballrooms for exquisite functions.
What does a busy General Manager's day-to-day schedule typically look like?
My days are commonly scheduled with long meetings, which does occupy most of the day. But it is essential to be abreast of the various situations that are happening in the hotel. I also spend a lot of time meeting interesting individuals, both of whom are guests and clients of ours. My time is also dedicated towards our Ladies and Gentlemen.
What specific attributes do you believe an astute General Manager needs to possess in order to run a successful hotel?
Leadership topped up with tenacity goes a long way. But the most important attribute is passion. Passion for hospitality, passion for taking genuine care of your guests, passion for taking care of your employees and passion for innovation.
What are some of the difficulties you face while doing your job?
The day-to-day changing business dynamic makes it difficult to hire the right manpower. Bringing in consistency in product and service delivery is our greatest opportunity.
What are you especially proud of at the Ritz-Carlton in Mega Kuningan? Where do you believe your hotel excels?
It is our Ladies and Gentlemen who work tirelessly to ensure our customers have great experiences in our hotel. It's they who are our greatest asset in our service commitment.
What does five-star hotel actually mean? Is it to do with facilities or service?
A five-star hotel is a luxury lodging facility which comprises the following minimum of amenities; 24-hour room service, award-winning restaurants, luxurious spa facilities and all the personalized service that satisfies even the unexpressed wishes and needs of our guests.
With so many new hotels popping up around the city, how do you keep up with the competition?
It is the sense of well-being and the ability to anticipate the consumers' needs and delivering memorable experiences is what will keep us ahead of competitors.
Do you have any plans for change or improvements at your already stellar hotel?
Nothing is as constant as a change, and I truly live by this phrase. We do have various changes planned in our processes and product offerings, as well as physical upgrades of our product.
How about down time; what do you do to unwind?
I swim a lot. It helps me relax and freshens up my mind and energises me to a great extent.
And finally, what values do you regard with the utmost importance in your life?
Integrity. It is very important to hold strong values and principals.
Thank you for your time, Nagesh. To contact Nagesh Chawla, please email [email protected]
*N.B. Ladies & Gentlemen – It is a terminology used to refer to our employees
Ritz-Carlton Jakarta – Mega Kuningan
JL. Lingkar Mega Kuningan Kav. E.1.1 NO.1
Mega Kuningan, Jakarta 12950, Indonesia
+62 21 25518888