Commemorating its success as the first retail building in Indonesia to attain the EDGE Advanced certificate, Central Market PIK held a ceremony attended by partners, tenants, and visitors.
Located at the heart of Golf Island PIK, Central Market PIK is an eco-lifestyle hub with advanced green technology. With a tagline, "Everything for everyone at a central location", this one-stop shopping destination offers a new experience through a comprehensive list of facilities, such as a supermarket, an edible garden, F&B tenants, retail options, a bookstore, a kids' playground, a rooftop pet playground, cafes, and hangout spots.
Following its prestigious win as the Best Retail Architectural Design from PropertyGuru Asia Property Awards in 2021, today, Central Market earned the Green Building Certificate from the International Finance Corporation – World Bank Group and Green Building Council Indonesia (GBCI). As such, Central Market PIK became the first retail building in Indonesia to receive the EDGE Advanced Preliminary Certificate.
Central Market PIK applies its sustainable living concept via a solar panel system and a natural cross-ventilation method. Furthermore, a biophilic design creates a harmonious relationship between its architecture, the environment, natural lighting, good circulation, and visitors' comfort. Green technology applications also show through open-air elements, vertical gardens, and green canopies to create a cooling atmosphere.
As the lead architect team, PTI Architects utilised sustainable materials like natural stones, eco-friendly reclaimed wood from Milan Ecowood, terrazzo, terracotta, plastic-wood composite (WPC), and earth-tone colours to create a warm ambience. More sustainable aspects at this eco-lifestyle hub include a recycling system, a rainwater harvesting scheme, and energy-saving measures—thus, reducing 51 percent of energy use, 44 percent of embodied energy on building materials, and 23 percent of water usage.
All these came to fruition from a solid collaboration between Amantara with PTI Architects, Bitte Design Studio (interior designer), Eco Mantra (sustainability consultant), Grow Little Garden (landscape designer), and SOSJ Design Bureau & Consultancy (branding consultant).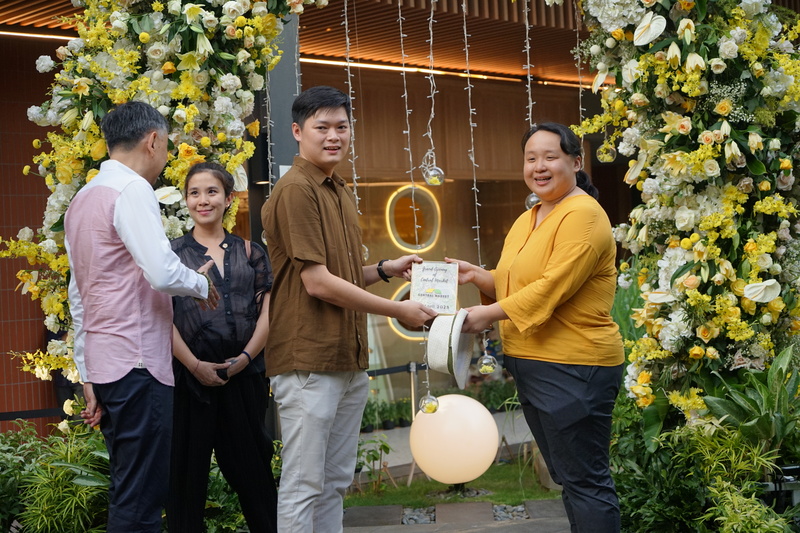 "Central Market PIK, a one-stop shopping centre strategically located in the heart of Golf Island PIK, is directly integrated with residential areas and travel destinations around it. True to its eco-friendly concept by applying an Environmentally Sustainable Design (ESD), Central Market PIK also educates visitors about sustainability through vertical and edible gardens. We hope that all who came here enjoyed an unforgettable experience and that Central Market PIK will earn a special place in their hearts," said Anwar Salim, Director of Operating Units Amantara, Agung Sedayu Group
Completing its open-air elements, Central Market PIK presents a pet park and kids' playground for visitors with kids and pets. An amphitheatre provides a place for visitors to relax and savour culinary choices from various F&B tenants and pose against vibrant, thematic decorations.
"Visitors and residents can fulfil their daily needs and partake in their hobbies at Central Market PIK with various tenants, such as Grand Lucky, Bakerman, Gontran Cherrier, Sushi Tei, Hyde Park, Mandif Butcher, Salad Stop, Paradise Dynasty, Six Ounces Coffee, Super YumCha, Ban Ban, Susuru, Demie Bakmie, Hello Seoul, Baby Dutch Pancake, Kool Kreme, Sour Sally, and recently-opened Kinokuniya Bookstore on 15th April 2023," said Sawitri Setiawan, Director of Leasing and Commercial Amantara, Agung Sedayu Group.
Natalia Kusumo, CEO of Commercial and Hotels Division 2 (Amantara), Agung Sedayu Group, added, "We are very excited to welcome Kinokuniya as a tenant to complete Central Market PIK. As a loyal customer, Kinokuniya has a special place in my heart. I often visit the bookstore since young and found comfort between its shelves. The EDGE Advanced certification further adds to our happiness, which shows how this destination combines educational and sustainability concepts into a neighbourhood mall for visitors and communities."
Moreover, Amantara, as the subsidiary of Agung Sedayu Group, facilitates visitors to Pantai Indah Kapuk with the PIK Experience by Amantara as an all-in-one application to enhance user experience. PIK Experience is an application with features from a loyalty program to information about Amantara destinations and news about tenant promotions.