Welcome to The Double View Mansions Bali (DVM) in Pererenan, Bali.
DVM is a luxury, serviced apartment complex that also operates as a hotel complete with an all-day dining restaurant, providing short- and long-term accommodation. The 40, fully furnished apartments have options for one to three bedrooms, and from 78m² to 205m² in size.
All units are available for sale. This provides a rewarding opportunity for investors looking to receive a passive income by renting out their unit commercially. DVM Bali manages all properties exclusively from the onsite office. Professional property management services include; support with renting out your unit, marketing should you decide to sell, and full maintenance while you are absent.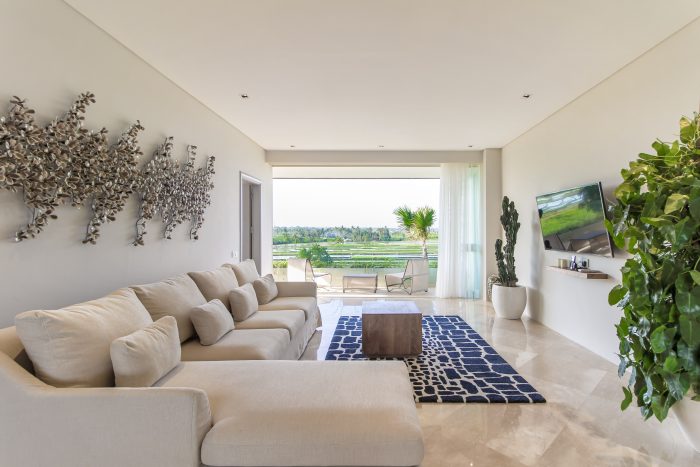 You can now own a piece of paradise, sitting only 250 metres from the beach, that features picturesque ocean and rice paddy views. DVM is located in Pererenan, a peaceful neighbourhood of Canggu, Bali. Canggu has experienced a rapid surge in tourism, becoming the top choice for many long-term visitors in Bali.
Luxury properties in most of Canggu have experienced a surge in price, leading to high valuations. However, DVM's location in Pererenan offers much more attractive pricing than the surrounding areas. The potential for capital growth and returns on investment (ROI) is compelling.
CO-LIVING & CO-WORKING
Are you tired of traffic, noise, and pollution? Retreat from the busy crowds and enjoy stunning ocean views in a tropical oasis at The Double View Mansions Bali (DVM). A five-minute walk from the beach, the property houses luxury, serviced apartments and a co-working space with premium amenities.
Make Bali your new home and create a base in paradise when you book a long-term stay. Live in luxury and upgrade your workspace at DVM. Apartments are fully furnished and feature:
• balconies with ocean and rice paddy views
• a fully equipped kitchenette
• a furnished dining spaces
• a living room with LCD TV
The co-living packages are designed around your needs. DVM takes care of everything from the moment you land in Bali. So, you can focus on getting work done and enjoying your stay. Skip the drive because everything you need is provided onsite, from luxury accommodation and an air-conditioned workspace to delicious food and convenient transportation. A dedicated WiFi network with ultra-fast speeds ensures you stay online.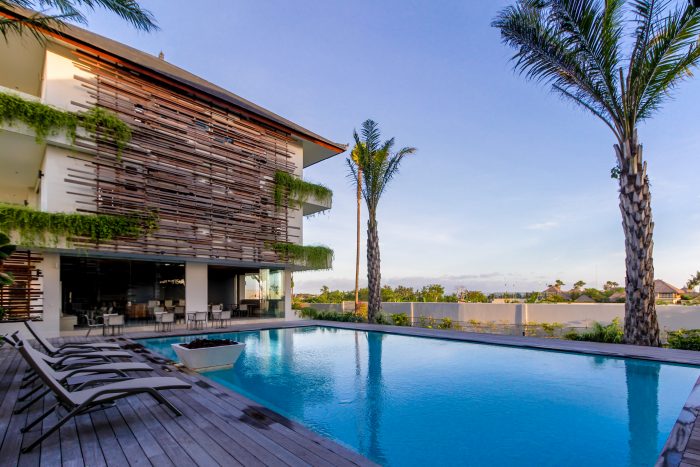 The luxury property features a poolside restaurant and bar with panoramic views of the ocean and rice paddies. You can enjoy freshly made meals, signature cocktails, and curated wines. Relax on a sunbed during the day and light up the firepit at night. Other premium amenities include:
• 24-hour gym
• dedicated management office
• private indoor parking garage
• daily housekeeping and laundry service
• 24/7 security
Take in the peaceful surroundings and avoid distractions. You can watch the sunrise with misty Mount Batur and Agung peering through the clouds above the rice paddies. Then in the evening, take in the picturesque sunset over the vast ocean stretching across the horizon.
Apartments range from one to three bedrooms, so whether you are a solopreneur or a team, DVM has you covered. Benefit from an optimal co-working and co-living environment along with other like-minded guests. Meet your next business partner or launch your next project from paradise at The Double View Mansions Bali.