National elections are approaching and legislative candidates need deep pockets.
Indonesia will on April 17, 2019, hold simultaneous direct elections for the president and vice president, the national parliament and local legislative assemblies.
If you want to run for parliament in Indonesia, you can't stand as an independent candidate. You must be a representative of one of the 16 participating political parties.
According to local media reports, many of the major parties require prospective candidates to pay vast sums of money to party officials.
A former student activist who in 2014 ran for the Indonesian Democratic Party of Struggle (PDIP) told merahputih.com that candidates should provide at least Rp500 million to Rp1 billion (US$35,600 to US$71,200) to be considered for registration. This money is purportedly required to pay for party banners, T-shirts and other paraphernalia, as well as meetings with constituents. In Tangerang city, west of Jakarta, PDIP officials have asserted their chapter did not impose fees for registration forms.
Some parties require candidates to pay a "witness fee" of at least Rp500 million. What are witness fees? When votes are tallied at polling stations on election day, an official from the General Elections Supervisory Committee (Bawaslu) is present to ensure there is no cheating. But parties like to have their own witnesses present – and certain parties insist each candidate must pay for a witness.
The Islam-based United Development Party (PPP) has confirmed that its prospective candidates are required to contribute Rp500 million, in advance, for "witness fees". Local media quoted a PPP official as saying such fees are common in any political party.
Big spending is no guarantee of victory. There have been reports of people handing over up to Rp5 billion ahead of the last national elections in 2014, only to end up as losers.
If you're a recognizable and respected face in the local community, you might not have to spend as much as ambitious unknowns. Being a woman could also be helpful, as parties must meet a gender quota, in which 30% of candidates are women.
Indah Kurnia, a legislator representing PDIP, was quoted by kompas.com as saying she spent only Rp90 million on her campaign to be elected to the national parliament in 2009.
She had headed a Bank Central Asia (BCA) branch in the East Java capital of Surabaya, so she got to know plenty of people. She also raised her profile by performing as a singer and becoming a manager of the city's Persebaya Football Club. When campaigning started, she didn't need to spend as much as other candidates to gain popularity.
Most candidates don't have such success stories. Wawan was a commissioner of a state-owned enterprise when he was encouraged to run for former president Susilo Bambang Yudhoyono's Democratic Party in 2014 in Central Java. He claims to have spent Rp2 billion on party fees and campaigning, only to lose on polling day.
Reports are common of failed candidates ending up in psychiatric care after they lose their life savings or are unable to repay their debts.
Why are people willing to spend so much to join parliament? Obviously, their greatest motivation is to serve the people by ridding the country of corruption and bureaucratic inefficiencies. The official salary for a member of the House of Representatives (DPR) is Rp5 million per month. Add on the honorariums and numerous official allowances and it balloons to Rp54 million. Regrettably, there have been allegations of some national and regional legislators receiving inducements when voting on legislation and budgets.
According to the General Elections Commission (KPU), at least 81 former corruption convicts will be running for office in April. This is because the Supreme Court in September 2018 overruled a KPU regulation that had banned corruption felons from standing for election. The parties with the most corruption felons are Hanura Party (11), Golkar Party (10), the Democratic Party (10), Gerindra Party (6) and the National Mandate Party (6).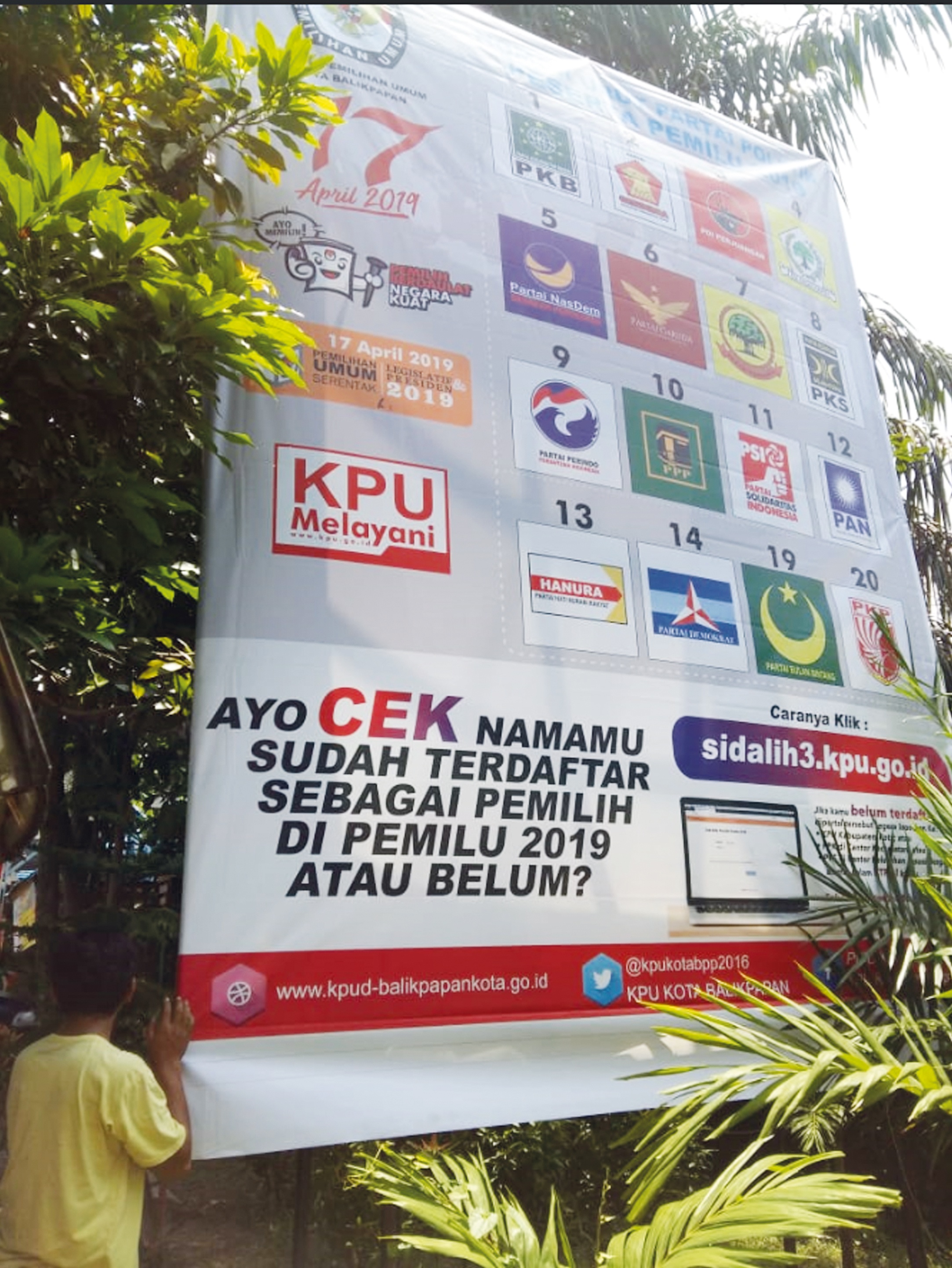 Runaway Wedding Planner
In the South Sumatra capital of Palembang, a wedding planner named Riyani (31) alias Uut, in 2018 registered to become a legislative candidate for Golkar. She was selected to stand for the city's Electoral District 1.
In June 2018, she accepted a job to arrange a wedding reception to be held in January 2019. After receiving a down-payment of Rp10 million, she insisted that all fees be paid in advance, so she could rent the venue for 1,000 guests. On the morning of the big day, January 5, Riyani was present at the groom's house for the wedding ceremony. Then she disappeared, claiming she needed to collect a dress and would rejoin the couple at the reception venue.
Guests began to fill the venue, but there was no sign of the caterers or any food. Riyani was not answering her mobile phone. The master of ceremonies awkwardly announced that due to technical problems, lunch could not be served. Riyani had not paid the caterers, the decorators or the photographer.
Embezzlement is nothing new in Golkar, which was notorious for corruption during former president Suharto's 32-year rule. The party's former chairman Setya Novanto was last year sentenced to 15 years behind bars for swindling US$7.3 million from a state project.
Riyani's alleged fraud did not help to improve Golkar's image. The chairwoman of the party's South Sumatra chapter, Anita Noeringhati, apologized for the "very embarrassing" case. She said Riyani's action was inappropriate for a legislative candidate and had severely tarnished the party's reputation.
Despite the alleged fraud, Riyani is still likely to appear on ballot sheets. That's because candidates cannot be disqualified unless they die or if there is a final and binding court verdict against them.
Car Cons & More
In the East Java town of Blitar, police on February 12 announced they had arrested a Golkar legislative candidate for allegedly buying cars with bounced cheques and then selling the vehicles.
Yanuar Febrianto (25) was nabbed while with his girlfriend at an apartment in Surabaya after ignoring two police summonses for questioning. A Golkar official said the party would uphold the presumption of innocence.
In North Padanglawas, North Sumatra province, police in January arrested a gang of five alleged car thieves, including a legislative candidate from Gerindra Party. The group allegedly rented dozens of vehicles and then sold them for discount prices.
In Makassar, South Sulawesi, a legislative candidate for PPP, Firman Hatta, was reported to police on February 12 for allegedly running a bogus public works project. He allegedly convinced three men to hand over Rp145 million for the purchase of materials for a street lighting project and promised to share the profits, but it transpired there was no project.
When elections attract dozens of corruption felons and prompt some candidates to allegedly turn to fraud, the outlook for Indonesia is not too rosy.